Cooch Behar trade shutdown against clashes
We are fed up, say Cooch Behar businessmen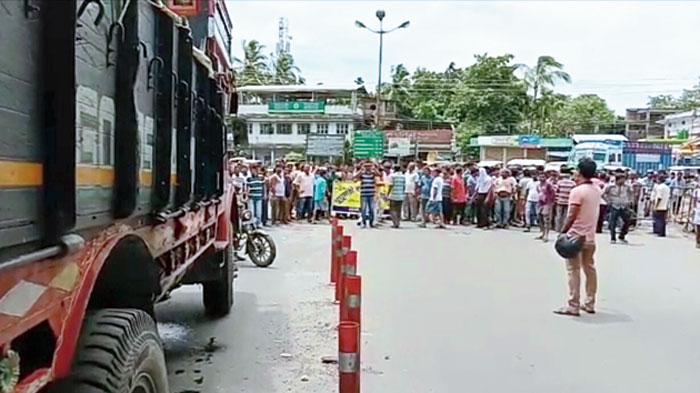 ---
---
Traders in Cooch Behar town hit the streets and observed a 24-hour strike to protest recurring political violence, saying the Trinamul-BJP clashes were affecting economic activities and seeking security.

The protests in Ghughumari, the principal entry point to Cooch Behar town, came a day after Trinamul and BJP supporters clashed in the area, forcing traders to close down shops and establishments.
"Bombs were lobbed in front of police. We were forced to close down shops and all of us are feeling insecure to run our trade. Some shops were ransacked and were looted. We are fed up with such violence and have come down the streets and held the strike. The police should take appropriate steps against all those who perpetrated such violence," said Tapash Dan, a core committee member of Ghughumari Byabsayee Samiti, a trade body in the area.
On Tuesday, Trinamul had planned a "jansanyog jatra" (rally to connect with people) at Ghughumari. As supporters assembled, some BJP activists reached the area. Both sides started shouting slogans at each other in the presence of cops.
After some time, bombs were lobbed, prompting additional police forces to be rushed to the spot. "How can we keep our shops open in such a tense situation? Earlier, similar clashes have occurred and we had no option but to close down our shops. Political parties should act responsibly as such activities affect the local economy and cause inconveniences to residents," Dipak Dey, another member of the trade body, said.
The traders also pointed that like Ghughumari, businessmen in other parts of Cooch Behar were facing similar problems. "In many places, traders have stopped visiting weekly rural markets, fearing violence. If such political violence continues in Dinhata, Mathabhanga, Tufanganj and on the outskirts of Cooch Behar, would suffer," Dey said.
For Tuesday's incident in Ghughumari, the traders have demanded arrests within the 12 hours and warned that they would resume their agitation if that was not done.
On Wednesday, besides keeping shops closed, the traders blocked a key road in Ghughumari for an hour. Traffic movement to Dinhata, Mathabhanga and adjoining areas came to a halt. Hundreds of passengers were affected.
Trinamul and BJP leaders, when mentioned about the grievances articulated by the traders, trained guns at each other. "The BJP perpetrated the violence," said a district Trinamul leader.
A senior BJP leader hit back at Trinamul. "Our supporters were there to carry out a peaceful protest. But Trinamul cadres hurled bombs at us. We are with the traders and want the police and the administration to take all steps to ensure that such incidents do not occur again," the BJP leader said.