Cloud over Cooch Behar flights
Fire personnel, too, pulled out of airport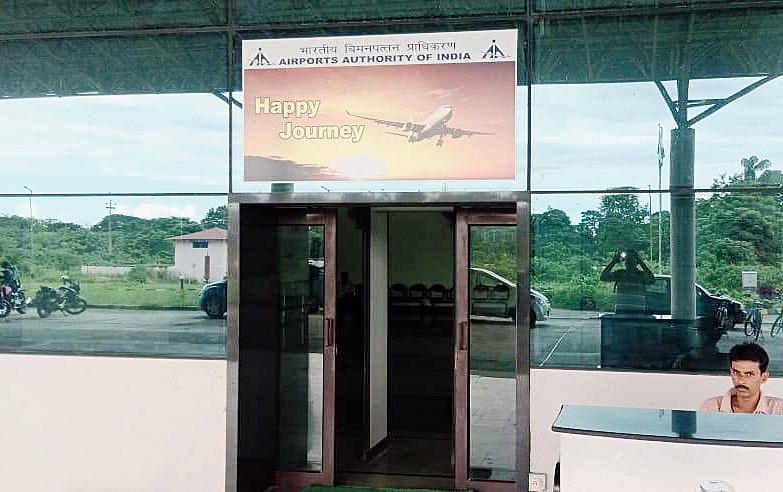 The entrance to the Cooch Behar airport.
File picture
---
Cooch Behar
|
Published 29.07.19, 08:32 PM
|
---
Bengal fire brigade personnel were also withdrawn from the Cooch Behar airport on Monday, a day after the state government had pulled out over 40 police personnel deployed for the facility's security.
With the pullout of the police and the fire force personnel, there is no clarity if a Calcutta-based hospitality firm will launch flights from Cooch Behar to Bagdogra and Guwahati from August 1, as it had announced earlier.
A nine-seater aircraft operated by the Alinex Leisure Hotels Private Limited landed here on Saturday for a trial run and is still parked at the airport.
Officials of the Airports Authority of India are in a real tizzy as the installation is now closed without security personnel.
"There is no policeman for security and to check passengers and their luggage. Further, firemen have been withdrawn but they need to be posted at the airport always. In such a situation, it is not feasible for us to start the flight unless there is a change in the situation. Our senior officials are looking into the issue," said an official of the AAI.
The AAI has a fire engine at the airport but the manpower is provided by the state. Five-six fire personnel are sent to the airport whenever a flight lands.
Senior officials of the Cooch Behar district and police administration were unavailable on Monday to comment on the pullout of the security and fire personnel.
Cooch Behar BJP MP Nisith Pramanik was on board the flight when it landed on Saturday. During the Lok Sabha election campaign, Pramanik had promised to resume flights from Cooch Behar if he was elected.
Sources said district Trinamul leaders were worried that the BJP and the MP would take credit for the re-launch of the flights.
Diptiman Sengupta, a district BJP leader, said the state was violating a memorandum of understanding signed with the Centre and the AAI a couple of years before. "Under the agreement, the state has to provide security and fire services free of cost at all airports covered under the regional connectivity scheme (RCS). Cooch Behar is one such airport," said Sengupta.
A source in the district administration admitted the existence of the agreement but said it was not clear whether the Centre had informed the state about the resumption of the flights as claimed by the MP and the AAI. "Also, it is not very clear whether it is a chartered flight or a service under the RCS," said the source.