Civic poll results: Son of all victories and a child decider
Some won by lottery or a single-digit margin, others defeated their family members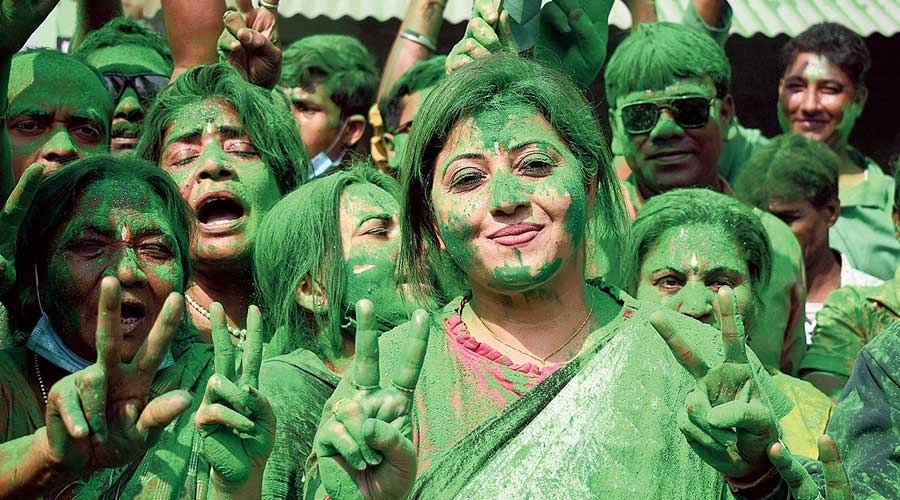 Trinamul supporters flash victory symbol in Ranaghat on Wednesday
Telegraph picture
---
Published 03.03.22, 02:39 AM
|
---
As the results of 107 civic bodies were announced on Wednesday, it was found that a number of candidates who had contested from political parties or as Independents were unusual victors. 
Some won by lottery or a single-digit margin, others defeated their family members. The Telegraph looks at these offbeat winners:
Usha Rai (Bharatiya Gorkha Prajatantrik Morcha)
From: Ward 15, Darjeeling Municipality
As votes of the seat were counted at the Darjeeling Government College — the counting centre — it was found that Rai and Devika Yolmo, who was pitted by the Hamro Party, had got 156 votes each.
Those involved in counting rechecked and confirmed the tie. The SDO, who is the returning officer, was informed and a lottery planned. Both the candidates and their counting agents were called into a room where two chits with the candidates' names were placed on a table. A child picked up a chit and Rai was declared winner.   
Ujjal Tar (Independent)
From: Ward 2, Cooch Behar Municipality:
Ujjal's principal rival was his mother Mina, the Trinamul nominee. Even though Trinamul could secure a majority in all six civic bodies of Cooch Behar district, Ujjal won in ward 2, defeating Mina by 611 votes.
Sanjib Mallick (CPM)
From: Ward 17, Rampurhat Municipality
The Left camp considers his victory a success story in Birbhum where no other Opposition candidate has won.  Mallick is the only Opposition councillor in five municipalities of Birbhum. He was elected for the fourth consecutive time from the same ward. He was also arrested on the poll day for breaking an EVM unit in one of his booths while alleging that some goons had rigged the polls.
Palash Chatterjee (CPM)
From: Ward 5, Sonamukhi Municipality
Chatterjee won the election by a margin of only two votes. He got 766 votes while  Tapan Jyoti Chattopadhyay of Trinamul got 764 votes. Chatterjee's win became a talking point in Sonamukhi town of Bankura district after the results came out.
Amlan Munshi (Congress)
From: Ward 24, Jalpaiguri Municipality
In Jalpaiguri, the Congress managed to secure two seats. In one of them, ward 24, the party could win for the fourth time.
In the ward, two EVMs were damaged on the poll day. Reportedly, Munshi had alleged this was done at the behest of the ruling party. However, no written complaint was filed. Munshi however won the seat by a margin of 1,207 votes.  
Reporting by Vivek Chhetri, Snehamoy Chakraborty, Main Uddin Chisti, Kousik Sen and our Jalpaiguri correspondent