China directly, at doorstep - Thrice-a-week, non-stop flights from October 29
Read more below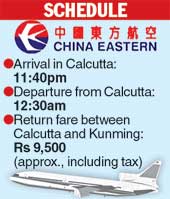 ---
---
Calcutta will have its first direct flight to China later this month.
China Eastern Airlines will launch its non-stop service between Calcutta and Kunming, capital of Yunan province, in the southwestern part of China, on October 29, airline sources said on Tuesday. The airline now operates three weekly flights from Delhi on the Delhi-Shanghai-Canton route.
Sources said the airline will operate three flights between Calcutta and Kunming every week. The flight will arrive in Calcutta on Mondays, Wednesdays and Fridays, and take off from here on Tuesdays, Thursdays and Saturdays.
The first flight from Kunming is scheduled to touch down at Netaji Subhas Chandra Bose International Airport on October 29, at 11.40pm. It will leave Calcutta the next day at 12.30am, reaching Kunming at 5.10am (local time).
A return ticket on the route will cost around Rs 9,500, inclusive of taxes.
It takes about three hours' non-stop flying from Calcutta to reach Kunming, from where China Eastern Airlines has connecting flights to Beijing, Shanghai, Canton and other major Chinese cities.
"The Calcutta-Kunming service opens an opportunity for the people of Calcutta and the Northeast to travel to various parts of China," said an airline official.
"Once the direct flight is introduced, the number of travellers to China from this part of India will increase sharply. On an average, 300 passengers from Calcutta now visit various Chinese cities every week," said Anil Punjabi, the chairman (east) of the Travel Agents Federation of India.
The travellers now have two options: either catch a China-bound flight from Delhi, or go to Singapore or Bangkok and board a connecting flight to China from there.