Children drown in pond after play with colours in Taherpur
The police said the 4 children had accidentally gone to the deep end of the pond and failed to stay afloat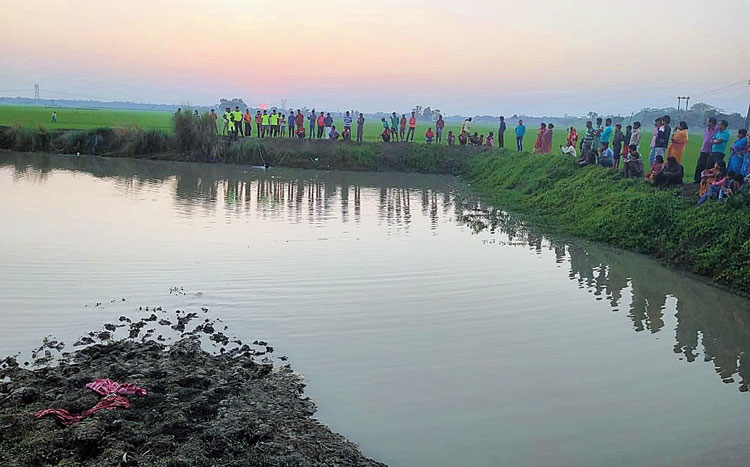 Villagers on Monday gather near the pond in which the four children drowned.
Picture by Pranab Debnath
---
Taherpur
|
Published 09.03.20, 06:42 PM
|
---
Four children drowned in a pond while taking a bath after playing with colours during Basanta Utsav celebrations in Nadia's Taherpur on Monday.
Subhajit Halder, 14, Sunny Pramanik, 14, his sister Sneha Pramanik, 11, and Rakhi Halder, 10 drowned in the pond in an agricultural field at Khisma-Jhamaldanga.
Bathing was prohibited in the pond that was re-excavated recently for irrigation.
Two other children, who were with them but did not get into the water, informed local people about the incident. The four children were fished out of the pond and taken to the Sabdalpur Primary Health Centre where they were declared dead. The bodies were brought to the village for last rites, but police arrived and taken the same to the Ranaghat Subdivisional Hospital for autopsy.
The police said the four children had accidentally gone to the deep end of the pond and failed to stay afloat. They said the four had drowned in a matter of minutes.
Sources said the six children had left home in the morning to celebrate Basanta Utsav after taking money from their parents. They played with colours and ate with friends in the area.
Aparna Halder, mother of deceased Rakhi, said: "The children were inseparable. They had talked about bathing, but near an irrigation pump. Had they told us this was their plan, we could have stopped them."
The irrigation pump set is attached to the pond.
Biren Halder, deceased Subhajit Halder's father, said: "I will forever regret not stopping them today."
After chief minister Mamata Banerjee found out about the tragedy, Trinamul Congress's local MLA Samir Poddar was sent to the spot.