Covid: Mamata calls Centre's report demand on fake jab duplicitous
The Bengal CM hit out at the Narendra Modi government, asks if centre had probed into alleged inoculations at BJP offices in Gujarat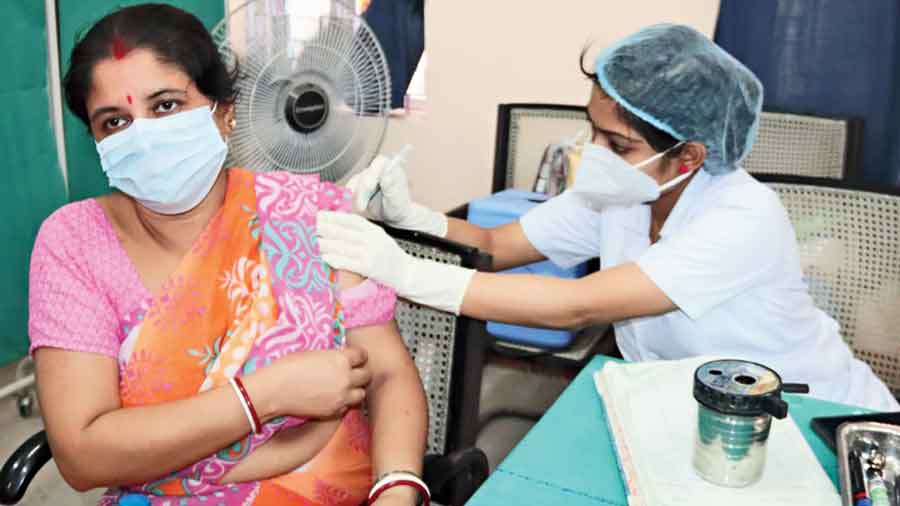 ---
Calcutta
|
Published 01.07.21, 01:26 AM
|
---
Mamata Banerjee on Wednesday suggested that the Centre's demand for a report from Bengal on fake Covid vaccination camps organised by Debanjan Deb smacked of duplicity and wanted to know if the Narendra Modi government had probed into alleged inoculations at BJP offices in Gujarat.
Citing a letter from BJP leader and Mamata's bete noire Suvendu Adhikari on the fake vaccination camps, Union health secretary Rajesh Bhushan wrote to Bengal chief secretary H.K. Dwivedi, seeking an urgent probe and a report on the matter in two days.
"I don't care who wrote what to whom. It doesn't matter. I don't care…," was Mamata's response to questions on the letter from Adhikari, a Trinamul Congress turncoat.
"What was done (by Deb, allegedly posing as an IAS officer) was very wrong. I have said on record, that it was more dangerous than an act of terrorism… such cheating," she added.
Mamata's reaction has come soon after the Centre sought the report from Bengal.
"In Gujarat, vaccines were distributed from the BJP's party office… how many letters from the (Union) health ministry? How many probes?" asked a visibly agitated Mamata. "The state (Bengal) that does the most work, always spreading canards about it. Only lies… only forgery. What is the proof that these things were not staged by the BJP?"
IAS officer Bhushan opened his letter with a request to the state government to refer to the letter from Adhikari, which was attached to it "for ready reference".
"… attention has been drawn to the instances of Covid-19 vaccination camps being organised allegedly by unauthorised people. It is also pointed out that in some of these camps, and notably in Kasba locality of Kolkata Municipal area, none of the beneficiaries have received any vaccination certificates generated from Co-WIN, giving rise to apprehensions about the genuineness of these vaccination camps," wrote the Union health secretary in the letter dated June 29.
Addressed to chief secretary Dwivedi, the letter was copied to state health-secretary N.S. Nigam.
Apparently responding to how the BJP-led Opposition had been going to town over the fake jab camps, the chief minister said at Nabanna: "This is a serious offence, posing as an IAS officer. But this wasn't the first, this doesn't happen in Bengal alone. There are instances from across India, many cases. It is nothing new, therefore. Everybody must be careful and alert."
"When fake videos are circulated (allegedly by key constituents of the saffron ecosystem) what do you do, for how many do you take responsibility? When "incidents" of violence are fabricated, concocted (allegedly by the BJP), how many do you act against? Only when a handful of BJP leaders are tweeted against, you file FIRs, arrest their critics…. Other than that, how many instances of action?" asked the Trinamul chief on Wednesday.
She also responded to BJP national president J.P. Nadda's allegation — during his virtual address to the party's state unit on Tuesday — that an all-time low vaccination was taking place in Bengal.
"Yesterday, I heard a lot of big lectures by some leaders, appropriating the role of rescuers. Bengal, remember, already has given 2.17 crore vaccine doses, till yesterday. It was said we didn't put whatever vaccines we got to use… I challenge it. We got 1.99 crore vaccine doses, we have already administered 1.9 crore doses from the same," said Mamata.
"We bought vaccines worth Rs 59 crore, paying from the state treasury. I had promised that the state government would buy if the Centre fails us…. We procured 18 lakh doses directly," she added. "On the basis of whatever vaccines we got, in terms of utilisation, implementation, execution, we are number one in the country."
On Tuesday, Nadda had said: "I am very sorry to inform you that if an all-time low vaccination is taking place anywhere, it's in Bengal."
The facts and the vaccination figures till now, however, are loaded against his claims.
"Dwivedi (the chief secretary who was sitting next to Mamata), prepare a letter today itself. Show it to me, have it sent," she added.
Prod on Jalpaiguri
Union health secretary Rajesh Bhushan has written to chief secretary H.K. Dwivedi, requesting the state government to take up strict measures to control Covid-19 in Jalpaiguri district. Bhushan said the positivity rate had been more than 10 per cent between June 21 and 27 in the district, compared to previous weeks.