Centre should engage more in free spending policies: Abhijit Banerjee
The Nobel laureate was in Calcutta to chair the meeting of the Global Advisory Board, which the Mamata Banerjee govt had set up last year in view of the pandemic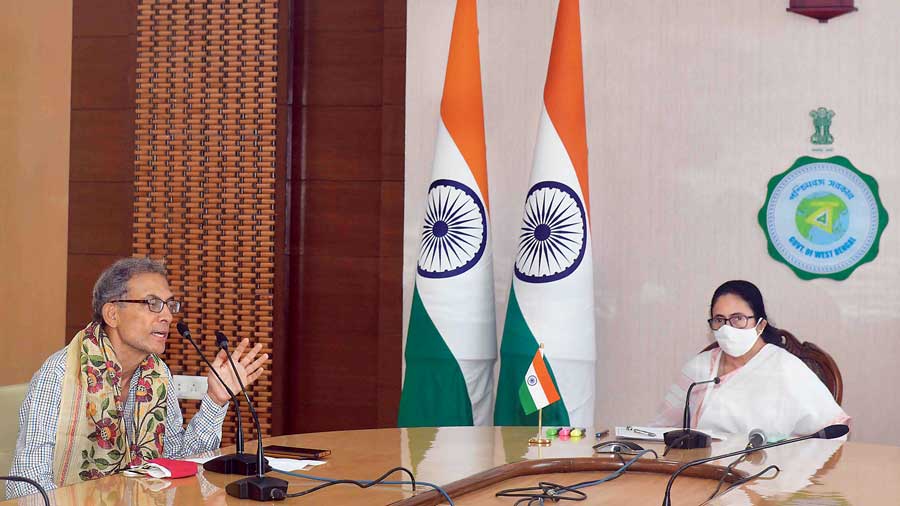 ---
Calcutta
|
Published 06.08.21, 03:44 AM
|
---
Nobel laureate economist Abhijit Vinayak Banerjee on Thursday said the Centre should have been more open-handed in spending in the time of the Covid-19 pandemic.
"I have said this many, many times. I think the central government is too unwilling to do what the US or the European economies are doing, printing money and spending. I think that would have been a better policy in the present context," said Banerjee in Calcutta on Thursday.
The Nobel laureate was in Calcutta to chair the meeting of the Global Advisory Board, which the Mamata Banerjee government had set up last year in view of the pandemic, that discussed how to prepare for the possible third wave of Covid-19.
After a meeting of the committee, which includes people like Swarup Sarkar, former regional director of the WHO, Jishnu Das, economist, World Bank, and J.V.R Prasad, former Union health secretary, the chief minister and some members of the panel interacted with the media at Nabanna.
Although most of the queries revolved around the possible third wave and what advice the Committee had given to the state government, some questions on the Centre's economic policies were hurled at Banerjee.
Asked to comment on the Centre's decision to increase cess on various items, including petroleum products, Banerjee said the Union government may be trying to balance the budget in view of the fiscal problems it had been facing because of lower tax collections.
Reiterating what several eminent economists and some Opposition parties had said earlier, the Nobel laureate said the Centre should not have taken this path and instead should have been more open-handed with spending.
He, however, acknowledged that the Centre had moved away from the path of fiscal conservatism by announcing some relaxations.
Asked about measures that could boost the state economy, Banerjee linked it to the revival of the country's economy.
"Migrant workers from the state go to other places and contribute to the state's income. Given the situation of the Indian economy, it is not possible for West Bengal alone to do something for economic revival," he said.
The chief minister, who was listening to Banerjee with rapt attention, intervened at this point and said the state government did its best to offer employment opportunities and free rations to migrant workers who returned home because of the pandemic.
Banerjee said the Indian economy would suffer badly if the third wave hit the country.
Although the Nobel prize winner expressed concerns about the economic impact of the pandemic, he praised the state government for its efforts to contain the spread of Covid-19 and its success in carrying out vaccination with minimum wastage.
He also appreciated the state government for implementing the protocol that the committee had suggested before the festive season the last year.