Ceasework brings teachers together
Protest against Mamata Banerjee's decision to implement pay hike from 2020 hits colleges, varsities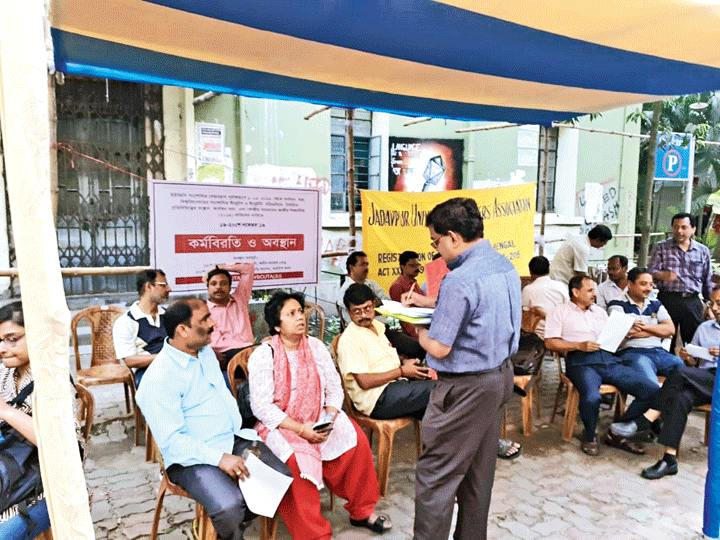 ---
Calcutta
|
Published 19.11.19, 08:38 PM
|
---
College and university teachers set aside their political differences and stayed away from classes across many institutions in Bengal protesting Mamata Banerjee's decision to hike their pay from January 2020, instead of January 2016.
In several institutions unusual sights were witnessed as the concern over four-year arrears prompted the teachers belonging to Trinamul Congress to take part in the agitation called by the Left-backed West Bengal College and University Teachers' Association (WBCUTA).
At Jadavpur University, several members of the Trinamul Congress-backed West Bengal College and University Professors Association (WBCUPA) came to the protest site and signed on a register to record their presence.
The association earlier had distributed leaflets urging the teachers to foil the ceasework. The leaflet said the chief minister had decided to implement the hike despite a cash crunch.
But on Tuesday afternoon some of them came to record their protest.
Unlike the members of the Left-backed teachers' association, they signed and quietly left, said an official of the university who was present at the protest site.
At Calcutta University, some of the teachers, who owe their allegiance to Trinamul, were seen wearing the protest badge to express support for implementing the revised pay from January 2016.
Mamata had on November 5 announced that college and university teachers would be paid according to the seventh central pay commission's recommendations from January next year, instead of January 2016.
Asked what prompted some members of their unit to join the protest, Bhaskar Sardar, a leader of the JU chapter of the Trinamul teachers' union, declined to comment.
Omprakash Mishra of JU, who switched to Trinamul Congress recently from the Congress, said: "The ceasework might have some impact on JU, but it failed to have any impact on the colleges."
But in several colleges, teachers across the party divide joined the protest. "The teachers have reacted as a fraternity, burying their differences," said the principal of a college in Hooghly. The teachers who support the BJP and the SUCI also joined the protest.
Keshab Bhattacharya, the general secretary of the WBCUTA said, the ceasework was successful in most of the 500 colleges where they have a unit. "We think everybody has understood that the state government is denying a legitimate demand and has expressed solidarity with the move," said Partha Pratim Ray, the general secretary of the association.
At JU, the ceasework will be observed on Wednesday as well.