CBI takes Rajeev Kumar hunt to DGP
'The messengers wanted to deliver two more letters, each addressed to Malay De and Alapan Bandyopadhyay'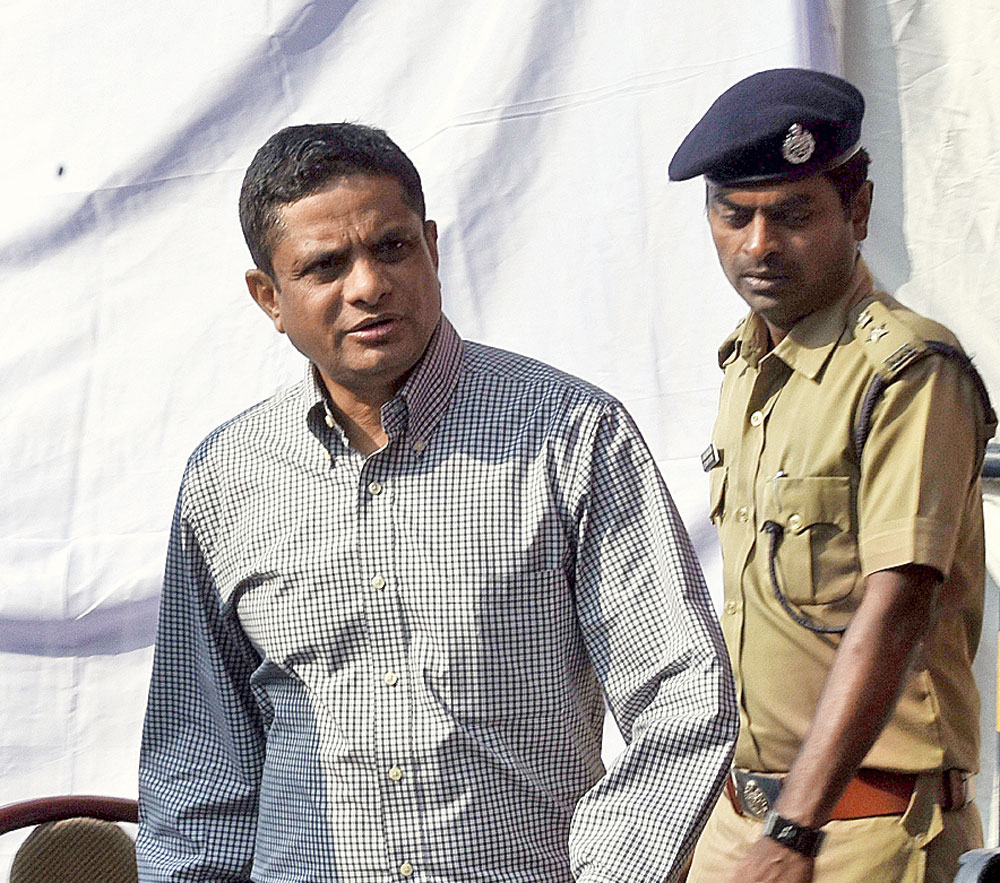 ---
Calcutta
|
Published 15.09.19, 08:26 PM
|
---
The CBI on Sunday despatched messengers to Nabanna with a pair of letters for Bengal director-general of police Virendra, seeking the whereabouts of Rajeev Kumar and urging the DGP to make available the former Calcutta police commissioner for questioning.
Sources said the messengers wanted to deliver two more letters, each addressed to chief secretary Malay De and home secretary Alapan Bandyopadhyay.
"The first letter to the DGP sought details of Kumar's address during his leave and the reason leave had been sanctioned. The second suggested that the DGP make Kumar available to the CBI," a source said.
Soon after the high court had denied Kumar protection from arrest in the Saradha probe, the CBI had sent an email to Kumar asking him to turn up at its Salt Lake office on Saturday. Kumar responded with an email seeking a month to present himself before the investigating agency.
The CBI sent the messengers to Nabanna although it was a Sunday. The two officials, who spoke only in Hindi, reached the state secretariat around 5.10pm.
The policemen at the main gate initially refused to accept the letters and requested the messengers to return on Monday. After around fifteen minutes of discussions, the guards accepted the two letters for the DGP but not the remaining two.
"There is a control room in the DGP's office that runs 24x7. So, the letters addressed to the DGP could be received, although it was a Sunday. But as there is no such control room for the chief secretary and the home secretary, their letters could not be received," said a government official.
He added that the messengers said they would return on Monday with the other letters.
"As a senior officer like Kumar cannot be on leave without stating his address during leave, the CBI sought his whereabouts from Virendra. As the state government had told the Supreme Court that it was committed to cooperating with the agency in the Saradha probe, the letters reminded the state officials that cooperation meant handing Kumar over to the CBI," said a source.
A contempt case is pending at the Supreme Court as the CBI had accused the state government of non-cooperation after the agency's officials were prevented from entering Kumar's residence on February 3. During the hearing of that case, the state government had said it was co-operating with the agency and would continue to do so.
Sources in the state government said the Sunday despatch by the agency was aimed at grabbing eyeballs, making the administration sit up and keeping the Saradha pot boiling. "It was meant to be a spectacle. They could easily have delivered the letters on Monday," said a source.