Caught off guard by India visa bar on Bangladesh border
Many of the Bagladeshis appeared to be clueless about the suspension of the Indian visas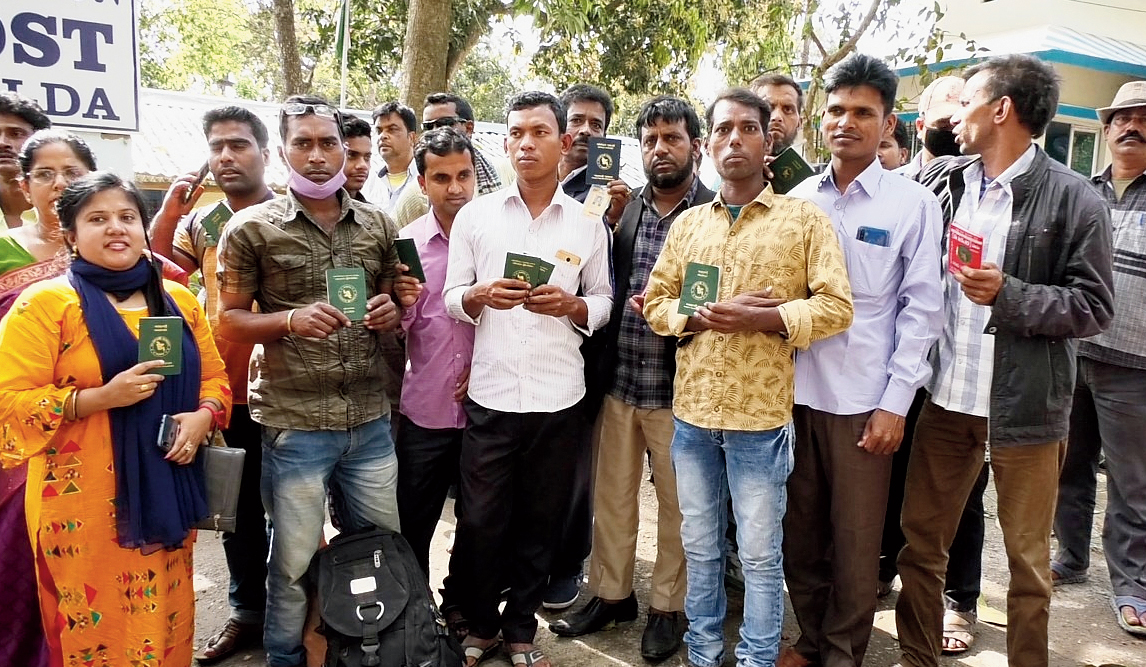 ---
|
Malda
|
Published 16.03.20, 10:15 PM
---
A group of Bangladeshis reached the border near Mahadipur in Malda district on Monday to enter Bengal but were turned back as the Indian government had suspended Indian visas in almost all categories because of the Covid-19 pandemic.
Officials of the immigration department of India and the BSF informed the Bangladeshis about the visa cancellations. Many of the Bagladeshis appeared to be clueless about the suspension of the Indian visas.
While some arrived to attend funerals, others came to take their relatives to different places in India for treatment. There were at least 15 families who were stranded on the border for quite some time. A section of them blamed officials of their country for letting them cross their side without mentioning the restriction imposed by India.
On the other side of Mahadipur is Sona Masjid, a land transit point in Chapai-Nawabganj district of Bangladesh.
"My uncle and his family live in Malda. He had died recently. His last rites are to be held today. I came with a valid passport and visa but was denied entry. I had no clue that India has imposed such a restriction on residents of other countries," said Dilwar Hossain, a resident of Godala in Rajshashi district of Bangladesh.
Debashish Chattaerjee, an immigration officer posted at Mahadipur, said: "Some citizens of Bangladesh had been to the border but we could not let them in. There is a specific directive from the Centre regarding entry of foreigners through international borders."