Care for babies at Duare Sarkar camp in South 24-Parganas
The Sagar block authorities with the support of local gram panchayats officials and health workers are taking care of the children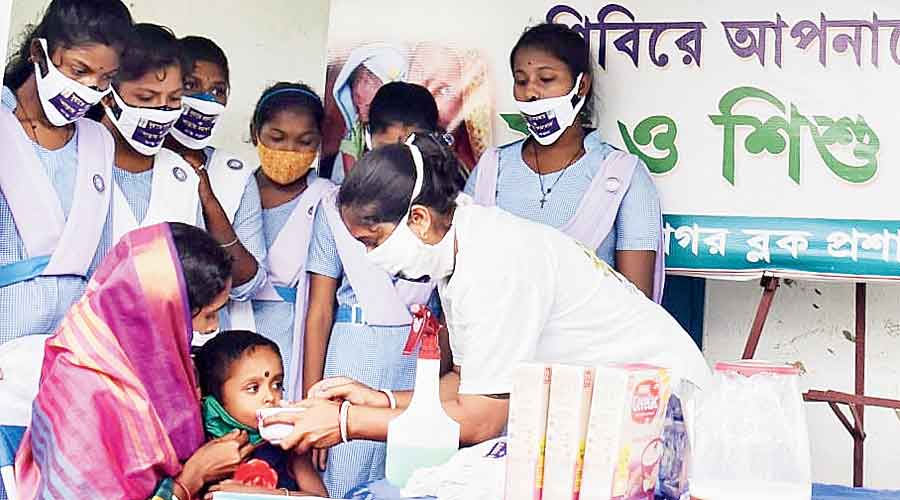 A child being fed with milk at the Duare Sarkar camp on Sagar island on Monday.
Mehaboob Gazi
---
Kalyani
|
Published 14.09.21, 03:01 AM
|
---
Sagar block administration in South 24-Parganas has gone out of its way to take care of kids who are accompanying their mothers to a Duare Sarkar camp that has been witnessing long queues and prolonged waiting hours.
The first Duare Sarkar camp was held in the block on August 16 and since then, thelocal administration has set up tents, named "Maa o Sishu Alay (Mother and Child Shelter)". Women can take their babies to the tents to feed milk and baby food offered by the administration and also breastfeed them in covered facilities so that no children are left hungry during their visit to the camps.
The block authorities with the support of local gram panchayats officials and health workers are taking care of the children. The local administration has also enlisted the services of senior students of Kanyashree clubs of local schools to serve milk and assist mothers in feeding children.
Sagar resident Putul Mondal, a woman who fed her child at the tent, said: "The gesture from the administration was a big relief.… I live more than 5km away from the camp. I left home early in the morning to join the queue with my five-year-old child. My child had to stand along with me in the queue for over two hours. After I collected the form, a schoolgirl took me to the tent and offered milk to my child."
"The girls also helped me fill in my application form. The initiative was a big help."
The initiative was planned by the Sagar administration as it had anticipated a huge rush of women to obtain and submit forms to avail themselves of benefits under the newly launched 'Lakshmir Bhandar' scheme.
The brain behind the initiative, Sagar's BDO Sudipto Mondal, said: "Lakshmir Bhandar scheme has been drawing huge applicants across the state. The picture is quite the same on Sagar island. We always try to render fast service, particularly to women who attend camps with children. But one has to wait for over an hour to complete formalities at the camp. We felt the long wait might leave the kids hungry and we conceived a plan to arrange milk for them. We also provided a space for mothers to breastfeed their kids in privacy."
At a Duare Sarkar camp at Daskshin Haradhanpur village, around 50 women took the special service offered by the block administration.
He said girls of "Kanyashree" club had been engaged at the camps to spot women carrying children and bring them to the tent. At the tents, health workers are taking care of the children and feeding them milk.
Mondal said: "Our objective is to ensure comprehensive service for the people. 'Maa o Sishu Alay' is a step in this direction. We included Kanyashree girls in the initiative to boost their confidence and empower them."