Cancer centre plan in Bengal's Burdwan
The estimated cost of the 80-bed facility is Rs 42 crore and it will come up on one-bigha in the town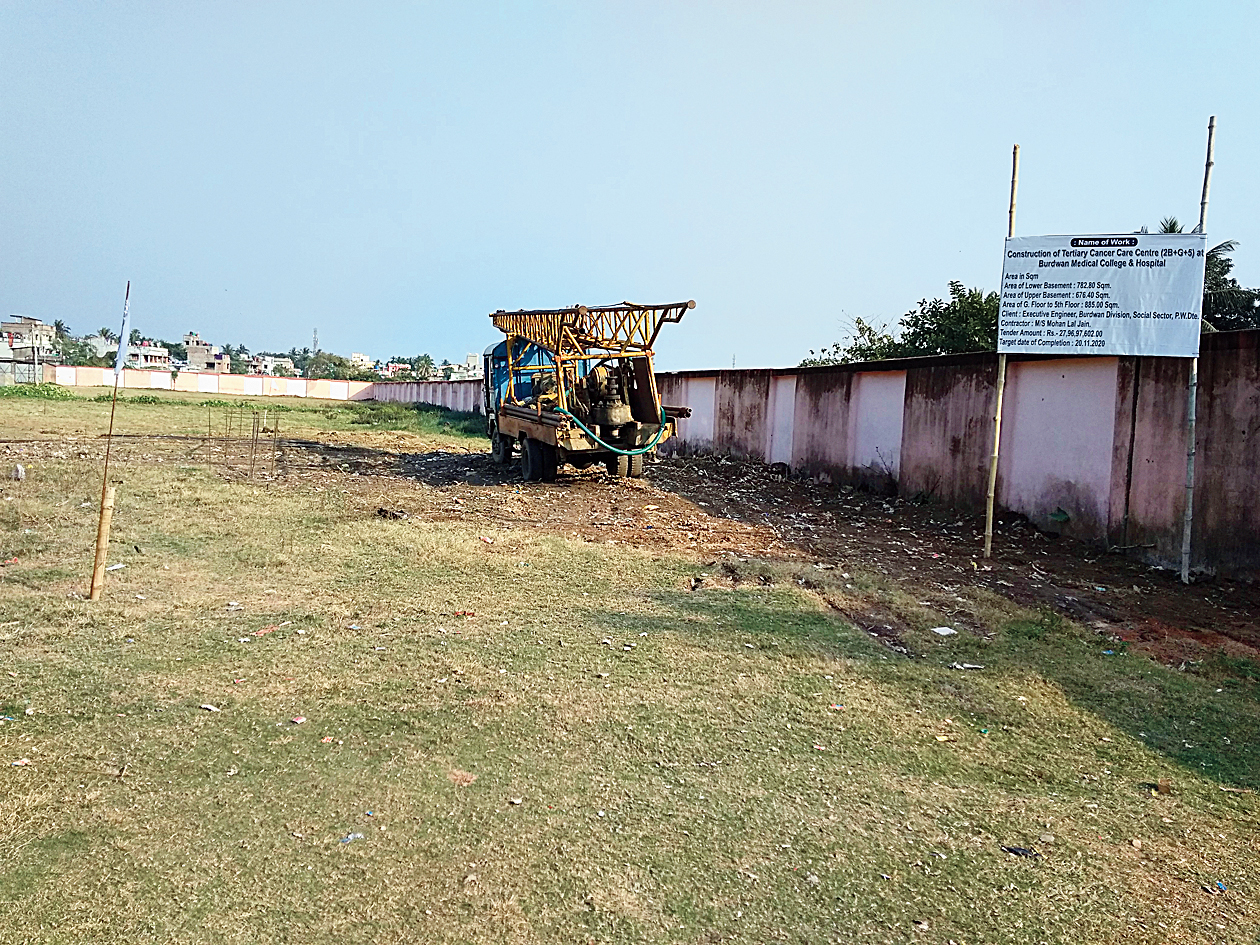 The site of the proposed cancer centre in Burdwan
Picture by Anirban Hazra
---
Burdwan
|
Published 19.12.18, 10:06 PM
|
---
The Centre and state has jointly planned to build a tertiary cancer care and research centre in Burdwan to improve access to cancer treatment for patients from across south Bengal and bordering Jharkhand.

The estimated cost of the 80-bed facility is Rs 42 crore and it will come up on one-bigha in the town.
Officials at the Burdwan Medical College and Hospital, the executing authority of the project, said the hospital will be operational within four years. "We plan to complete the nine-storey cancer centre building by the end of 2020. We will start assembling the machinery and other infrastructure for the hospital. We will provide all kinds of treatment for cancer patients, including surgical, medicinal, chemotherapy and radiotherapy. We will also have a research centre here," said Utpal Dan, superintendent of the Burdwan Medical College and Hospital.
Sources said Rs 24 crore has already been received for the construction.
The Union health and family welfare ministry had sanctioned four tertiary cancer care centres for Bengal seven years ago, the sources added. The centres were supposed to come up in Burdwan, Behrampore, Calcutta and its neighbourhood.
The proposed centre in Burdwan was stalled for nearly five years because of delay in land acquisition and then approval of the plan.
"Initially we had earmarked land close to the Burdwan Medical College, but it was not liked by the central inspection team. Later, we approached the Burdwan University for land close to its women's hostel. The central team then approved the land after which the university authorities transferred the plot to the Burdwan Medical College," said an official.
Later, the project suffered further delay because of sanction of the building plan. "We had to made a lot of changes in the building plan following instructions of the Centre that led to delay of the project. However, finally the building plan was sanctioned and now the work has started" said Dan.
The superintendent, however, said the delay has substantially escalated the cost of the project.
"A major portion of the money will be spent in construction of the building alone. The project cost was estimated seven years ago, which has already escalated considerably because of the delay. We will ask the Centre for more funds," Dan added.