No one expected the serious-looking teacher in a necktie, who sang the soulful Mila jo tu from the film Marjawa, to reappear minutes later in jeans, shades and a cap turned backwards and dance hip hop to a Hritik Roshan number! "But then it's Children's Day and I wanted to surprise the students," smiled Purnendu Chakraborty, chemistry teacher of St Francis Xavier school.
He and several other teachers performed on campus but the students enjoyed virtually, from home. "I like singing and have sung for the students before but year is like no other and I thought the students deserved something extra. So the physical education teacher Soubarna Ghoshal and I got a mutual friend to teach us the simplest possible steps to a medley of Ghungroo and Muqabla muqabla remix," said Chakraborty.
In response the students flooded the comments section on the Facebook and YouTube page where the video was uploaded with the word "OP". "I had to ask them what that meant. Turns out it's PUBG lingo for 'outstanding performance'," laughed the teacher.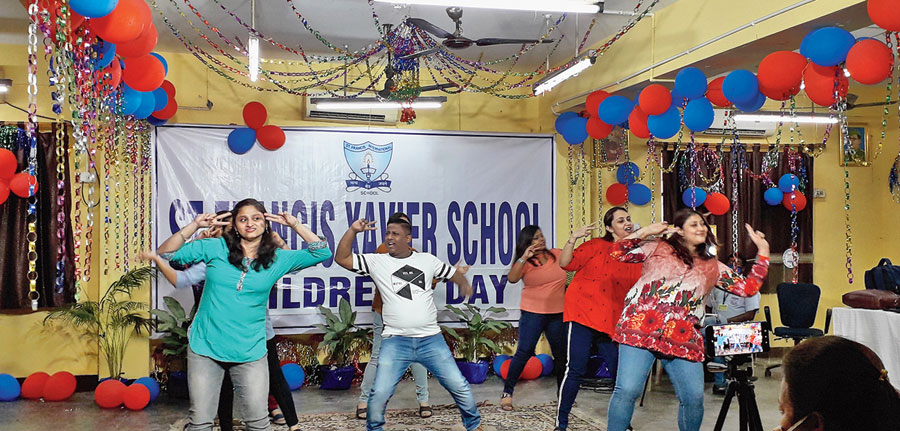 Junior teachers, led by Rahul Mojumder, dance to Brazil
Suman Chakraborty (Bengali teacher) and Chandni Chatterjee (math and science teacher) sang Ooo lala pagla hawa and Ruk jana nahin, a trio of plus-two section teachers danced to Itni si hasi and there were collages shared with pictures of students as well as slides highlighting the contribution of Jawaharlal Nehru, on whose birth anniversary Children's Day is celebrated. Nikhil Biswas, head of the English department, compered the show.
Sunil Kumar Bhattacharyya, the Bengali teacher better known as "SKB sir' flew the audience to the western frontier with his rendition of Yaari hai iman mera, that too dressed in a Pathan suit and pagdi. "I've borrowed my costume from our officiating principal, Anil Srivastava! He tied the pagdi and even helped me with the pronunciation of the Hindi song," said the teacher who plays several instruments and sings Manna De songs on stage.
Another entertaining show was a group dance by junior teachers, led by Rahul Mojumder. "We danced to the song Brazil by Vengaboyz, which had came out when we were in school ourselves," he smiled. "We are also happy we could screen this show — not from home but — from school. At least the kids got a glimpse of the school they miss so much. I may not be technically correct at dance but I performed from the heart to entertain them."
The school's bona fide dance teacher Atreyee Sengupta was very encouraging. "If I deserve 6 on 10 the others deserve a perfect 10! This is not their subject but they are such sports to have danced anyway," smiled the lady who performed a solo number and a duet with math teacher Camellia Chakraborty.
The school's secretary and administrator, Ajay Chopra, praised for the teachers for their effort and the students for co-operating with the online education system so smoothly for so many months.
"Most schools have given Children's Day a skip this year but your teachers wanted to ensure you your due celebrations," Chopra said. "On this one day you get to see a completely different side of your teachers and missing it would have been a disappointment. So even if you couldn't come to school, we entered your homes to celebrate Children's Day."