Sunderbans: Trapped tiger released in wild
Big cat suffered no injury: Forest officials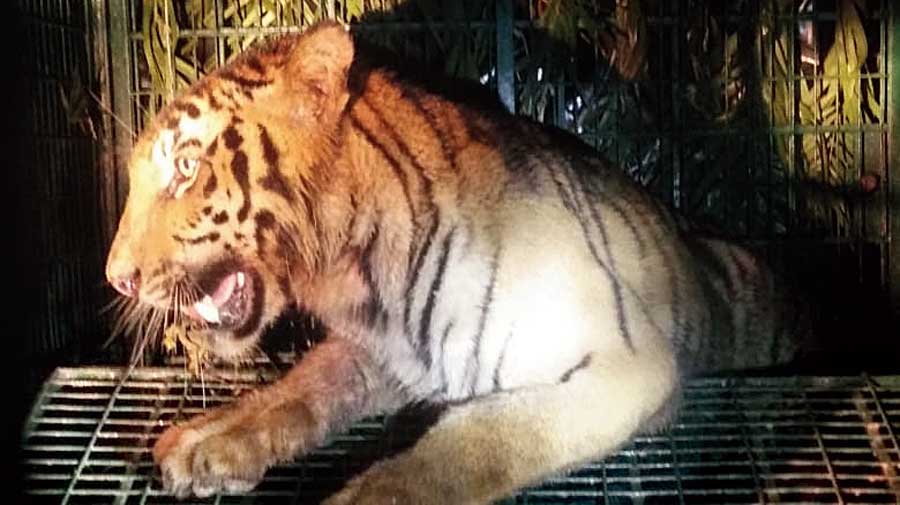 ---
|
Calcutta
|
Published 08.10.20, 02:07 AM
---
A small trawler stood on the edge of the Thakuran river near a forest in the Sunderbans on Wednesday evening. It was low tide. As soon as the doors of a trap cage on the trawler were lifted, out jumped a tiger.
The big cat landed on the soft river bank. Egged on by a few human voices, it took a few sprightly steps and vanished into the dense forest on the other side.
The tiger was captured in a trap cage on the edge of Baikanthapur 6 village in the Sunderbans on Tuesday evening. Forest officials said it was the same big cat that had strayed into the village on Monday evening.
The tiger had killed livestock and squatted on a brick road for hours before retreating into the forest. Forest department officials had said the tiger had entered the village, around 30km from Kultali town in South 24-Parganas, after swimming across a tributary of the river Matla.
"The tiger was trapped around 8.30pm on Tuesday. It was taken to the tiger rescue centre at Jharkhali (in the Sunderbans). A team of vets and forest officials examined the tiger on Wednesday. The pugmarks matched with that of the one found in the village. There were no injuries and the tiger was found to be fit for release into the wild," said V.K. Yadav, the chief wildlife warden of Bengal.

The tiger, a male aged around "five-six years", was released into Chulkata forest in the South 24-Parganas division of the Sunderbans, on the banks of the Thakuran river and not far from Jharkhali.
Officials examined the animal to check whether it had any external injuries that might have prompted it to enter a human habitat.
"The trap was laid because big cats had a tendency to come back for their kill. The tiger killed a cow and a goat on Monday but could not eat them, apparently because thousands of people assembled to catch a glimpse of it," an official of the forest department said.
The tiger that had strayed into the village is said to have come from the Ajmalmari forest. A tributary of the Matla river separates Baikanthapur 6 from the Ajmalmari forest.
The forests in the Sunderbans are fenced by nylon nets. The tiger is said to have sneaked out of a hole in the net, crossed the river and the thin forest cover before entering the village.