Shopper uptick before Durga Puja raises hopes
From a sari store in Gariahat to a department store in South City Mall, most sellers were happy with the rise in the number of buyers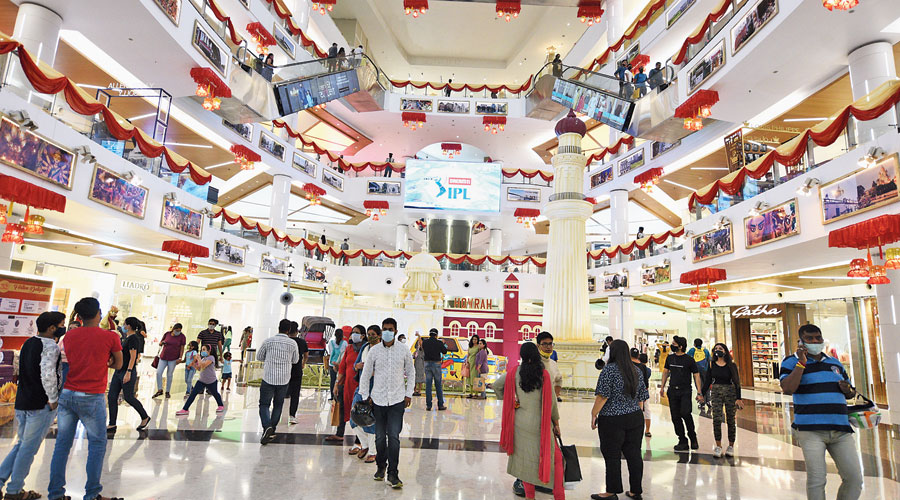 ---
|
Calcutta
|
Published 05.10.20, 02:45 AM
---
Shoppers were out in droves on Sunday with a little more than a fortnight left for Durga Puja.
From a sari store in Gariahat to a department store in South City Mall, most sellers were happy. A steady rise in the number of people with time was a note of hope for them, though the count was way less than what was observed in the run up to the Puja last year.
Most people said it was the first time they had stepped out for shopping since the Covid pandemic reached Calcutta in March. They were happy to see many others out, too.
Ratan Kumar Saha, the owner of Traders Assembly in Gariahat, said if the business was 10-15 per cent of previous years' between June and August, it was about 20 per cent of last year's around this time. Saha feels the business would rise further over the next two weekends.
"I feel it can go up to 25 per cent of previous years' in the next 20 days. Under the current circumstances, I will be content with this. What we sell are luxury items, not a daily necessity," said Saha.
Dip Biwas, an official of South City Mall, gave a similar picture. The official said a month back about 25,000 people used to visit the mall on Sundays. But this Sunday, the number rose to over 40,000. "We expect more people to come on the next two Sundays," he said.
An official of Shoppers Stop at South City Mall said they had witnessed about nearly 50 per cent jump in sales compared with last month.
The change was visible. When Metro visited South City Mall late Sunday afternoon, there was a steady stream of visitors walking past the metal detector gates. The ground floor — which has been decorated with lights and imitations of a yellow taxi, a hand-pulled rickshaw, a working table and a container of a phuckawallah - had people standing in front of the models for pictures. Most visitors were wearing masks but were taking them off while being clicked.
The crowd thinned as one moved to upper floors, suggesting many were out only to soak in the pre-Puja mood.
Ayan Bhattacharya and wife Piyali had come from Ganguly Bagan. This was the first time they were out shopping since March. "I have been going to the office since September. So I needed some new clothes. We are using this visit to buy stuff both for work and Puja," said Ayan.
At Acropolis Mall, too, Sunday witnessed a bigger turnout than all holidays since March. An official of the mall said about 10,000 people visited the shopping hub on Sunday, a 30 per cent increase compared with the footfall a month ago.
"Our mall will remain open up to 11pm till October 30. The sales at the food court and apparel stores were impressive today," said the official.
South City Mall, Biswas said, would remain open up to 10 pm till October 20.