Flyover repair before razing
Move to prolong life until alternatives are in place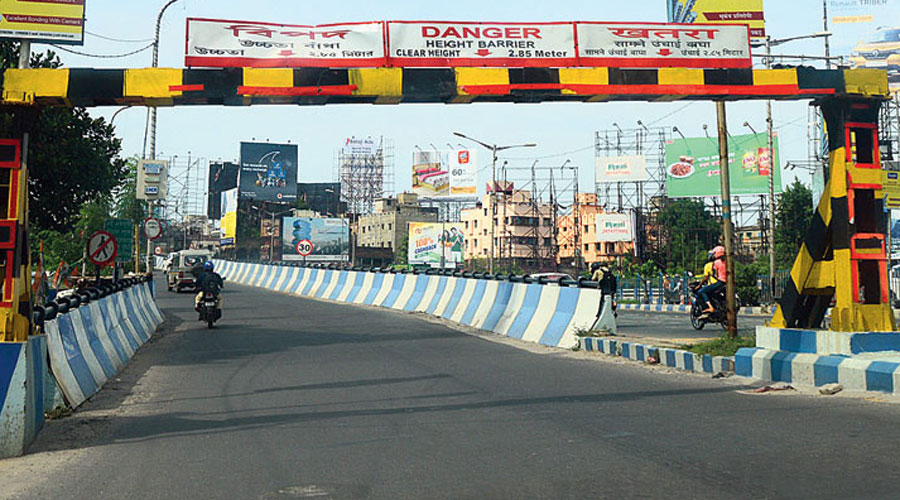 Chingrighata flyover
File picture
---
Calcutta
|
Published 06.07.20, 03:30 AM
|
---
The urban development department will undertake another round of repairs of several flyovers and bridges in Calcutta, some of which engineers had wanted demolished.
The flyover that connects EM Bypass to VIP Road near Ultadanga, the ones in Baghajatin and Chingrighata, and the Kalighat bridge are among the ones that will be repaired, officials said.
These flyovers have been accorded priority over others because a team of bridge engineers, which is supervising the health audit of over 15 elevated structures in Calcutta, has found them to be in poorer condition than the rest.
The team has recommended demolition of the Chingrighata flyover and the Kalighat bridge. "But the repairs are needed to ensure the structures remain safe till alternatives are ready," an official in the urban development department said.
Repairs of Bijon Setu, the Sealdah flyover, Bankim Setu (in Howrah) and other structures will be taken up later because they are in a comparatively better condition.
The urban development department had set up the committee of bridge engineers following the collapse of the Majerhat bridge in 2018.
A report on the audit of eight bridges was submitted to urban development minister Firhad Hakim on Thursday. "We have to undertake repairs of the Chingrighata flyover. The structure will then last a few more years. We will build an alternative bridge. Once the new bridge is ready, we will pull down the current one," Hakim said on Saturday.
"Some repairs will be done on the Kalighat bridge, too. This will again help it last a few more years. But the Kalighat bridge, too, has to be replaced."
At a recent meeting to assess the condition of flyovers, engineers have agreed to carry on more extensive repair works than earlier. "In the case of the Baghajatin flyover, it was found that the water used to mix concrete was acidic. The construction material was inferior, too. I have asked experts to give a report within 10 days so that we can float the tender for repairs by July," Hakim said.
Engineers said the flyover should ideally be pulled down. "We have found that the road space of the railway level crossing is inadequate to handle the traffic load of EM Bypass," said a senior engineer of the CMDA. "It will take at least three years to build a new one."
The CMDA has decided to build a steel structure below the Baghajatin flyover so that the load from the top can be evenly distributed below. The structure — more like a scaffolding — will support the underbelly of the flyover.
The Ultadanga flyover that connects the Bypass to VIP Road is nine years old but still needs thorough repairs. A report on the structure by the Los Angeles-headquartered AECOM states that girders were not strong enough to bear the traffic load.
In September 2019, the flyover was shut for two days for repairs. Another round of repairs was carried out in March. Engineers have found cracks in the girders, which need to be urgently repaired.