North winds bring down Celsius in Calcutta
The Met office has predicted a cold spell over the next four-five days, with the mercury tipped to dip to sub-12 degrees in the next few days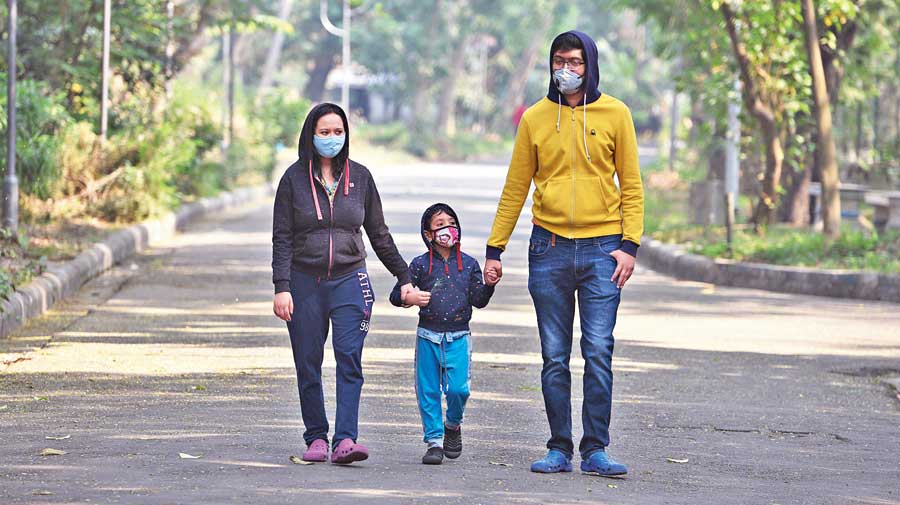 ---
|
Calcutta
|
Published 20.12.20, 12:52 AM
---
The mercury plunged to 13.1 degrees Celsius in the city on Saturday, the coldest day of the season so far, riding strong north-westerly winds.
The Met office has predicted a cold spell over the next four-five days, with the mercury tipped to dip to sub-12 degrees in the next few days.
The minimum temperature on Saturday was two notches below normal and three notches below Friday's minimum temperature.
Over the last few days, the cold winds had started picking up intensity. On Saturday, they swept through the city and its neighbourhood, dragging the minimum temperature to 22 degrees, three notches below normal.
The temperature was not abnormal for mid-December, a Met official said.
But the temperature in the city had been on the high-er side for a better part of December and Calcuttans welcomed the plunge that heralded the onset of their favourite time of the year.
The sky was clear in the morning and people clad in woollens and jackets made a beeline for Alipore zoo, Eco Park and other public attractions.
"The cold is here to stay. The minimum temperature is likely to dip to under 12 degrees in the coming days. The minimum temperature is unlikely to go above 15 degrees over the next five days," said GK Das, director, India Meteorological Centre in Calcutta.
As the evening crept in, people were seen making bonfires out of newspapers to keep themselves warm.
The roads became deserted earlier than usual.
Salt Lake and areas along VIP Road, EM Bypass and near the airport became particularly chilly.
Weather officials said the chill was because of the winds blowing in from north India at over 15kmph.
In Delhi, the chill was biting and the minimum temperature dropped to 3.9 degrees Celsius on Saturday morning.