Discharged after surgery, rescuer vows to fight on
Nilanjana Chatterjee vowed to continue to stand up against atrocities on women even if it meant suffering the same fate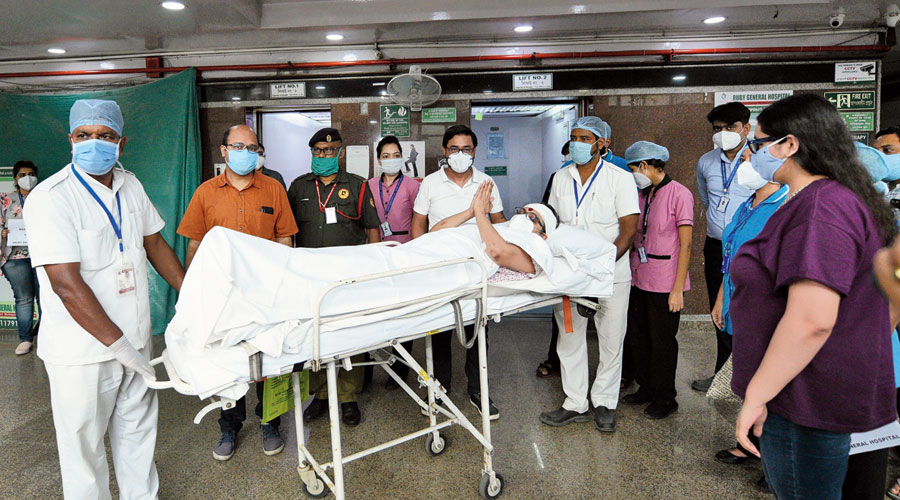 ---
|
Calcutta
|
Published 14.09.20, 05:52 AM
---
Nilanjana Chatterjee, who was knocked down by a Honda City while trying to help a woman crying for help and suffered fractures in her left leg, was discharged from hospital on Sunday.
Shortly before her discharge, she vowed to continue to stand up against atrocities on women even if it meant suffering the same fate and added that she had even told her daughter to walk with her backbone straight.
"This physical pain will go away soon. But the love and care that I have found for whatever little I did — along with my family — will spur me to stand up and rise in protest if something similar plays out in front of me again," Nilanjana told Metro before leaving Ruby General Hospital for her parent's home in Anandapur.
"I have even told my daughter the same — shirdnara soja korey cholbey (walk with your spine straight). People who get bullied tend to become a bully and the cycle continues," she said.
Nilanjana was returning home with her husband Deep Satpathi and their daughter around midnight on September 5 when she heard a woman crying for help from inside a speeding Honda City.
This was near a deserted stretch of a road near Abhyudoy Housing Complex in Anandapur, off EM Bypass. Nilanjana, and her husband and daughter were returning home after attending a dinner on the occasion of her mother's birthday. As Deep pulled over and forced the Honda City to come to a halt, a woman was thrown out of the vehicle. Injured in her arms, she was shivering in fear.
The man at the wheel of the Honda City, identified as Abhishek Kumar Panda, took a U-turn and fled and mounted the left front wheel over Nilanjana's left leg.
Panda was arrested a few days later. The woman allegedly thrown off the car reportedly told the police that she and Panda were to get married.
"Many people have been telling me that the victim had changed her statements before the police. I have realised that women have to bear a lot of pressure, from the family, society and even friends. But just because she was to get married to the man doesn't mean he would assault her," Nilanjana said.
Doctors at the hospital said Nilanjana had responded well to the treatment. "She has been advised to try and walk a few steps every day at home. She will have to spare her injured leg for the time being and try putting her weight on the right leg," said an official of the hospital.
Nurses and other employees joined Nilanjana as she was taken out of her cabin. Some sang a Rabindra Sangeet. Nilanjana held up one of her hands with a clenched fist, her face glowing with a smile.