Footbridge frame on Bypass
The structure was erected on July 4 after traffic was shut for the night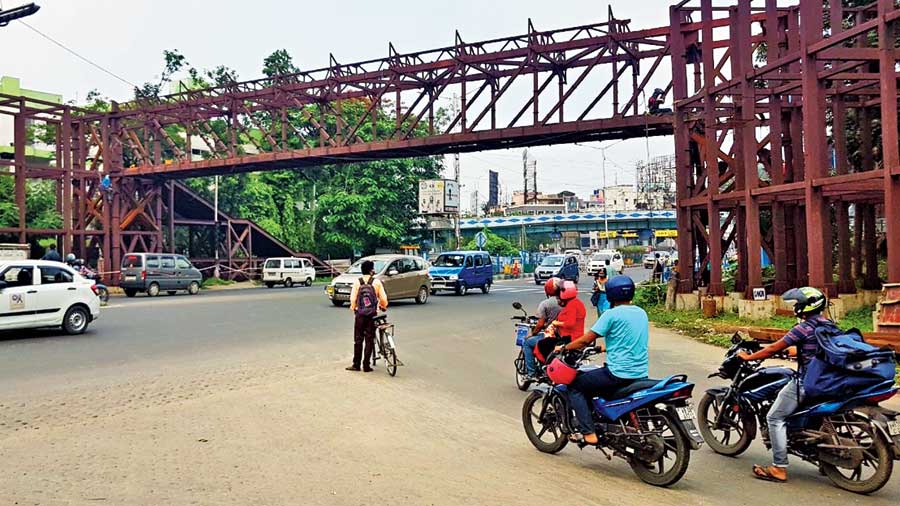 The superstructure of the foot over bridge at Chingrihata, installed on July 4.
Picture by Brinda Sarkar
---
Salt Lake
|
Published 09.07.21, 02:32 AM
|
---
Commuters crossing the Chingrihata area would have noticed the steel skeleton of a bridge installed overhead. Once ready by the end of the year, this foot over bridge will connect Chingrihata to the Chaulpatty Road, Beleghata, over the EM Bypass.
The structure was erected on July 4 after traffic was shut for the night. The work is being carried out by engineers of the Calcutta Metropolitan Development Authority (CMDA).
According to a senior CMDA official, the project cost is around Rs 7 crore. On the Salt Lake side, it will connect near the Jal Vayu Vihar housing complex in Salt Lake.
The official said there will be escalators as well as stairs to help pedestrians cross over EM Bypass easily. "We decided to install escalators as pedestrians often avoid foot over bridges as they do not want to climb stairs," said the official.
The decision to build the bridge was taken after a bus mowed down two cycle-borne college-goers who were crossing the road near the Chingrihata crossing in 2018. Following the incident, residents of Sukantanagar, where they boys hailed from, and adjoining areas torched five buses and fought a pitched battle with cops using stones and bricks.
A senior officer of the Bidhannagar Commissionerate said the crossing is one of the busiest ones on the 29km EM Bypass that poses a series of complex problems. "As it is, this area has heavy traffic load throughout the day and night. Moreover, a lot of people who stay in Sukantanagar and Shantinagar, where fresh water supply still poses a problem, cross over to Beleghata to fetch water on foot and bicycles. Most of them don't adhere to traffic signals," said the officer.
On Wednesday, The Telegraph Salt Lake spotted several men and women crossing the EM Bypass even as cars and bikes whizzed past.
A traffic policeman on duty at the intersection said that despite creating bicycle lanes and a designated crossover point near the base of the Salt Lake-bound end of the Chingrihata flyover, few adhered to the norms and people cross the road wherever they please.
As of now, the prefabricated landing point and steel steps have been erected on the bank of the Eastern Drainage Canal at the start of the Chaulpatty Road while a similar set up has been completed on the canal-bank in front of the Jal Vayu Vihar.
Workers were seen welding together another steel structure. "We will join this structure at the landing base," a site supervisor said.
According to another CMDA engineer, they are using prefabricated steel structures and joints as they last longer than conventional concrete ones. "These are weather-proof and have a life expectancy of more than 50 years," he said.