Beast that was not to be tamed
In Calcutta, highest wind speed: 133kmph, at Dum Dum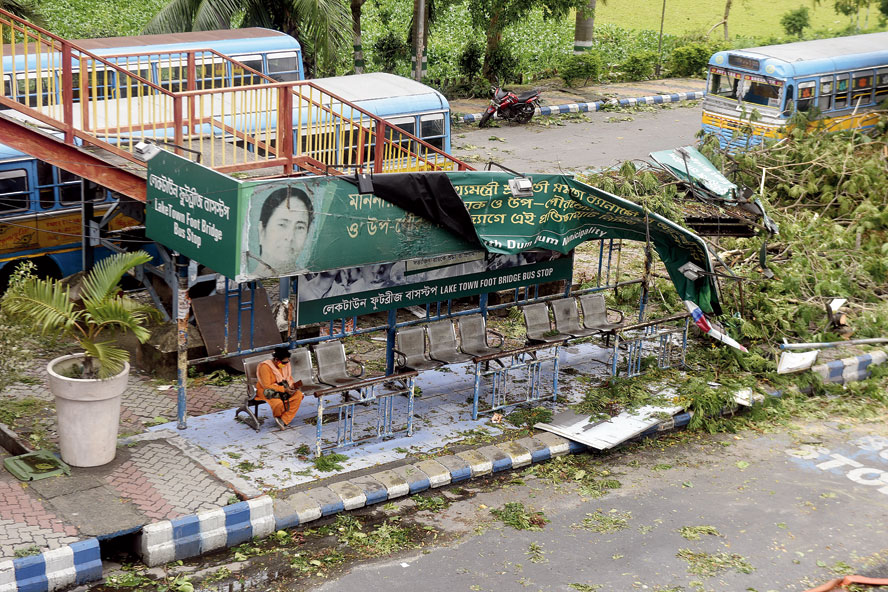 ---
|
Calcutta
|
Published 21.05.20, 09:31 PM
---
Cyclones usually lose steam after making landfall but even a depleted Amphan kept surging through land like a raging bull because of its high wind speed, which peaked at 185kmph during landfall.
In addition, the rich deltaic region in the Sunderbans kept feeding Amphan with moisture, helping it stay strong.
In Calcutta, the highest wind speed was 133kmph — in Dum Dum at 7.20pm.
Amphan reached Bangladesh around 8.30am on Thursday as a deep depression. The system made landfall as a very severe cyclonic storm and it took 18 hours to reduce to a cyclonic storm.
The weather in Calcutta started to clear on Thursday and the Met office said it would be clearer on Friday.
"The strength of the cyclone depends on the intensity with which it hits the land, which was very high in this case," said Mrutyanjay Mohapatra, the chief of India Meteorological Department, Delhi.
"Imagine a drought — a rich person can survive it with the stock of resources for a longer period than a poor man. Similarly, Amphan was such a strong storm that it had enough steam to keep going with ferocity despite meeting resistance on land."
Amphan had a diameter of 700km at the start of the landfall.
Aila had generated a wind speed of 110kmph at landfall in the Sunderbans.
After making landfall near Sagar Island, Amphan travelled north and north-east, brushing past the east of Calcutta and moving to Bangladesh through Nadia and Murshidabad.
During the landfall, to the right of the cyclone was the Sunderbans and the rest of South 24-Parganas. To its left was Digha in East Midnapore.
The wind direction to the right of the cyclone was south to north and to the left, north to south. "The wind speed in the Sunderbans and the rest of South 24-Parganas and North 24-Parganas was 10-20kmph more than Digha," said a weather official.
The peak time of the storm in Calcutta, which is more than 100km from the Sunderbans, was 5.30pm to 9pm.
"The cyclone went from the left of the city. When the city recorded the highest wind speed, the left front spiral of the cyclone had brushed the city," said G.K. Das, director, India Meteorological Department, Calcutta.