Covid positivity rate falls at several hospitals, doctors urge caution
According to officials at health centres, there has been a sharp drop in the number of people turning up for tests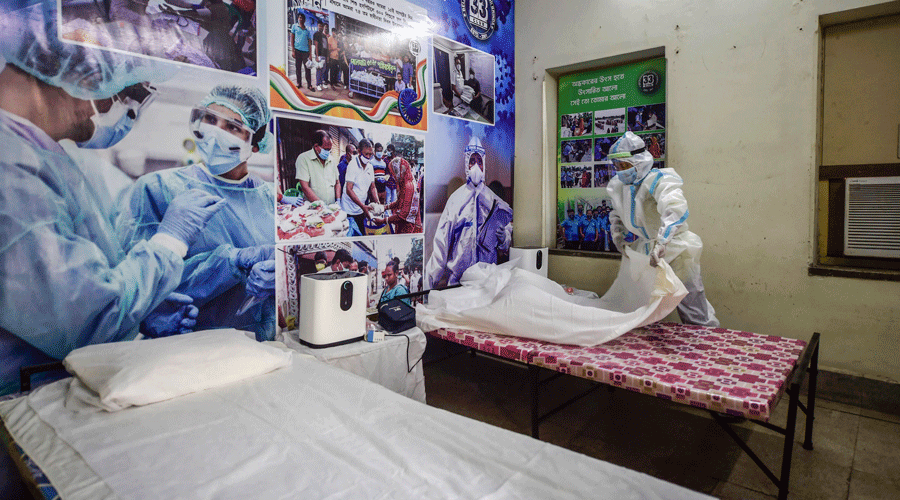 ---
|
Calcutta
|
Published 24.05.21, 01:27 AM
---
The percentage of positive results out of all Covid-19 tests done in a day has dropped at several hospitals and diagnostic centres in the city compared with the rate 10 days ago, but doctors have warned people against dropping their guard.
Along with the fall in the positivity rate, there has been a sharp drop in the number of people turning up for tests, said officials of the diagnostic centres and hospitals. The demand for hospital beds, too, is falling, they said.
Surakhsa Diagnostics, which has multiple branches across the city, has a positivity rate of 30 per cent, compared with around 50 per cent about a fortnight ago.
Peerless Hospital has witnessed the positivity rate drop from nearly 60 per cent to less than 30 per cent in a fortnight. The three units of AMRI Hospitals together are recording a positivity rate of about 25 per cent.
About a fortnight ago it was over 50 per cent. The samples tested at the RN Tagore International Institute of Cardiac Sciences had a positivity rate of over 50 per cent in April end and early May. It has since dropped to 30 to 34 per cent.
The figures, shared by officials of these institutions, are in respect of the RT-PCR test, considered the gold standard for Covid-19 diagnosis.
The positivity rate is a measure of the number of samples that test positive out of all samples tested in a day.
"We have witnessed a sharp drop in the positivity rate of samples being tested at our hospital. It was around 50 per cent in the first few days of May and had even reached 63 per cent one day. On Friday, the positivity rate dropped to 29 per cent," said Sudipta Mitra, the chief executive of Peerless Hospital.
Mitra said the number of tests being performed at the hospital had fallen, too. "About 250 people used to give samples for the Covid test every day about a fortnight ago. It has since fallen to less than 100," he said.
A doctor said fewer people undergoing the test meant fewer people were coming in close contact with an infected person because of the stricter restrictions in force since May 16.
"Before the curbs came into force, an infected person was having more contacts and hence, the number of tests was going up," the doctor said.
The drop in the positivity rate is being accompanied by a fall in the demand for hospital beds, said doctors and officials of various hospitals. Beleghata ID Hospital has been having a few vacant beds at times nowadays.
"Earlier, I used to get calls for admission every now and then. Over the past few days, the number of calls has reduced. We are in a position to admit patients as there are a few vacant beds in general wards and high dependency units," said Kausik Chaudhuri, the nodal officer for Covid-19 at the Beleghata hospital. He also heads the admission cell there.
R. Venkatesh, the regional director of Narayana Health, which runs the RN Tagore hospital, said the hospital had witnessed a "bit of a drop" in frantic calls with appeals for admission.
"We are now having some vacant beds at times. The situation in the emergency ward has improved. Earlier, trolleys would remain lined up in the emergency ward with patients waiting for admission to Covid wards," he said. 
Doctors, however, warned that people should keep following all Covid protocols such as wearing masks and maintaining physical distance. Also, people should get vaccinated at the earliest opportunity.
"If we drop our guard and go back to the old normal, we will immediately be hit by another wave. Lockdowns will have to be lifted, people have to resume work but the Covid protocols have to be followed," said Chaudhuri, a pulmonologist who is treating Covid patients at the Beleghata ID Hospital.