Police to monitor Covid norm for tarpan
Each team will be split into two — one will make continuous announcements to maintain distancing and the other will try and restrict the number of visitors to the ghat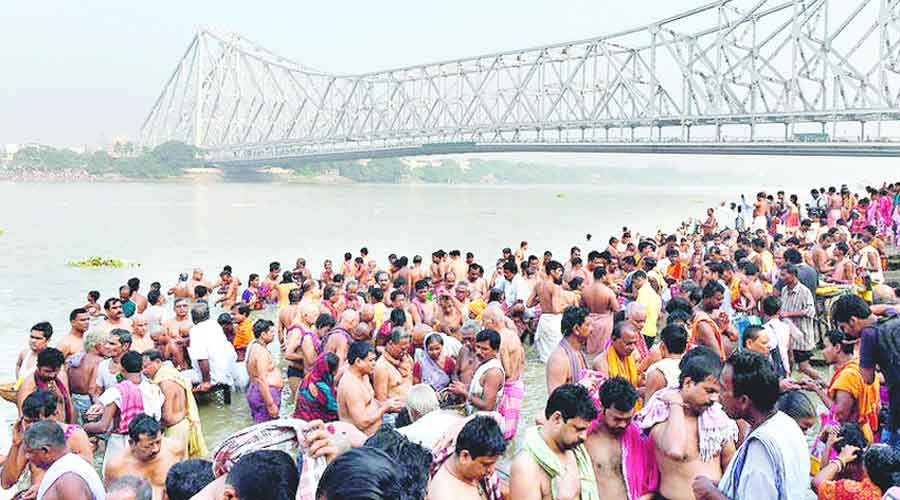 Tarpan is a ritual of offering water and sesame seeds to departed ancestors and is performed on Mahalaya, at the end of Pitri Paksha
File picture
---
Calcutta
|
Published 17.09.20, 03:30 AM
|
---
A team of police officers will be deployed at each of the 37 Hooghly ghats from early on Thursday to ensure social distancing is followed when visitors turn up to perform the ritual of tarpan on the occasion of Mahalaya.
Each team will be split into two — one will make continuous announcements from loudhailers spreading awareness about the need to maintain distancing amid the Covid pandemic and the other will try and restrict the number of visitors to the ghat.
"Masks will be mandatory for all visitors," an officer said.
Tarpan is a ritual of offering water and sesame seeds to departed ancestors and is performed on Mahalaya, at the end of Pitri Paksha. Every year, lakhs of people turn up at the ghats along the Hooghly to perform the ritual.
"Elaborate arrangements have been made to ensure the social distancing norm is followed. Teams from the disaster management group will be deployed at the ghats. There will be nets in some of the bigger ghats to ensure visitors don't stray further into the water while taking a dip," said Syed Waquar Raza, deputy commissioner of police, Port division.
"We will try and ensure that the assembly is restricted on the main roads and not the ghats, where people will perform tarpan."
River traffic police teams will move up and down the Hooghly on speed boats, keeping an eye on people offering tarpan.
Senior officers of the rank of assistant commissioner of police will oversee the arrangements at ghats while being in constant touch with the control room at the police headquarters in Lalbazar. Babughat will have the biggest deployment of forces among all 37 ghats, officers said. Guard rails and ropes have been sent to all ghats to restrict vehicles in the event of a surge in the number of visitors.
By late Wednesday evening, several priests had reached Babughat and its adjoining areas, police said, with many deciding to spend the night on railway platforms at BBD Bag, Prinsep Ghat and other stations of Circular Railway.
"We are not expecting the usual turnout because of the pandemic. So barring Strand Road, there is no specific traffic restriction," a senior police officer said. "This time there won't be trucks carrying idols to pandals. So, we have decided that restrictions will be imposed if there is a big gathering around a particular ghat. All traffic guards have been asked to inform the control room if there is a crowd surge."
Mahalaya marks the countdown to Durga Puja, which usually starts a week later. This year, however, the Puja begins on October 22.