Strict police step up Howrah vigil
The cops had earlier sealed the roads to ensure people did not get a chance to leave the neighbourhood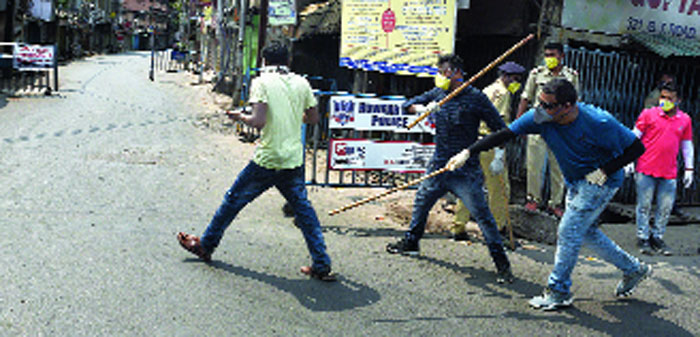 Special forces personnel of the police in Howrah beat up a man for allegedly violating the lockdown on Monday afternoon.
Picture by Pradip Sanyal
---
Howrah
|
Published 20.04.20, 09:51 PM
|
---
Police had to forcibly send people home in several pockets of Howrah to enforce the lockdown on Monday.
People stepping out of their homes, many with bank passbooks, were stopped. Residents chatting on the roads were chased by lathi-wielding cops and, in some cases, pushed back home.
Howrah, declared a sensitive containment area, is one of the first places near Calcutta where Section 144 of CrPC had to be imposed to enforce the lockdown after multiple cases of Covid-19 were reported.
Fresh barricades were set up on Monday to seal almost all lanes and bylanes leading to the major thoroughfares of Howrah.
The cops had earlier sealed the roads to ensure people did not get a chance to leave the neighbourhood.
"I woke up this morning, on hearing a lot of commotion outside my window. I looked out and saw two policemen on a bike beating up some boys who were chatting on the road. This has been the picture for the past few days. Earlier, a police jeep fitted with a loudhailer would do rounds of the area every day, appealing to people to stay indoors. People would step out the moment the jeep would leave. Now things have changed," a resident of Salkia said.
In another neighbourhood in Salkia, a resident said some youths had set up barricades on their own and put up posters with such appeals as "Please wear mask, do not step out of home, follow police's instructions".
"But much to our surprise, the youths themselves used to sit behind the barricades and chat. The police have now removed those barricades and the youths were nowhere to be seen today," the resident said.
Senior officers of Howrah City Police said they had requested all banks in the area to remain shut during the lockdown as they were in the containment zone and many people had been carrying bank passbooks as an excuse to step out of their homes.
Metro on Monday saw policemen stopping a scooterist carrying a bank slip at the Salkia Chowmatha. Stretches along Malipanchghara, Golabari, Shibpur, Howrah Maidan and Kajipara were sealed with bamboo barricades or flexible guardrails that were removed only for movement of police vehicles.
Several pedestrians and motorists were refused entry and asked to take a detour even if they cited some emergency.
Motorcyclists were stopped and forced to go home with a warning.
Some youths on Belilious Road were made to hold their ears and apologise for stepping out of their home and violating the lockdown.
"Since they are young, they were allowed to go with a warning. If we see them again, they will be prosecuted," an officer of the Howrah traffic department said.
The police said waving a baton towards the lockdown violators had a psychological impact even without having to beat anyone.