Barasat on full seven-day lockdown
Except for emergency services, all shops and markets across the 35 wards of the township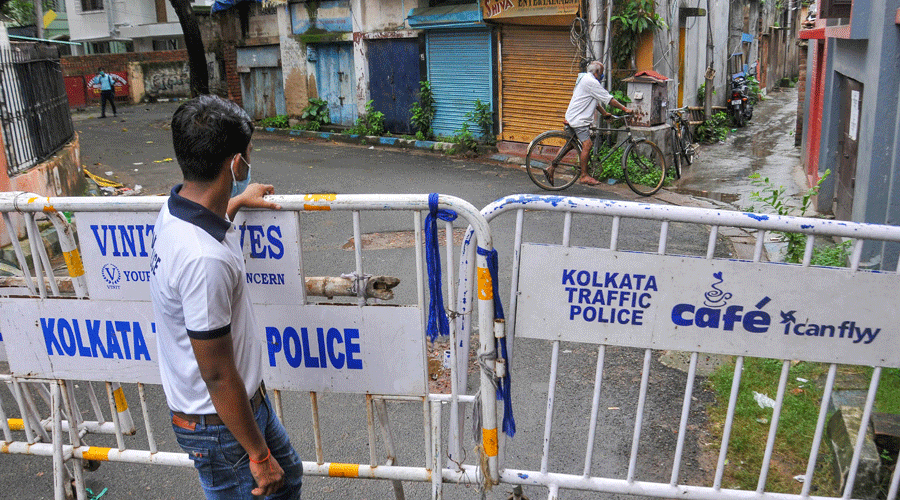 A man stands near barricades inside the sealed residential area after the state government imposed total lockdown in all containment zones following a surge in Covid-19 cases in Calcutta on Friday.
PTI
---
Barasat
|
Published 25.07.20, 03:18 AM
|
---
There will be "complete lockdown" in Barasat for seven days from Saturday to reduce the chances of spread of the coronavirus.
Except for emergency services, all shops and markets across the 35 wards of the township, about 21km from Calcutta, will remain shut. Cops will stop and check vehicles carrying people and unless it is an emergency, the people, along with vehicle owners, will be booked for violating lockdown rules, police said.
The board of administrators of the Barasat municipality had earlier decided on a partial lockdown for seven days but people kept stepping out of their homes and the number of Covid patients kept rising.
The seven-day lockdown in Barasat will begin on a day when the entire state will be on complete lockdown for the second time this week.
On Saturday, all shops, markets and other commercial establishments, including malls, will remain closed across the state. The first complete lockdown was on Thursday. Even places of worship will be shut and those found stepping out of their homes without a valid reason will be booked under the disaster management act.
"State government offices in Barasat will remain open, along with those offering emergency services, including medicines and milk," Asani Mukherjee, the outgoing vice-chairman of Barasat municipality and a member of the municipality's board of administrators, said. "We will review the situation on July 31 and decide on the next course of action."
The township, which has a population of more than 200,000, has seen a steady rise in the number of Covid patients.
Awareness drives regarding masks and distancing rules have remained ineffective. From seven to eight positive cases a week sometime back, the number has shot up to 20-22 a week, a health department official said.
The health department has acquired a private hospital in the township for Covid patients. On Friday, officials visited a nursing home near Chanpadali More to check on the facilities available.
"The 50-bed nursing home has facilities for dialysis and seven ICU beds," the health department official said. "Covid patients will be admitted in a day or two."