Bypoll chance to oust BJP, says Abhishek Banerjee
Trinamul candidate Shatrughan Sinha is pitted against the BJP's Agnimitra Paul in the bypoll of Asansol Lok Sabha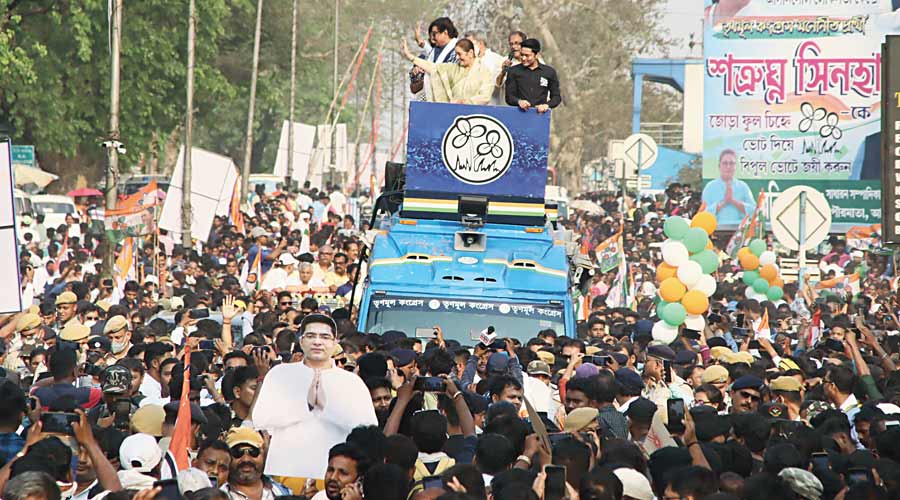 Abhishek Banerjee at the road show in Asansol on Saturday to campaign for his party ahead of the April 12 bypoll.
Picture by Santosh Kumar Mandal
---
Asansol
|
Published 10.04.22, 01:34 AM
|
---
Trinamul national general secretary and MP Abhishek Banerjee on Saturday said that the whole nation was watching the bypoll of Asansol Lok Sabha as it would be a signal to the BJP at the Centre of their exit in 2024 when the general elections will be held.
"This is not a vote to elect but a vote to protest. This by-poll is an opportunity to oust the BJP from every corner of Asansol," he told a rally here ahead of the April 12 bypoll.
Without naming The Kashmir Files, the young MP said: "The BJP is making movies tax free for political interests but increasing the tax of necessary medicines. This is the BJP and you have to answer them now."
He said that every day the price of fuel and cooking gas was going up. "The BJP does not keep its promises but Mamata Banerjee does. You are getting monetary help Mamata Banerjee promised you before elections in your bank account. But you did not receive Rs 15 lakh yet (promised by Prime Minister Narendra Modi). This is the difference." 
Mamata has been running the government for more than 10 years but never taken any anti-people step, he said.
Abhishek took on Tripura chief minister Biplab Deb of the BJP who campaigned in Asansol two days ago. 
"I will advise him (Biplab Deb) to handle his state properly and then look at Bengal where the unemployment percentage is only 5.04 while in your state (Tripura) it is 15.10 percent. We were attacked in Tripura but they campaigned here peacefully and unhindered," he said.
The Trinamul MP held a 4.5km road show in Asansol town before delivering his speech from the vehicle. 
Trinamul candidate Shatrughan Sinha is pitted against the BJP's Agnimitra Paul in this election. 
BJP MP and former Union minister Ravi Shankar Prasad who was in Asansol to campaign said that in Bengal there was no situation to hold free and fair elections. "I will not take the name of the Trinamul candidate here but one thing I say is that he has changed political parties thrice in the last three years... and will not change his party again," he said, referring to Shatrughan.
Prasad said that in Patna Sahib the Trinamul candidate contesting from Asansol (Shatrughan) lost to him by 2.85 lakh votes as a Congress candidate in 2019. "Now he is contesting from Asansol as the Trinamul candidate. He was an MP of the BJP for 22 years and also served as the Union minister. Suddenly in 2019 he left the BJP and joined the Congress. Now he is in Trinamul. I doubt whether he will continue and not change his party again," he said.
He said that in Bengal Trinamul is fighting with Trinamul over the share of spoils.
"Police investigations are in question and so people are going to court demanding CBI probes. I hope the Bengal government thinks on all this and conduct a free and fair election in Asansol," he said.