Buxa Fort renovation nears end
The public works department was entrusted with restoring the dilapidated fort, 30km from Alipurduar town and its prison cells and also building a museum at the site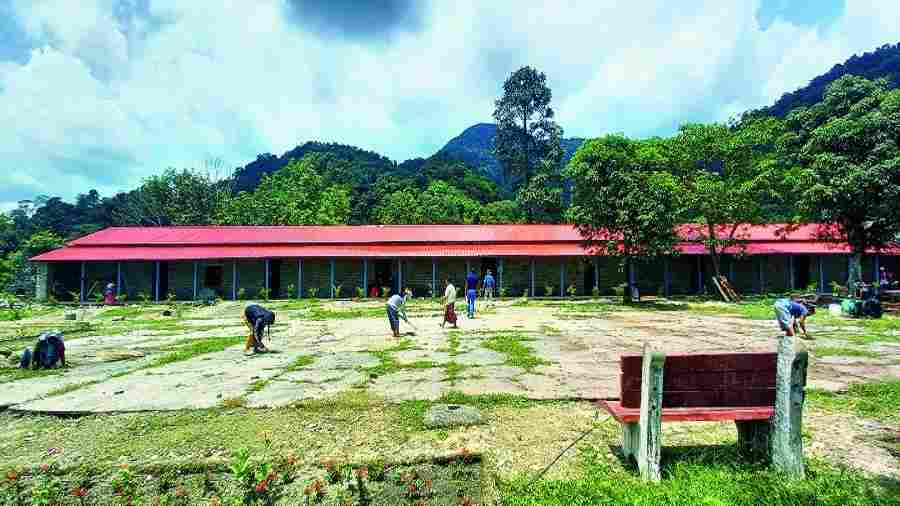 Renovation work in progress at the Buxa Fort.
Anirban Choudhury
---
Alipurduar
|
Published 07.05.22, 01:05 AM
|
---
The integrated development and restoration of the hill-top Buxa Fort, built by Bhutanese kings and which served as a detention centre for freedom fighters during British rule, is nearing completion.
In 2020, the directorate of archaeology and museum had allotted Rs 3 crore for the project. The public works department was entrusted with restoring the dilapidated fort, 30km from Alipurduar town and its prison cells and also building a museum at the site.
Built by the Bhutan kings on the Buxa hills, the fort was handed over to the British in November 1865 during the Treaty of Sinchula. The British reconstructed the fort and later it was used as a detention camp.
"Those days, the Buxa Fort was considered the toughest prison in India after the Cellular Jail in the Andaman and Nicobar islands. Hundreds of freedom fighters were held in the fort prison till the fifties," said Tamal Goswami, a resident of Alipurduar who has been working on the conservation of the fort for decades.   
As part of the plan, the walls of the fort have been restored with stones to retain its heritage look. Also, a number of prison cells have been rebuilt, landscaping has been done on the campus and lights installed.
"There is also a plan to open a museum here where different artefacts, historical documents and other items will be displayed. We are confident that once the restoration work is complete, the fort will draw more visitors," said Surender Kumar Meena, the district magistrate of Alipurduar. Over the years, the entire campus had been overrun by creepers and weeds. These have been cleaned and preservatives used to refurbish the stone walls.
"Not a single piece of brick has been used for the restoration. The entire work has been done in consultation with archaeologists and experts," Goswami said.
The PWD has restored the changes to the fort's structure made over the years — by the Bhutan kings, the British and after Independence.
"This will help tourists and historians to have a clear understanding of the structural changes the fort underwent over the years," Goswami said. To reach the fort, one has to trek 3km from Santalabari through areas that form the fringes of the Buxa Tiger Reserve. There are a number of villages in the surroundings of the fort.
Over the past few years, a number of homestays have come up in these villages. The owners have welcomed the initiative to restore the fort and expect a rise in the flow of tourists and trekkers.
"We hope the state government will publicise the fort and its surroundings so that more tourists come here. It can be developed as a tourist destination in north Bengal and can help locals like us to explore alternative earning options," said Nima Dukpa, a resident of Buxa.