Bowbazar residents' petition that lay in Calcutta High Court
Petition expressing worries about possible structural damage to ageing buildings because of the tunnel-boring work for East-West Metro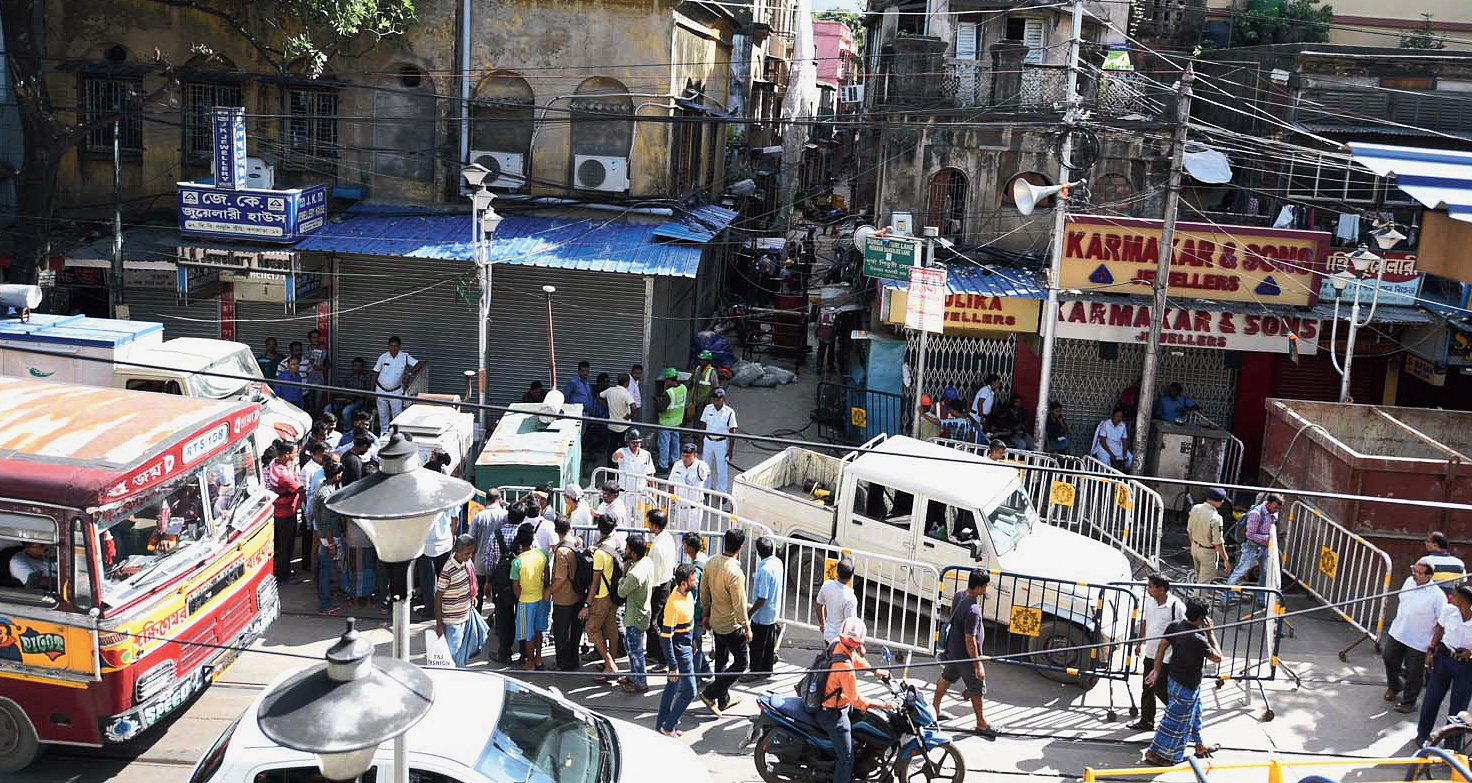 ---
|
Calcutta
|
Published 02.09.19, 09:25 PM
---
The high court will hear on Tuesday a petition filed on behalf of Bowbazar residents over a month ago expressing worries about possible structural damage to ageing buildings because of the ongoing tunnel-boring work for East-West Metro.
The court was yet to hear the petition filed by an NGO claiming to represent some residents of the area.
"Great urgency is involved in the matter as the TBM (tunnel-boring machine) is in constant progress and will enter the central Calcutta region (more particularly Bowbazar area) at anytime now and no steps for protection of the lives and property of the concerned citizens have been taken so far," the petition had said.
Around 250 people had to be evacuated overnight from 13 buildings in Bowbazar after they developed cracks and parts of at least of two of them collapsed while East-West Metro's tunnel-boring work was on between Saturday and Sunday.
A lawyer representing the NGO, Paribesh Academy, reminded the court on Monday about the pending petition, referring to the cave-in.
The petition pointed out that the "very old and congested locality" had several buildings over 150 years old. "Most such buildings are in a dilapidated condition and inhabited by a large number of people. The tunnelling work will certainly endanger the life of local residents and their property."
The respondent authorities are "not divulging any information as to the potential danger and risk" to buildings and residents, the petition alleged.
Sources said the Kolkata Metro Rail Corporation and the Calcutta Municipal Corporation are the respondents in this case.
The petition demanded that Metro Railway "take all necessary precautions to secure the lives and properties of the residents of the central Calcutta region (more particularly Bow Bazaar Area) before proceeding with tunnel construction work by using tunnel-boring machine (TBM) any further".
When the tunnel-boring "machine started moving from beneath the proposed Howrah Maidan station, the two-storey Howrah District Library, situated 10m away, developed cracks", according to the petition.
"An inspection report by the Howrah Zilla Parishad revealed that due to boring operation, soil below the foundation of the old building has been disturbed and an unequal settlement of foundation has resulted in visible cracks."
Lawyer Ritzu Ghosal told the bench on Monday that an NGO had moved a petition before the court a few days ago. "It is very relevant to the incident that took place in Bowbazar yesterday. Some of the buildings have collapsed because of the construction of the East-West Metro project. The court should hear the issue with immediate effect."
The division bench headed by Chief Justice T.B.N. Radhakrishnan will hear the case on Tuesday.
NGO representative Biswajit Mukherjee said: "We filed the petition about a month ago when some residents of Bowbazar approached us fearing great damage from East-West Metro work; and unfortunately their fear has come true."