Boat rallies for erosion fix in Nadia
The CPM organised at least two river rallies on the Hooghly that has been marked by incidents of the calamity along 119km at several places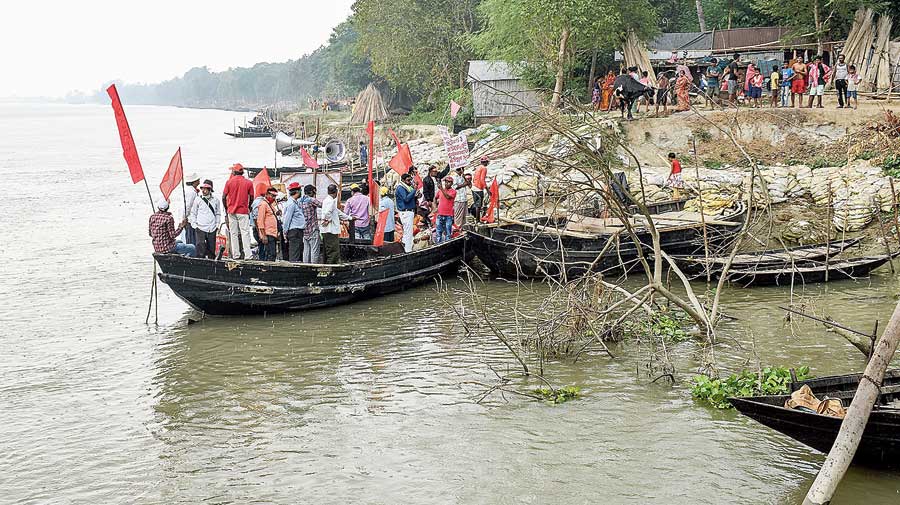 A boat rally by the CPM on the Hooghly in Santipur on Friday.
Abhi Ghosh
---
Krishnagar
|
Published 21.11.20, 02:51 AM
|
---
The CPM on Friday took to the waterway in Nadia to demand a permanent solution to the erosion of embankments along the Hooghly and the Ganga which created a survival crisis for thousands of people in several districts of south Bengal.
The party organised at least two river rallies on the Hooghly that has been marked by incidents of erosion along 119km at several places in Nadia, rendering thousands of people homeless.
The boats, which were decorated with CPM flags and placards, sailed on the river that touched some of the erosion-hit stretches of Santipur, Chakdah, and Kalyani. The CPM activists, aboard the boats and those standing on the riverbanks, raised slogans demanding permanent solution to the erosion. Addressing a rally, which was attended by over 1,000 erosion victims, at Santipur's Balagarh ghat, CPM MLA Rama Biswas said: "Erosion is merely not an election issue. It has become a permanent issue as it has put at stake the survival of many people living near the banks of the Hooghly and the Ganga. These people have lost their land and properties a number of times. They have shifted their bases more than once but their plight remained the same because of sheer apathy and negligence of the state and central governments."
"It is high time that both central and state governments acted to offer a permanent solution to the erosion," said Biswas, who represents Ranaghat (South) in the Assembly.
CPM leader and former chief of Nadia zilla parishad Meghlal Sekh pointed fingers at the sand mafia for triggering the erosion and aggravating the situation.
"While erosion has made the life of people uncertain with fear of losing everything, illegal lifting of sand from river has doubled the impact. Nevertheless, the state administration has preferred to remain silent," Meghlal said.
In the districts of Malda, Murshidabad and Nadia, erosion of the embankment has remained a persistent problem. Experts have attributed erosion to the obstruction of natural flow of the Ganga following the construction of the Farakka Barrage.
CPM leader said the erosion, which started in the early 60s with the inception of the barrage project, was often viewed as a long-term natural disaster with both the Centre and the state government shying away from coming out with a permanent solution.
Sufal Biswas, a resident of Santipur Choudhuripara ghat, said: "We have lost all hopes. In the past five years, I shifted home three times. I have lost over two bighas of agricultural land. I am now landless and try hard to earn by working as a farmhand."
An official of the Nadia administration said: "Erosion is a natural phenomenon and we are helpless. Nevertheless, we try our best to reduce the vulnerability of those living adjacent to the river during the monsoon. We undertake preventive measures and work is underway at many stretches."