BJP, TMC go all out to grab Ram Navami limelight
Trinamul joined hands with the Viswa Hindu Parishad and local clubs in organising such rallies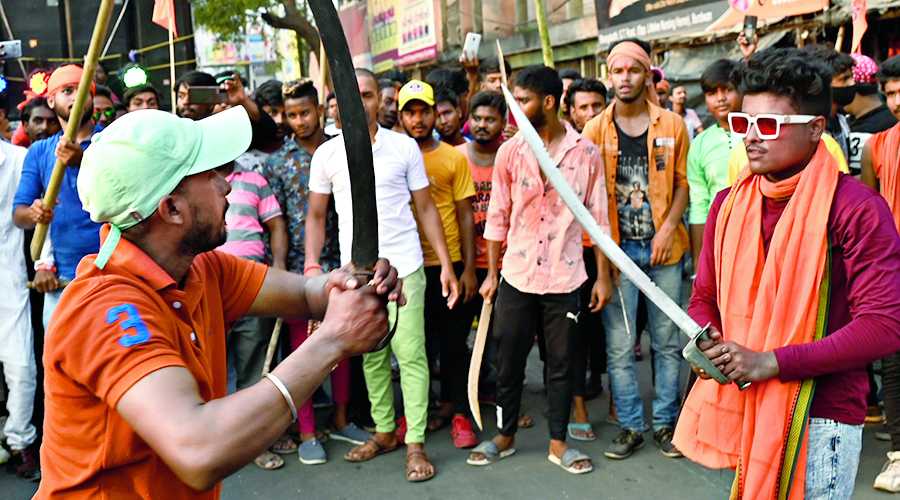 Participants brandish arms at a Ram Navami procession in Burdwan on Sunday.
Munshi Muklesur Rahaman
---
Calcutta
|
Published 11.04.22, 03:15 AM
|
---
The ruling Trinamul and the BJP locked horns over Ram Navami on Sunday in a bid to establish political supremacy over the other.
Both parties took out multiple rallies where participants brandished swords  after a two year pandemic-induced hiatus.
The role of the administration and law enforcers prompted questions in many parts of the state. While the police clashed with Sangh Parivar activists in several parts of the state, in some other places they were mute spectators.
In Barrackpore subdivision of North 24-Parganas at least two Ram Navami rallies witnessed devotees flashing arms and chanting Jai Shri Ram. Trinamul joined hands with the Viswa Hindu Parishad and local clubs in organising such rallies. They also personally led some of these rallies to proclaim supremacy over BJP's Barrackpore MP Arjun Singh. At one of the rallies, Singh was seen walking at the tail-end of the crowd with his supporters.
At the Bhatpara rally from Arya Samaj crossing to Bhatpara crossing, around 100 youths armed with swords and daggers were seen dancing  and chanting Jai Shri Ram. The Mahavir Jayanti committee headed by Jaggaddal Trinamul MLA Somnath Shyam organised it.
The Bengal government, like in previous years, issued prohibitory orders on arms in Ram Navami rallies.
When questioned about flashing swords in the name of religion, Shyam said: "It is quite unfortunate that some teens with some arms used at home took part in the rally without our knowledge… It was definitely unwanted.. But we could not isolate them in the heavy crowd."
 "We organised the rally in the name of Mahavir Jayanti celebration committee. We welcomed all members of Hindu community… There was no politics. Many clubs and religious organisations including the VHP joined the event," he said, adding that the police can take action against violators.
The show of arms happened in front of the police itself. The law enforcers appeared to turn a blind eye towards the dangling swords.
Manoj Verma, the commissioner of police of Barrackpore, said some youths were spotted with arms in a rally in Bhatpara. "We are trying to identify them. Legal action will be initiated against them," he said.
In Bankura's Machantala, an unruly Ram Navami rally clashed with police. According to the police the mob tried to enter an area cordoned off by the police to prevent clashes.
"There was a predetermined route for the rally and the large part of it passed through it. A group of around 80 unruly persons tried to enter the prohibited route. We arrested seven persons," said Dhritiman Sarkar, the Bankura police superintendent.
A senior police officer in Bankura said Union minister Subhas Sarkar was present when the mob started pelting stones towards police. Sarkar alleged his convoy and car were attacked by goons.
"I had participated in the rally as a Ram devotee. Suddenly some goons attacked me," Sarkar said. The rally was organised by the local VHP.
Another VHP rally clashed with the police in Howrah injuring 10 persons.
BJP's Kharagpur MLA Hiran Chatterjee tweeted pictures of BJP supporters handing over a sword to him in Midnapore. "Sword for self-defence, not to attack," Chatterjee wrote along with the pictures.
BJP's Bengal chief Sukanta Majumdar, leader of the Opposition Suvendu Adhikari and national vice-president Dilip Ghosh also participated in Ram Navami rallies.
In Burdwan around 200 people from both Hindu and Muslim community on Sunday took part in a procession of Ram Navami, which was followed by an Iftar party. The event was organised by Burdwan Ram Navami celebration committee, but was backed by local Trinamul MLA Khokan Das. The ruling party also organised Ram Navami celebrations in parts of Birbhum.
A Ram Navami rally in Burdwan was marked by the flashing of arms.
"We seized a few swords and scythes from the rally," said a cop of Burdwan police station.
(Additional reporting Snehamoy Chakraborty)