Binay accuses Anit of making personal attacks on him to influence supporters
His Facebook post stated that Thapa and his aides were telling the masses that Tamang has 'lost his mind' and has gone into 'depression'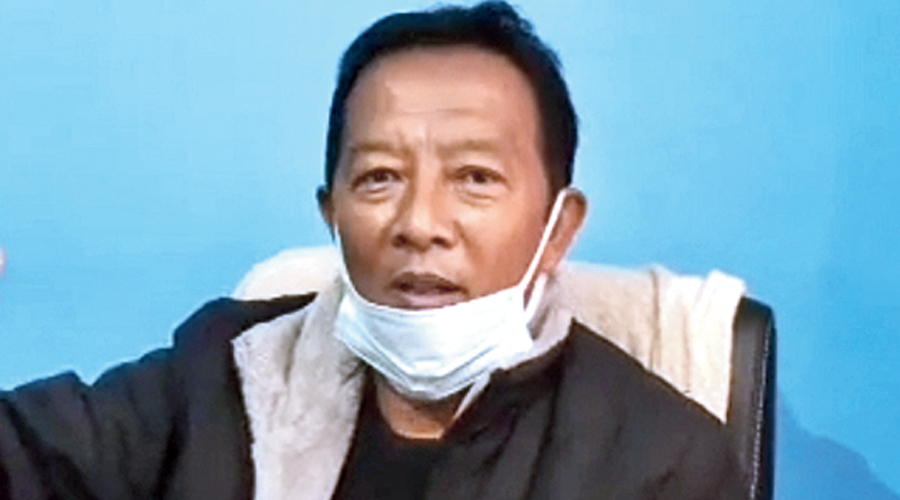 ---
Darjeeling
|
Published 25.07.21, 01:48 AM
|
---
Binay Tamang on Saturday accused Anit Thapa, his former colleague and a prominent leader in the Gorkha Janmukti Morcha faction that Tamang formed in 2017, of making personal attacks on him to influence supporters.
A message from the former president of the Morcha faction on his Facebook page, which was also circulated on the Facebook pages of his supporters, stated that Thapa and his aides were telling the masses that Tamang has "lost his mind" and has gone into "depression".
"This is my special request to Anit Thapa bhai and his supporters," stated Tamang adding that he was completely of sound mind when he tendered his resignation from the party and also that Thapa should not stoop so low as to engage in false personal allegations, some involving his family.
Tamang resigned as the president and primary member of the Morcha faction on July 15.
"Please don't not tell people that I have lost my mind and that I have gone into depression," wrote Tamang, inviting Thapa's supporters to visit villagers at Dali, his native place, to find out the truth. "After resigning, I have been lying low but I have never imagined that one would stoop so low politically just to draw supporters," said Tamang.
Tamang's Facebook post was a matter of much talk in the hills given the personal nature of the revelations put out on social media.
After Thapa took charge of Morcha the very next day after Tamang put in his papers, most of the leaders in the Tamang faction decided to remain with Thapa. Some, however, also resigned to join the rival Morcha faction headed by Bimal Gurung.
Thapa said: "In every speech that I have delivered after taking charge (of the new faction) I have reiterated that I still have utmost respect for Binay daju. I don't want to comment further given the topics that have been raised in the post," said Thapa.
Sources said Thapa is likely to station himself in Darjeeling for a long period from Sunday. Thapa is a native of Kurseong but has decided to move his camp to Darjeeling.