Bimal Gurung surprises supporters by eschewing Gorkhaland issue
He continued to demand for statehood by holding more than 30 days of general strike in 2013 and another 104-day general strike in 2017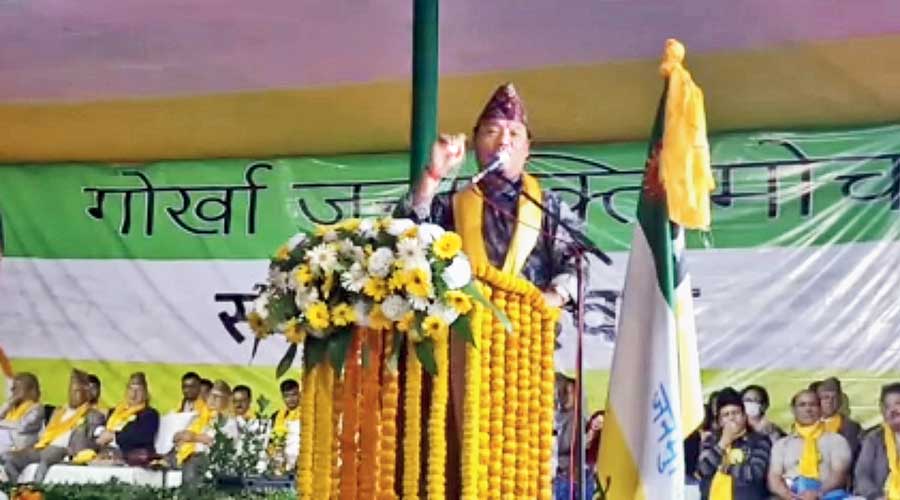 Gurung in Darjeeling on Thursday.
Passang Yolmo
---
Darjeeling
|
Published 08.10.21, 02:00 AM
|
---
Bimal Gurung on Thursday surprised his supporters by eschewing the Gorkhaland issue while addressing supporters during the Gorkha Janmukti Morcha's 15th foundation day in Darjeeling that he attended after a gap of four years.
Gurung had launched the Morcha in 2007 to press for a separate state of Gorkhaland.
Even though he settled for an autonomous Gorkhaland Territorial Administration (GTA) in 2011 after a long agitation, he continued to demand for statehood by holding more than 30 days of general strike in 2013 and another 104-day general strike in 2017.
Gurung on Thursday said: "You might be thinking that Bimal Gurung will talk about Gorkhaland again. I will not. I will not talk today."
He reasoned his talk on Gorkhaland would only help others. "When I talk (on Gorkhaland) another (group) will stay in their chairs. For their benefit they will use my talk, my courage," said Gurung.
He was perhaps alluding to 2017, when his then colleagues, Binay Tamang and Anit Thapa, formed a new faction when Gurung was on the run following the Gorkhaland agitation. The duo developed ties with the state government and got nominated to the GTA.
Gurung, who shared a blow-hot, blow-cold relationship with Mamata Banerjee till 2017, and decided to ally with her party last year, leaving long-time ally BJP, also said he would no longer make enemies with the government or the Opposition. "My politics will be for developing the place," he said, adding that he had changed but his critics had not.
"In the coming days I want to work with Bengal, she (Mamata Banerjee) has promised a permanent political solution for the region," Gurung said.
The BJP promised a permanent political solution in its 2019 Lok Sabha poll manifesto. Before Assembly polls, Mamata, too, promised the same.
Gurung repeated that for the 2024 Lok Sabha polls, his party will support anyone who works for the aspiration of the hills.
 "I had announced this (while joining Trinamul in October 2020) earlier," he said.
Many believe that Gurung is also leaving some space to raise the statehood issue.
This is largely because despite joining hands with Trinamul, Gurung's party came third in all the three Assembly seats of Darjeeling, Kalimpong and Kurseong in the recent Assembly elections.
The results seem to be weighing heavy on his mind. "I came third, maybe we could not spread our message (to the hill people) but despite coming third, we will do first-class work for the people," said Gurung adding that his priority would be to get minimum wages fixed for the tea garden workers.