Bengal to gauge response before starting Deocha-Pachami project
The decision was taken to ensure that the 21,000-odd people, who will be affected by the mega project, get sufficient time to evaluate the rehabilitation package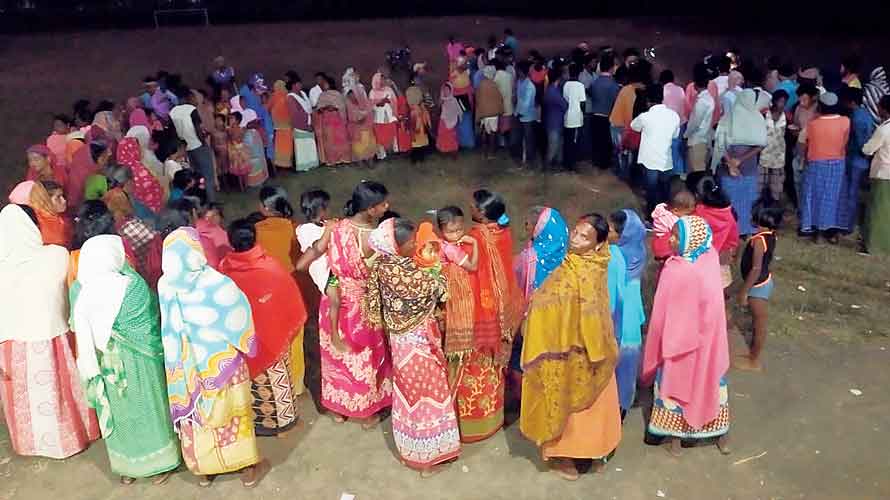 Tribal people in Birbhum's Dewanganj discuss the proposed rehabilitation package on Wednesday.
Picture by Himadri Mondal
---
Bolpur(Birbhum)
|
Published 11.11.21, 01:34 AM
|
---
The state government will wait for a month before it starts any work on the ground for the Deocha-Pachami coal mining project so as to feel the pulse of local people on the Rs 10,000-crore rehabilitation package that was announced on Tuesday.
The decision was taken to ensure that the 21,000-odd people, who will be affected by the mega project, get sufficient time to evaluate the rehabilitation package.
"Our first step will be using boring machines in 16 spots to find out how deep the coal reserves are. But we will wait for 30 days before starting any work as we want to know how people (on the site of the proposed project) are reacting to the rehabilitation package," said a senior government official.
"The Rs 10,000 -crore rehabilitation package has covered all the issues that could have (otherwise) led to agitations. Still, we have kept the window open for talks. If anybody has a grievance over the package, we will try to resolve it within 30 days," said another official.
Sources said this move clearly indicates that the government wants to ensure that work for the mega mining project gets off to a smooth start without agitation from land-losers.
"It is clear that the government is not in a mood to start any work against the wishes of local people and is taking all steps to nip any kind of trouble in the bud," said a source.
According to sources, the West Bengal Power Development Corporation will open a site office to get proposals from local people in case they are dissatisfied with the package. Proposals would be settled within 30 days.
Government sources added that the initial response to the rehab package seemed to be "mostly positive".
However, some tribal dwellers in the project area are unhappy, a section of officials added.
Among the 21,000 people who would stand to be affected by the project, 9,034 are tribal and live in the core area of the proposed coal mine zone.
Birbhum Adivasi Gaonta, a tribal outfit, plays a significant role in forming public opinion in the area.
However, the tribal organisation is divided into two groups. Rabin Soren and Sunil Soren, the leaders of the two groups, on Wednesday evening separately held meetings with tribal people in Harinsingha and Dewanganj, respectively.
"We have some confusion regarding the package. We will ask the government to clarify some issues," said Rabin Soren.
"We strongly oppose the package as it was not drafted after talks with people who stand to be affected. We want the government to come to us first… If the government tries to use force, tribal people will protest," said Sunil Soren.