Bengal post-poll violence: Nadda draws Partition parallel
He visited three places in and around Calcutta where BJP workers have either died in violence or their homes were ransacked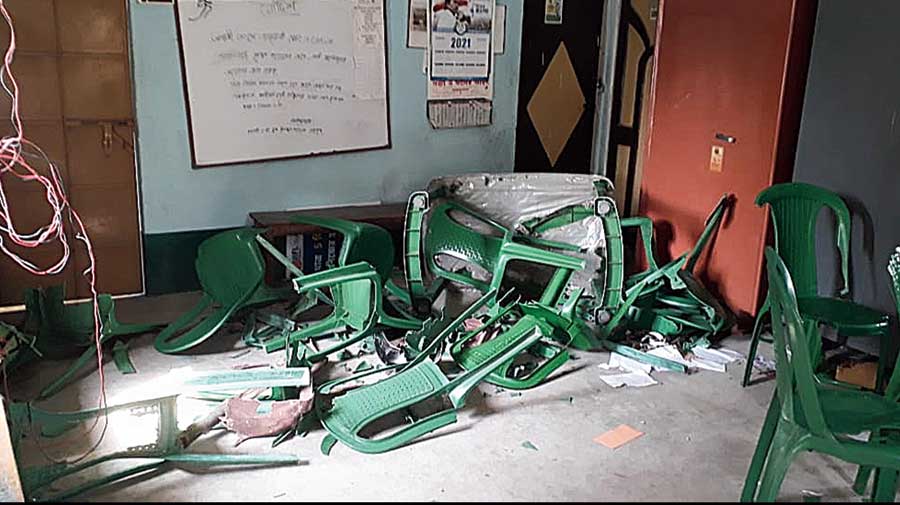 ---
|
Calcutta
|
Published 05.05.21, 01:22 AM
---
BJP's national president J.P. Nadda, who reached Calcutta on Tuesday on a two-day visit to take stock of Bengal's post-poll violence after Trinamul's landslide victory, compared the situation to the Partition in 1947.
Clashes erupted in various parts of the state after Sunday's results, with at least 17 political workers getting killed, and many more wounded or threatened. The BJP claimed nine deaths while sources put the toll in the Trinamul camp at six and Sanjukta Morcha at two, after the May 2 results.
Trinamul chief Mamata Banerjee on Monday had appealed for peace in the state.
Focusing solely on Trinamul atrocities, Nadda told journalists after his arrival in Calcutta airport: "These incidents remind me of the time of Partition. The post-poll violence we are seeing in Bengal is shocking...In independent India, we've never heard of such post-poll violence."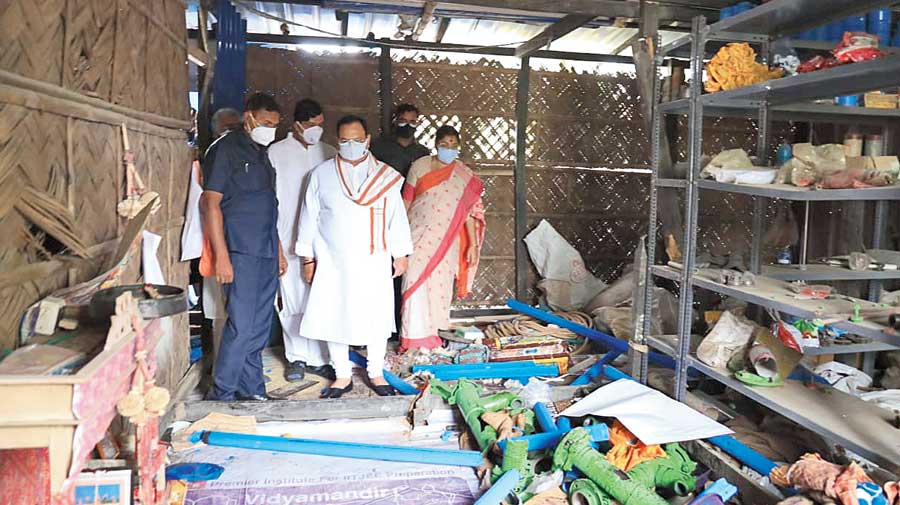 Nadda added: "Our commitment is to fight this battle democratically. This is an ideological battle against Trinamul activities... I want to assure BJP workers of Bengal that crores of BJP workers across the country are with them."
Nadda visited three places in and around Calcutta where BJP workers have either died in violence or their homes were ransacked. At Gopalnagar in Narendrapur's Kheyada in South 24-Parganas, Nadda met party workers who were attacked by goons with alleged Trinamul links.
A few kilometres away in Sonarpur's Pratapnagar-Motiary, Nadda met the family of Haran Adhikari who was beaten to death. He met the children of the deceased and said: "Chinta koro na (Don't worry)."
Later, Nadda met the ailing mother of Abhijit Sarkar, a resident of Calcutta's Beleghata, who was allegedly dragged out of his house and lynched by Trinamul supporters.
"You can hear the cries of Abhijit Sarkar's mother. The people sitting at the helm of power here are trying to reject such grave issues by dubbing them stunts. BJP won't tolerate this bloody politics just for the sake of being in power in Bengal…Mamata Banerjee thy name is intolerance…I'll go everywhere, our workers will go everywhere and talk about these incidents and tell people that the next five years will go like this in the hands of Mamata Banerjee…She doesn't represent the culture of Bengal…Intolerance thy name in Mamataji," Nadda said after meeting Sarkar's mother.
State BJP chief Dilip Ghosh, former state president Rahul Sinha, MPs Locket Chatterjee and Bhupender Yadav accompanied Nadda on his visits. He also met party leaders of the state to discuss the future course of action.
According to party sources, Nadda will visit Jagatdal to meet the family of Shobha Rani Mondal, mother of a BJP booth president, also allegedly killed by Trinamul workers on Wednesday. He may visit the family of Uttam Ghosh, a murdered BJP worker in Ranaghat.
The BJP has made a list of 273 incidents where workers were attacked by alleged Trinamul goons, and claimed it was "the tip of the iceberg".
The saffron camp claimed so far nine of its workers were killed in post-result clashes.
Responses from some senior BJP leaders to the violence also angered some state party leaders.
Asansol MP Babul Supriyo, who lost the Assembly polls from Tollygunge, took to Twitter to say his car would be targeted if he tried to reach a worker who had been attacked, in a reply to a Tweet from one Prabhakar Pai who requested the MP for help. The MP wrote that the Trinamul "goons" were "out in open rioting" and the "police have tucked themselves inside. But trying sincerely".
Replying to Supriyo's tweet, Tarunjyoti Tiwari, a state BJP spokesperson and member of the party's youth wing, tweeted: "Car is important. @narendramodi (Narendra Modi) ji, @AmitShah (Amit Shah) ji, @blsantosh (BL Santosh) Ji @JPNadda (JP Nadda) ji you should increase the security of our leaders. Let Karyakartas die. You have taken them for granted. @KailashOnline (Kailash Vijayvargiya) @shivprakashbjp (Shivprakash) thanks for your wonderful selection of candidates. Namaste BHAISAAB"
BJP has planned sit-ins against the violence in Bengal across the nation on May 5. In Bengal, every mandal (BJP's smallest organisational unit) will take part in the sit-in. A stage had been put up for Nadda in front of the BJP's Calcutta headquarters for the sit-in, but the police dismantled it, said party sources.
Violence was directed at Trinamul workers too. On Tuesday, Trinamul worker Gopal Santra, 45, was killed and nine others were injured in a clash between the party and the BJP in Math-Chowtara village of Hooghly's Tarakeshwar. On Monday, Srinibas Ghosh, a Trinamul worker in East Burdwan's Ketugram 1 block, was allegedly hacked to death by BJP workers, and three more Trinamul workers were injured. Abhijit Ghosh, the son of the deceased, filed a complaint with Ketugram police against 20 persons. The police have so far arrested five.
Attacks on CPM workers also continued on Tuesday. Kakali Khetrapal, a CPM worker in East Burdwan's Jamalpur, was allegedly hacked to death. A source said district leaders have not been able to reach Khetrapal's family. "Central forces have cordoned off the entire village. We won't be let in," this source said.
In Calcutta's Kasba, a teacher couple — Arnab Bhattacharya and Tamali Jha — were allegedly targeted by Trinamul goons for being CPM supporters. Their home was vandalised, leaving the couple's 14-year-old child in trauma. "Trinamul goons hurled bricks on Tuesday evening," Arnab said. Tamali appealed on Facebook to Kasba's Trinamul MLA Javed Ahmed Khan for security from Trinamul goons.
Additional reporting by Snehamoy Chakraborty