5 Bengal migrant workers missing in Chamoli avalanche
Contract workers from East Midnapore and Purulia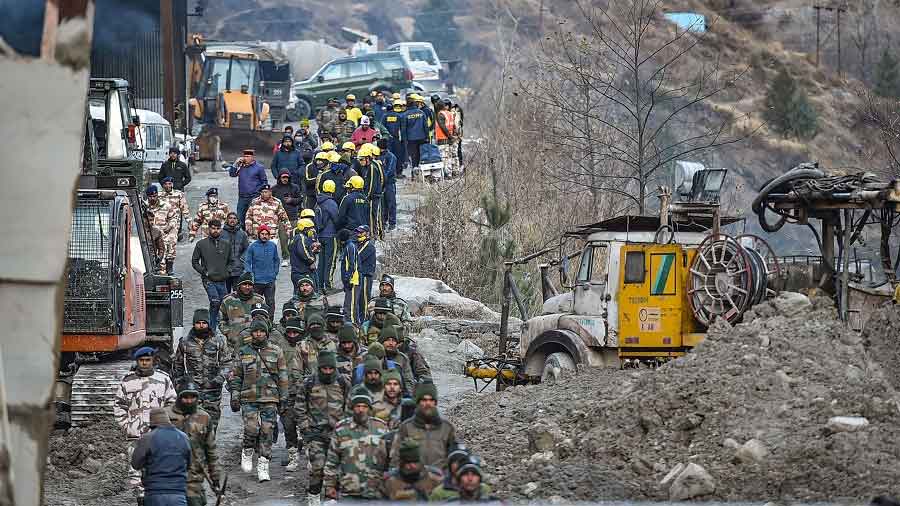 Rescue operations underway near Tapovan Tunnel in Chamoli district of Uttarakhand on Monday.
PTI
---
Purulia, Mahisadal (East Midnapore)
|
Published 09.02.21, 02:40 AM
|
---
Five migrant workers, three from East Midnapore and two from Purulia, are missing in the aftermath of Sunday's avalanche in Uttarakhand's Chamoli district.
East Midnapore's Lalu Jana, 30 and Bulu Jana, 28, from Lokkha village, and Sudip Guria, 27, from Dariberia in Mahisadal, were contract workers at a dam construction site on Rishi Ganga river.
His colleagues, many from Mahisadal, on Monday said Sudip had been at the site of the tragedy on Sunday, his elder brother Baidyanath said.
Missing Purulia residents Ashwini Tantubai, 26, and his cousin Subhankar Tantubai, 19, had left home four months ago to work at the hydropower project in Uttarakhand's Tapovan as contract workers.
Their relatives said that Chamoli officials told them on Monday that the cousins were missing along with 150 others.
"My son Ashwini spoke to me and his wife on Saturday morning and said he would return home in four days, he was waiting for a confirmed train ticket. Now he is missing," wept Chaitanya Tantubai, a marginal farmer.
Officials from both the districts said that they were in touch with the families of the missing young men and authorities at Uttarakhand.