Bengal Cabinet reshuffle: Abhishek effect tells on ministry
Blow for Firhad Hakim as city Mayor loses housing and transport departments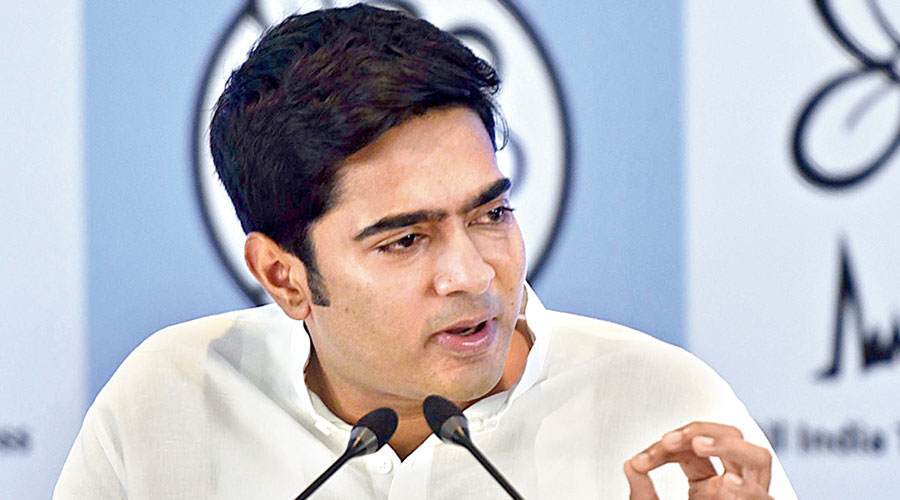 Abhishek Banerjee
File picture
---
Calcutta
|
Published 04.08.22, 02:30 AM
|
---
Chief minister Mamata Banerjee on Wednesday inducted eight new ministers and redistributed portfolios, the exercise reflecting a focus on service delivery ahead of elections over the next three summers, the prioritising of people with clean images and a greater say for Abhishek Banerjee.
The biggest loser is one of the most eminent members of the old guard, Calcutta mayor and senior minister Firhad Hakim, who now holds only urban development and municipal affairs, having lost housing and transport.
Abhishek, the Trinamul national general secretary who had been pushing for years to get the old guard phased out of positions of clout, tweeted in the evening: "Heartiest congratulations to all newly appointed ministers and the entire cabinet of ministers, GoWB."
He added: "We must always prioritise people and their well-being, as we take on new challenges. Together, let's take Bengal to even greater heights! Joy Bangla!"
Three leaders considered close to Abhishek — Ballygunge MLA Babul Supriyo, Naihati MLA Partha Bhowmick and Jangipara MLA Snehasis Chakraborty — have been appointed cabinet ministers.
Supriyo has been given charge of IT and tourism, Bhowmick is irrigation minister and Chakraborty is transport minister.
Abhishek has also been known to approve the sometimes controversial ways of Dinhata MLA Udayan Guha, a fourth cabinet inductee who has been appointed the north Bengal development minister.
The shuffle, which the chief minister on Monday had given advance billing as "chhotto (small)", was apparently triggered by the desperation within the state government and party to distance themselves from Partha Chatterjee, arrested by the Enforcement Directorate. Chatterjee, who was No. 2 in the cabinet, was removed from the ministry and suspended from the party last week.
"I wholeheartedly congratulate all newly appointed Ministers (MIC, MoS independent charge & MoS). Keeping Bengal's progress & prosperity in mind, may you take each of your departments to greater heights!" Mamata tweeted.
The shuffle fills the slots left vacant by Chatterjee, the late Subrata Mukherjee and Sadhan Pande, and former finance minister Amit Mitra who wanted to be relieved on account of failing health. Chatterjee's portfolios — industries, commerce, IT and parliamentary affairs — needed to be redistributed too.
"Abhishek now decidedly has far more representation of his people in the government. This is something he had been trying to achieve for a while," a Trinamul insider said. "The Partha Chatterjee controversy, which necessitated this sudden rejig, came to his aid."
The fifth inductee into the cabinet was Pradip Majumdar, entrusted with the panchayat and rural development department months ahead of rural polls in the state.
Harishchandrapur MLA Tajmul Hossain has been appointed minister of state for micro, small and medium enterprises as well as textiles. Hemtabad MLA Satyajit Barman replaces the controversial Paresh Adhikary as minister of state for school education.
Panskura East MLA Biplab Roy Chowdhury has been made minister of state with independent charge of fisheries. The existing minister of state for forests, Birbaha Hansda, has been given additional and independent charge of self-help groups and self-employment, and was sworn in afresh with the eight new inductees.
"The emphasis, clearly, is on a relatively clean image in public perception — in terms of corruption, at least," a Trinamul MP said.
"Abhishek had firmly endorsed the veteran (Baranagar MLA) Tapas Roy, too, for this same reason. But resistance from two seniors in the cabinet and an MP from the city caused his name to be dropped from the list late last night. His name not featuring today was the only real surprise."
Among the existing ministers, agriculture minister Sobhandeb Chattopadhyay has been rewarded with additional charge of parliamentary affairs; public health engineering minister Pulak Roy has been given the public works department too; power and sports minister Aroop Biswas now also holds the housing portfolio.
Most significantly, women and child development and social welfare minister Shashi Panja has been given additional charge of industry, commerce, and public enterprises & industrial reconstruction.
A Trinamul Rajya Sabha member said that in Hakim's decline lay "the biggest imprint of Abhishek's intervention".
"Going forward, Abhishek will push aggressively for implementation of the Opop (one person, one post) policy," the MP added.
This stance had led to tensions between the camp of Abhishek (which included the now-sidelined poll consultant Prashant Kishor) and the old guard led by Chatterjee, Hakim and state president Subrata Bakshi.
Mamata had thrown her weight behind the old guard, forcing Team Abhishek to back down.
"Just months ago, Partha and Bobby had led (the old guard) from the front during that showdown. Back then, us oldies had the last laugh. But, as we all know, fortune is a fickle mistress," the MP said.