Bengal Budget tabled: Simply put, the state is earning less, but spending more
Amid rising debt, Mamata government earmarks Rs 10,000 cr for Lakshmir Bhandar; Opposition BJP walks out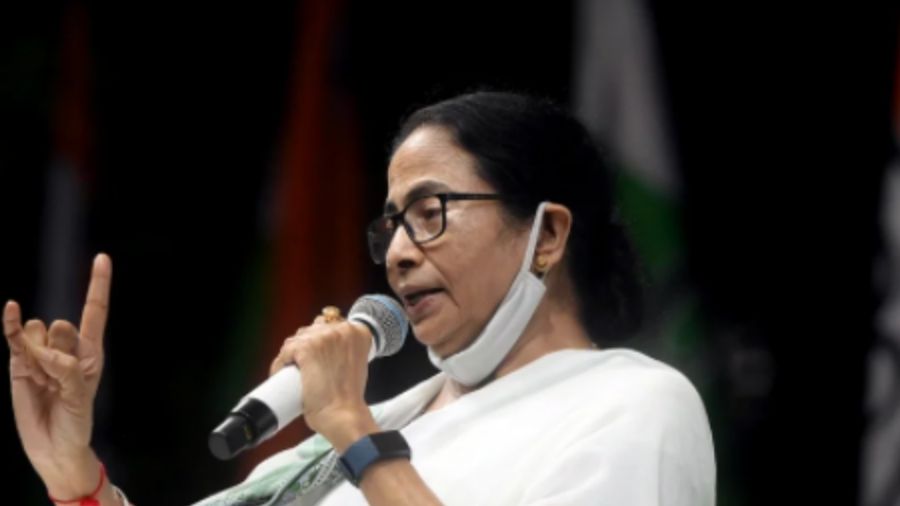 Bengal CM Mamata Banerjee
Twitter
---
Calcutta
|
Published 11.03.22, 05:36 PM
|
---
Three-term minister Chandrima Bhattacharya, while presenting her first budget in the Bengal Assembly on Friday could not hide behind economic jargon that helped one of her illustrious predecessors steer clear of being quizzed during the Left Front rule _ former Bengal finance minister Asim Dasgupta's zero-deficit budgets had drawn ridicule from economic pundits as well as those familiar with the machinations of running an economy like the late President Pranab Mukherjee.
On Friday, the figures revealed in Bengal's budget for the 2022-23 fiscal make it amply clear that there is an increase in the revenue deficit. In other words, the state is earning less and spending more.
In the budget estimates for the 2021-22 fiscal, the state finance department had marked Rs 26,755.26 crore as revenue deficit. The revised budget (which is supposed to present the actual figure) shows the revenue deficit as having shot up to Rs 32,963.60 crore, though both chief minister Mamata Banerjee and her chief financial adviser Amit Mitra, who till last November held the finance portfolio, patted their backs over the performance.  
"The revenue deficit earlier was 3.75 per cent, we have brought it down to 1.65 per cent. When we came to power in 2011, debt per GDP ratio was 40.65 per cent, now it stands at 34.23 per cent. No other state has been able to achieve that," said Mitra, joining the chief minister virtually.
To Mitra's reasoning, Mamata added, "The Centre's revenue deficit is more than seven per cent."
For the next fiscal, the revenue deficit has been pegged at Rs 28,279.68 crore.
Sources said the state's actual revenue deficit could be even higher since data collection for preparing the budget is usually completed by end of November or December, thus the last months are not incorporated.
Chandrima's debut budget speech was not beamed live on television news channels. The Opposition BJP walked out of the budget speech, claiming the state had renamed central projects and was "spewing lies".
"First tell them (the BJP government at the Centre) to give us the Rs 90,000 crore that they still owe us," Mamata thundered. "The Centre has Reserve Bank of India, it can print notes. We don't have those powers."
Despite the chief minister and her chief financial adviser's claims on the Centre not paying dues on GST collections and relief packages for the back-to-back cyclones in 2020 and 2021, the budget figures tell a different story.
In the budget estimate for the current fiscal, the contribution from state's share of Union taxes and duties was tipped to be Rs 50,070.29 crore. In the actual budget, the state has received Rs 55,940.29 crore, which is more than Rs 5,500crore.
What will remain a constant source of worry for officials of Bengal's finance department is the rising debt of the state which is expected to be at Rs 5,86,438.05 crore at the end of the next fiscal.
Despite the empty coffers, Mamata has made it clear that her strategy of handing out doles to different sections of the people will continue. "There is no sector for which we are not working. In toto, budget allocations have been increased 3.8 times since we first came to power," Mamata said.
For example, the state government will be spending Rs 10,000 crore on its Lakshmir Bhandar scheme, which is seen as one of the major reasons behind Mamata's landslide victory in the 2021 Assembly elections. Another Rs 9,000 crore is being spent on social pensions to more than 70 lakh beneficiaries annually. 
Opposition leaders weren't convinced with the government's reasoning. "This government always draws comparison with 2010-11, and not with the previous years as is usually done in a budget. If they go back 30 or 40 years they will see what shape Bengal was in and where it took it in 34 years," said Sujan Chakraborty, CPM central committee member. 
Leader of Opposition Suvendu Adhikary said their MLAs tried to hear the budget for 15 minutes. "Every word is a lie. Central projects have been renamed and they are passing it off as their own schemes," he claimed.