'Special focus' on Bengal: Shah
The Union home minister mounted a no-holds-barred attack on Mamata, accusing her of politics of appeasement, to bolster his party's allegedly divisive campaign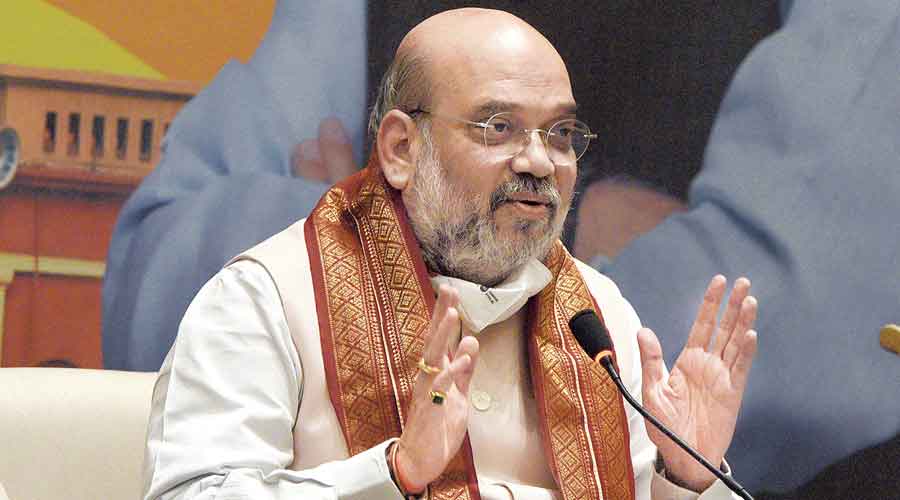 ---
|
Calcutta
|
Published 07.11.20, 12:47 AM
---
Amit Shah on Friday asserted that his party has "special focus" on Bengal, as he wrapped up his two-day visit to the state with a news meet.
In response to a question on why he was not seen in Bihar where Assembly polls are underway but was in Bengal, the home minister said: "It is true, Bengal is a special focus for us. Hence we want to fight for Bengal and want to win (power in the state)."
On Friday, Shah mounted yet another no-holds-barred attack on Mamata Banerjee, her party Trinamul and the state government, accusing her repeatedly of politics of appeasement, to bolster his party's allegedly divisive campaign for Bengal.
"She has politicised the administration, criminalised politics, and institutionalised corruption…. Any one of these is a recipe for disaster. Only in Bengal will you find that all three have been carried out," said Shah in a news meet on Friday evening.
Shah accused Mamata of having allowed the rule of law to disintegrate in Bengal.
"There is a separate set of laws for nephew (Abhishek Banerjee), a separate set of laws for appeasement, for her vote-bank… you know very well what I am talking about. There is a separate set of laws for the common man…. Such is her appeasement that a large number of people have started considering themselves second-class citizens," said Shah.
He recounted the unprecedented success of his party in the Lok Sabha polls in Bengal last year. Shah also said no journalist was smiling now over his assertions of the BJP winning 200 seats in Bengal.
"When I had said we will win 22 Lok Sabha seats here, last year, many of you smiled incredulously. After we won 18, my forecast (200 seats) for the Assembly polls has not brought on any smiles, I can see. Now, it is my turn to smile," he said.
Shah raised questions on the quality of governance delivered by Mamata, as he kept appealing to the people of Bengal to give the BJP a chance.
However, he apparently ruled out President's rule in Bengal, something many in his party and governor Jagdeep Dhankhar have been talking about repeatedly.
"It (the President's rule) is not something to be discussed in public…. It depends on the reports of the governor…. But it will not be necessary. Because there will be a change of guard here in April next year," said Shah, before defending Dhankhar against allegations of abuse of the constitutional post to favour the BJP.
No CM face now
Earlier in the day, he told the state unit of his party — an intensely divided house — that nobody would be projected as the chief ministerial candidate for Bengal polls next year.
"You need not worry about it. The chief ministerial candidate will be decided by the central leadership. You do your job," Shah was quoted as saying, before laying out a 23-point plan of action for the party in the state. "If you work hard for five months you will rule for 50 years," a source quoted Shah as saying.
CAA and Matuas
Unlike his previous addresses to the people of Bengal, Shah spoke very little on the CAA during this visit, and on Friday evening told journalists that the execution of the law was being delayed for the coronavirus pandemic and would be implemented soon.
But the CAA issue gained relevance when Shah on Friday afternoon had lunch at the home of Nabin Biswas, a member of Matua Mahasangha, at Gouranganagar in New Town. BJP sources said that the party put special emphasis on an outreach among the Matuas because of the community's electoral relevance in North 24-Parganas, Nadia and parts of north Bengal. The party also wants to make CAA a poll issue in Bengal by projecting its potential benefits for the Matuas, lower-caste Hindus who came from Bangladesh. Biswas said he thanked the home minister and prime minister for introducing the CAA, because "citizenship for Hindu refugees from Bangladesh has been a long-standing demand of our community".
"I requested him to implement the law in Bengal to which Amitji said that as the law has been enacted, it would be implemented as well," Biswas said
Trinamul reacts
Late on Friday, Trinamul issued a formal statement, accusing Shah of visiting Bengal with a "baggage of lies" to "defame and insult" the state.
"… why does he always make wild personal accusations against Mamata Banerjee...? What credentials does Mr. Jay Shah (Shah's son) have to suddenly hold one of India's top administrative cricket posts?" asked the party. "… why does he always misuse agencies? … His dirty tricks in politics is legendary," it added.
Trinamul mocked Shah's 200-seat prediction for the BJP in Bengal. "… people have seen before how his prediction are! In the previous elections of Bihar in 2015, Delhi in 2015 and 2020, Gujarat, Rajasthan, Madhya Pradesh and Chhattisgarh his predictions, his numbers were all totally wrong..."People will see it again in Bengal in 2021…. Bengal has and always will stand up to protect India's soul," it added.
Party leaders Saugata Roy and Sukhendu Sekhar Roy condemned Shah for "blatant communalism".