Banking service launched in tea gardens
Lack of banking facilities has been a pet peeve of the industry for long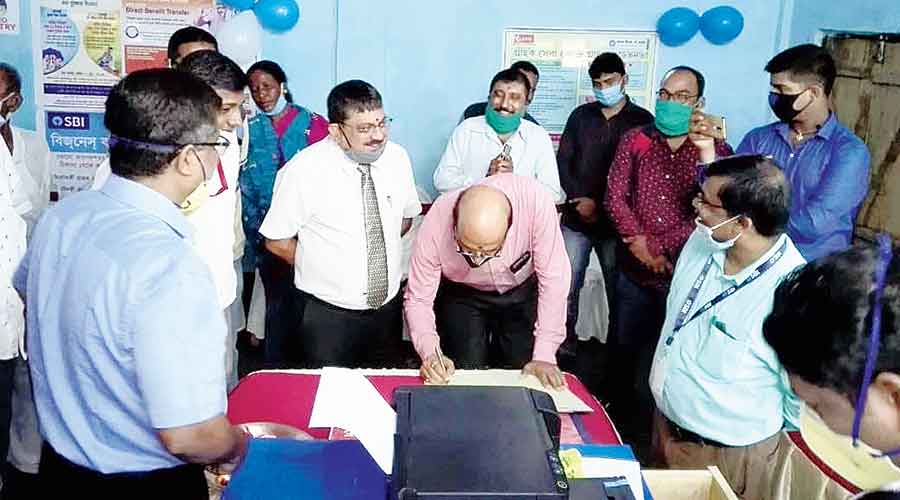 ---
|
Siliguri
|
Published 10.09.20, 01:46 AM
---
Banking infrastructure made a benign entry in the brew belt of north Bengal on Wednesday as the State Bank of India opened five Customer Service Points (CSPs) in different tea gardens of the Terai.
The CSP is a kind of a small branch of a bank and its operations are generally outsourced.
Lack of banking facilities in tea gardens has been a pet peeve of the industry for long.
The demand for some banking infrastructure grew louder after the 2016 demonetisation drive as the Centre had time and again insisted that wages and bonus be paid to workers through banks to encourage cashless transactions.
"Some tea estates had taken the initiative to open bank accounts for workers at the nearest branches. But it didn't help as the workers found it inconvenient to travel to banks to withdraw their wages," said Prabir Bhattacharjee, secretary general, Tea Association of India (TAI).
The tea planters confronted another problem last year when the Centre levied a 2 per cent TDS on annual cash drawings above Rs 1 crore.
According to a tea planter based in Siliguri, there are around 1,300 workers in his garden and every fortnight, he needs to pay over Rs 34 lakh in wages.
"This means a monthly payment of around Rs 70 lakh and about Rs 8.5 crore a year. Added to it are the bonus and some other cash payments. Altogether, around Rs 10 crore of cash is required annually. This means a TDS deduction of Rs 18 lakh," he pointed out.
The extra cost spurred the tea planters into action and arrangements were maid to open the CSPs.
On Wednesday, the CSPs were opened in Thanjhora, Atal, Satvaiya (a division of Atal), Pahargoomiah and Dagapur tea gardens.
"We plan to open CSPs in all our member gardens. Similar initiatives have been started in the Dooars and we are in constant touch with the bankers and representatives of a private company that is setting up the CSPs. The facility would also enable the workers to avail themselves of other benefits like taking loans, making deposits and investments," Sumit Ghosh, the secretary of the Terai branch of TAI, said.
Trade unions have also welcomed the initiative. "It is good that CSPs are coming up in the gardens of the Terai. We hope those posted at the CSPs will extend all help to workers," said a trade union leader in Siliguri.