Baisakhi Bandyopadhyay in Bengal BJP committee
Induction comes amid murmurs that she found a berth because the leadership wanted to keep her friend and Trinamul turncoat Sovan Chatterjee in good humour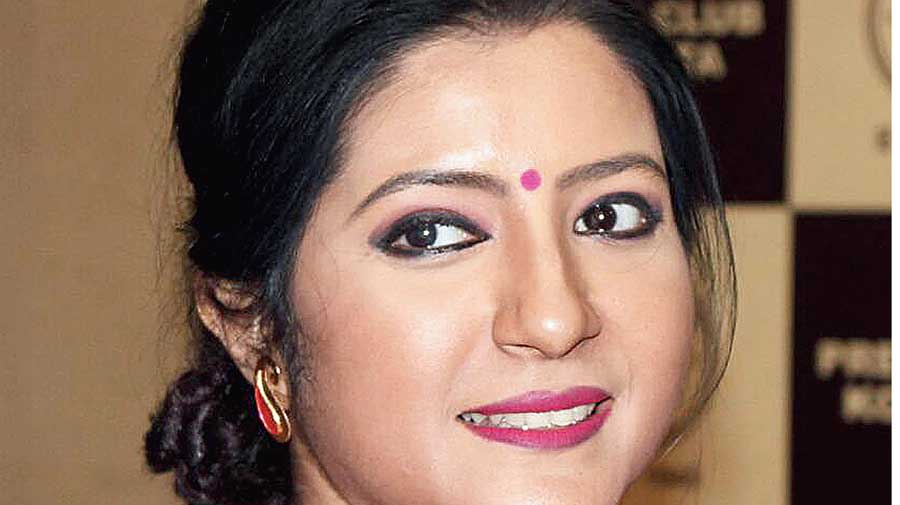 Baisakhi Bandyopadhyay
Facebook/baisakhi.banerjee.77920
---
Calcutta
|
Published 11.09.20, 01:15 AM
|
---
The Bengal BJP on Thursday inducted Baisakhi Bandyopadhyay into the party's extended state committee amid murmurs that she found a berth because the leadership wanted to keep her friend and Trinamul turncoat Sovan Chatterjee in good humour.
"On Tuesday when the list of extended state committee members was released, it didn't include Baisakhi's name. However, Sovanda's name was there. The decision to include Baisakhi in the committee was taken on Wednesday evening on second thoughts as Sovanda was upset with her exclusion," a source said.
A total of 230 names had initially been announced as members of the extended state committee, which has 110 permanent invitees. The remaining members on the list are 96 state committee members, three permanent invitees at all the meetings of the office-bearers and 21 special invitees. 
Sovan made it to this list of permanent invitees. Names of several lawmakers and chiefs of various wings of the party are in the list.
After the announcement, Chatterjee had told journalists that he had heard about his induction on television, thereby making it clear his discontent for not being officially communicated.
Party sources said that he also informed his displeasure as Baisakhi, who was once the general secretary in Trinamul-backed West Bengal College and University Professors Association, wasn't named among the 230.
"The party doesn't want Sovanda to feel upset and thus the party's leadership decided to include Baisakhi in the extended state committee," the source said.
Following the BJP's structure, the main decisions in the party are taken by the unit's president and the organisational general secretary. Dilip Ghosh, the state president, has never shown much keenness in rehabilitating turncoats from different parties, especially Trinamul, by giving them official positions in the party.
Ghosh, however, had approved Chatterjee's name for the extended state committee acknowledging the latter's political experience and background, said a source.
"But Dilipda was always against the idea of giving any importance to Baisakhi. He has always said,' what does she bring to the table?'," a senior party leader said.
Chatterjee, however, got the help from Kailash Vijayvargiya, who apparently prevailed on Ghosh to include Baisakhi in the second round.
"A meeting took place at the party's Hastings office on Wednesday where the decision to include Baisakhi and Rakesh Singh, a Congress turncoat, into the extended state committee was taken. Kailashji insisted that these names are included," a source close to Ghosh said.
Ghosh, however, said that Baisakhi was inducted as it was the party's decision.
This person added that another 50 new names will be included in the extended state committee as the party is keen on broadbasing representation.