Bagdogra airport set for expansion
Construction to result in 12-fold increase in size of the terminal and a jump in the annual passenger traffic capacity by 17 times
---
---
The Airports Authority of India will spend around Rs 600 crore to build a new terminal and set up allied infrastructure at the Bagdogra airport, decks for whose expansion were cleared by the transfer of 104 acres of land by the Bengal government recently.
AAI sources told The Telegraph that the expansion would result in the 12-fold increase in the size of the terminal and a jump in the annual passenger traffic capacity by 17 times. "The present terminal is spread over around 8,000 square metres and after the expansion, the floor area will be increased to one lakh square metres. The building will have the capacity to handle 1.25 crore passengers a year," said a source.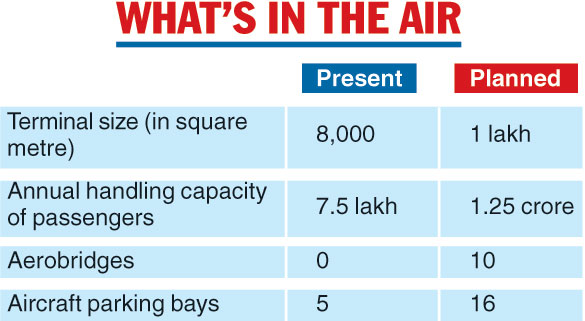 According to him, the existing infrastructure can handle only 7.5 lakh passengers annually, while the airport served more than 30 lakh travellers last year.
"The airport has seen a tremendous surge in passenger traffic because of an increase in the number of flights in recent years," said the source.
But the paucity of space has been inconveniencing out-bound passengers.
Darjeeling MP Raju Bista, who is also the chairman of the Bagdogra Airport Advisory Committee, said the proposed expansion would change the travelling experience at Bagdogra. "I have been informed that all proposed diagrams and plans are ready. The proposed new terminal and allied infrastructure will radically change the travelling experience at Bagdogra," said Bista.
Asked why the long-pending augmentation of the infrastructure was being delayed, the BJP MP said the Trinamul Congress-led state government had taken a long time to transfer the land required for the expansion to the AAI.
The sources said the AAI soon would apply for environmental clearance and complete other formalities to finalise the contract, a process that should be over in "six to nine months".
Since the Bengal government had waived surcharge on aviation turbine fuel at Bagdogra in 2013, the number of flights has gone up from 10-11 a day to 37. Now, Bagdogra is the 15th busiest airport in India.
The installation of the Instrument Landing System (ILS), which helps in landing and take-off in low visibility, and the Centre's decision to allow flights to operate in evenings, also helped Bagdogra climb up in the chart of busy airports.
Tourism stakeholders in the region welcomed the expansion plan and demanded introduction of international flights, especially from Bangladesh and Nepal.
"Now that the AAI has decided to kick-start the expansion, we feel the Union civil aviation ministry should see that flights from Nepal and Bangladesh are introduced at Bagdogra," said Debasish Maitra, the president of the Eastern Himalaya Travel & Tour Operators' Association.
As of now, flights from Paro in Bhutan to Bangkok and vice-versa make a stopover at Bagdogra.