Backlash at Bengal booth bullies
Voters block road, take on police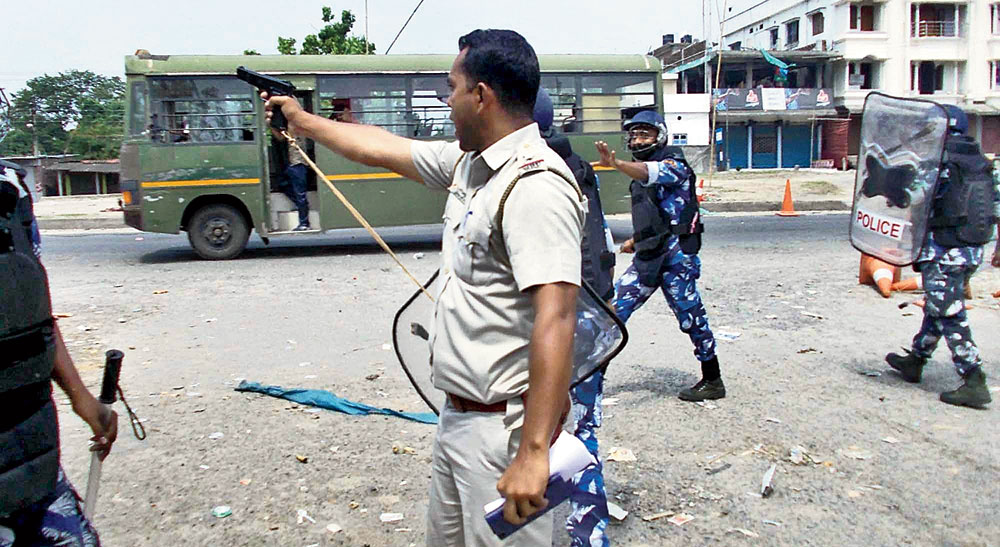 A police officer during the violence in Chopra on Thursday
Picture by Kousik Sen
---
Raiganj
|
Published 18.04.19, 08:31 PM
|
---
Violence flared in North Dinajpur's Chopra on Thursday after protests and highway blockades by residents who claimed armed Trinamul workers were turning them away from a booth without casting their votes in the second phase of the general election.
Located in North Dinajpur, Chopra comes under the Darjeeling parliamentary constituency. Chopra is one of the Assembly segments Trinamul is banking on for a lead to secure its first victory in Darjeeling. Trinamul leaders denied the charges of obstructing and threatening voters.
While efforts were on to clear the road of the group that had been demanding deployment of central forces, some in mob lobbed crude bombs, stones and bricks at police. The security personnel retaliated with batons and teargas. Some of the protesters alleged the policemen fired a few rounds in the air. Senior police officers denied any firing.
The four-hour protests from 8am ended after the police escorted the voters to the booth and the administration deployed paramilitary forces. "We had to fire three rounds of teargas to bring the mob under control," said additional director-general (law and order) Siddh Nath Gupta. Chief electoral officer Aariz Aftab said 100-150 people were protesting and alleging they were not allowed to vote at the booth in Choprabusty. "A large contingent of forces, along with a police observer, reached the spot but there was no disruption in voting."
Earlier, in the morning, the residents of Choprabusty alleged that some Trinamul supporters intimidated them and asked them to leave without voting at the booth in the Dighi Colony area.
"I went to the booth to vote. But some youths, who are known Trinamul workers, brandished firearms and asked me and many others to leave. There were some policemen at the booth but they did nothing," said Tapash Haldar, a resident.
"We were demonstrating in protest against inadequate security at the booth. Some armed Trinamul workers forced us to leave the booth and threatened us with dire consequences. During the protest, the police attacked us with sticks and fired some rounds in the air," said Nirmala Roy, one of the protesters.
"We did not intimidate any voter. BJP workers incited people and attacked police," Mohammad Ajharuddin, a Trinamul leader, said.
An EVM was damaged when Trinamul and BJP supporters clashed at a booth in Chopra's Kotagach.
In Calcutta, the BJP described the second phase of polls "more or less peaceful". "There were lesser number of incidents compared to the first phase because central forces had covered around 80 per cent of the booths," BJP leader Mukul Roy said.