Anxious parents in Calcutta await son's return from Ukraine
Rampada and his wife Chandana have not been able to contact their son Arpan, who last spoke to them on Thursday, following which his phone became unreachable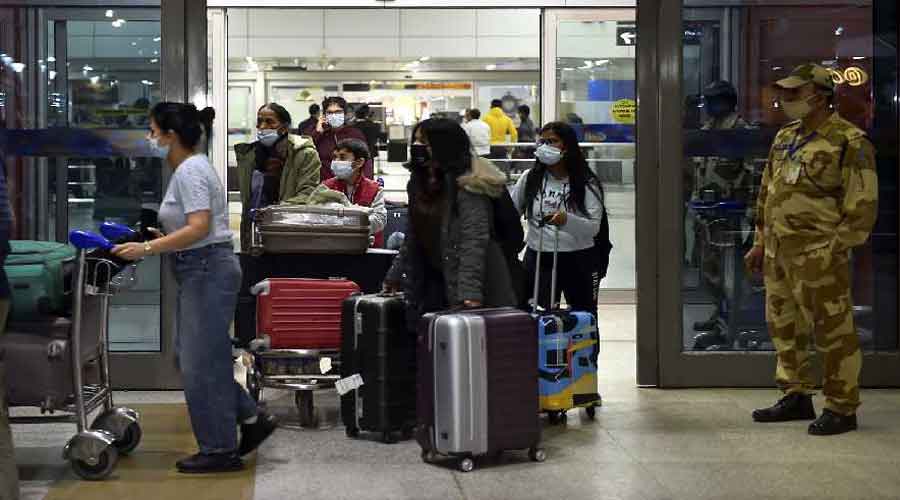 Indian nationals come out from the IGI Airport on their arrival from Ukraine amid rising Russia-Ukraine tension, in New Delhi.
PTI
---
Kolkata
|
Published 25.02.22, 01:58 AM
|
---
Rampada Mondal, a high school teacher from Town Hall para in North 24-Parganas's Basirhat, around 70km northeast of Kolkata, remained glued to news channels from Thursday morning, when reports of Russia's attack on Ukraine emerged.
Rampada's son Arpan, a medical student, remains trapped in Ukraine hours before he was set to board a flight to India from Kiev.
Rampada and his wife Chandana have not been able to contact their son Arpan since Thursday morning Indian time. Arpan, a medical student in Dnipropetrovsk, last spoke to his parents for a few minutes around 10am, following which his phone became unreachable.
Dnipropetrovsk is around 495km from Kiev and reportedly is home to a sizable community of foreign medical students.
Arpan, a third-year student at the Dnipropetrovsk Medical Institute (affiliated to the University of Dnipropetrovsk), was scheduled to board a Qatar Airways flight for his return to India. His last communication was that he was "safe" but still "trapped" in the hostel as local authorities had prohibited any movement outside.
"We got in touch with our son after the tussle broke out between Ukraine and Russia. He was lucky enough to manage an air ticket and was scheduled to board a Delhi-bound flight on Saturday. He was also scheduled to leave the hostel tomorrow (Friday). But everything got unsettled with Russia's sudden onslaught. In fact, a batch of Indian students, who were scheduled to catch a flight this morning, was trapped at the airport as flights were cancelled abruptly," Rampada told The Telegraph in a distraught murmur over telephone.
"Now every minute seems to be unending as we are helplessly watching news channels expecting the Centre's intervention to rescue Indians from Ukraine. My son told us that Dnipropetrovsk province is safe so far. Russia lobbed bombs close to their river banks and no major damage has occurred so far in Dnipropetrovsk, which is around eight hours' journey by car from Kiev," he added.
Like the couple from Basirhat, other parents of several youths studying medicine in Ukraine have spent anxious hours since Thursday morning.Hapless parents have appealed to the Centre for the "immediate safe return" of their wards before "other countries get involved" in the conflict, potentially exacerbating the war.
In Bongaon, parents and relatives of Swagata Mullick, are from one of these families.
"It seems to be turning into a third world war. We are afraid that if other countries start taking sides, the situation will aggravate and will make it difficult for our children to return," said Smita Mullick, paternal aunt of Swagata, who has not been able to be contacted since Thursday morning.
At present, around 18,000 Indian students, of as many as 76,000 foreign students, live in Ukraine and are stuck in the country. Ukraine is a popular destination for Indian students training in medicine, dentistry, and nursing.
The reason for such a large number of students enrolled in Ukraine is reportedly its low cost of education, which is around one fourth of private medical colleges in India.
"My son said that the situation is quite tense even though the local authorities have tried to keep everything normal. It would have been better if the Indian government didn't announce a ban on all flights between Ukraine and India as Ukraine has kept its air space open," said the father of a student trapped in Kiev.