Saffron party down to 73 MLAs in Bengal
Another MLA ditches BJP to return to Trinamul fold
Welcoming turncoats who won the Assembly polls may be part of larger gameplan to corner Suvendu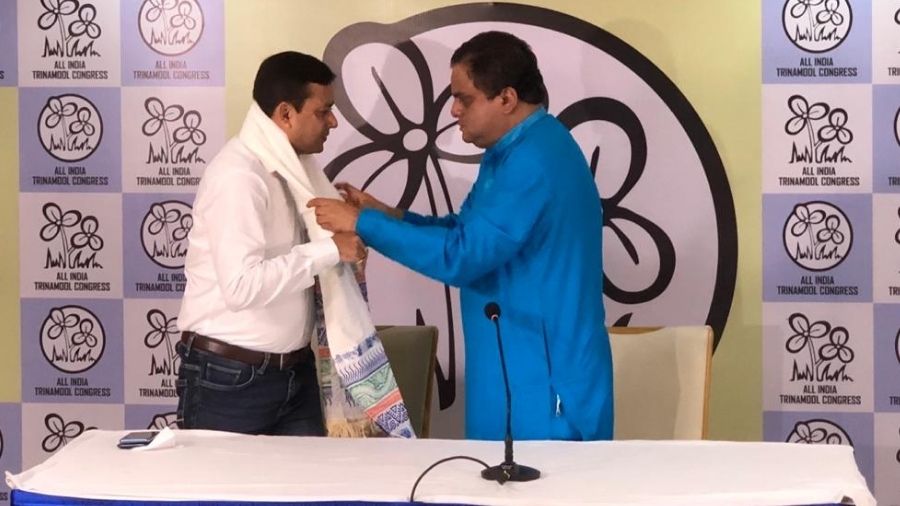 ---
Calcutta
|
Published 30.08.21, 03:49 PM
|
---
Another BJP legislator adopted the Trinamul flag on Monday, his return to the TMC coming amidst a controversy surrounding Mukul Roy's "ghar wapsi"  and the BJP's efforts to bring the anti-defection law into play in Bengal. 
Forty-two-year-old Tanmay Ghosh was elected for the first time to the Assembly from Bishnupur this May and took barely three months to return to his former party.
Unlike the case of other Trinamul turncoats who lost the elections _  like Sonali Guha, Rajib Banerjee, Prabir Ghoshal, and Vaishali Dalmia _   Ghosh's return was hastened by the fact that he actually won a seat, and his defection would help bring down the number of BJP legislators in the Assembly. Turncoats who lost are unlikely to be welcomed back into the party.
Ghosh did not give a direct reply to whether he would resign from the Assembly seat or  seek  re-election. "The party leadership will decide that," Ghosh answered.
Replying to the same query, state education minister Bratya Basu, who inducted Ghosh into the party, said, "Everything will be done following the rules."
But as per Trinamul's track record,  switching political camps is done more at the whims of the party bosses than the rule of law. Basu himself admitted to it indirectly. "Many of them (from BJP) are in touch with us and we are calling them to join us. Though their inclusion will be decided by the party," he said.
The BJP had won 77 seats in the Assembly elections. Since then two of its elected representatives have resigned and now two have defected, bringing down the strength to 73.
Leader of Opposition Suvendu Adhikary left for Bishnupur Monday afternoon soon after Ghosh's defection. 
The Bishunpur development comes a little over a week after the arrest of Trinamul turncoat Shyamaprasad Mukherjee, the town's former MLA and civic body chairperson for over 30 years (he was  a minister in chief minister Mamata Banerjee's first cabinet), over graft charges.
Mukherjee is accused of being involved in financial irregularities to the tune of Rs 9.91 crore related to e-tendering during his days as the chairman of the Bishnupur municipality. Last December, Mukherjee joined the BJP along with Suvendu Adhikary in the presence of Union Home minister Amit Shah.
BJP workers in Bishnupur did not take kindly to his switching camps and he faced protests in the town that he had served for 30 years. After the BJP denied him a ticket, Mukherjee tried to lobby with the Trinamul and hitch back to the wagon but was refused entry.
His arrest on August 22 brought Mukherjee back into Bengal's political scene where a fierce battle is on between Mamata  and her former trusted minister Suvendu Adhikary. BJP leaders in Bengal suspect Mukherjee is a pawn in a bigger political game that has Adhikary as the target.
"Complaints against Mukherjee date back to when he was with the Trinamul. Why did the government, the police and the chief minister turn a blind eye then? Police claim that Mukherjee has revealed some names. Maybe it is an attempt to corner Suvendu but nothing will come out of it," said a BJP leader. "Tanmay's joining Trinamul at such a juncture could be a part of a larger political conspiracy," he said.