Abuse won't affect our work: Mamata Banerjee
CM slams 'misuse of central agencies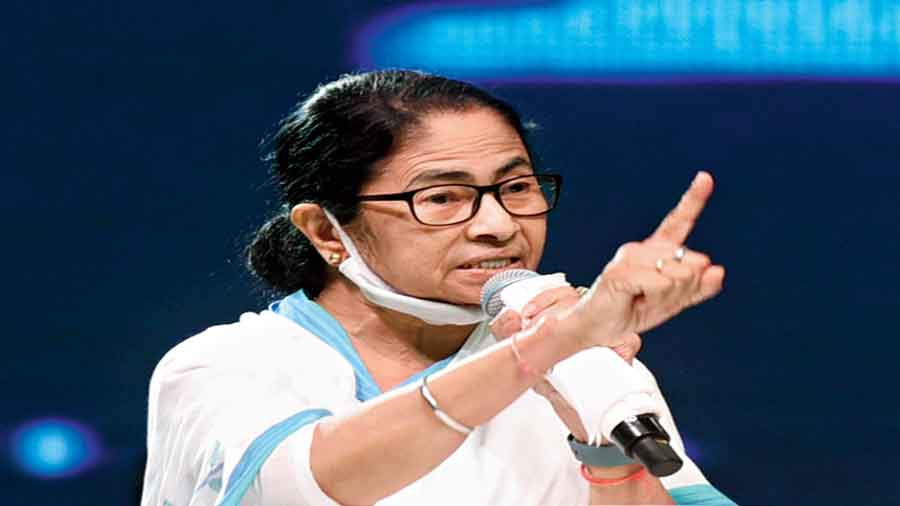 Mamata Banerjee
File photo
---
Calcutta
|
Published 26.09.22, 12:45 AM
|
---
Mamata Banerjee on Sunday attacked the BJP-led Centre, yet again, over its alleged misuse of central agencies, adding that only because her party was not vindictive were reciprocal arrests not made by the state government.
The chief minister was addressing a Trinamul event to unveil the Durga Puja edition of its mouthpiece Jago Bangla.
"Like the many components of the solar system, they have agencies above their heads. They (the agencies) look but cannot see…. Those who are doing these things, do more. If that helps you sleep better, so be it," she said.
"You can abuse us all you want. I will pray for all of them. Their abuses will not affect our work. You may increase your nefarious activities, but we do not believe in politics of revenge," said the Trinamul chief, adding that despite "many things" in the 34-year period — alluding to the Left Front rule — everybody was spared.
The alleged misuse of the agencies has been Mamata's main issue of attacks against the BJP in recent weeks. After a brief period of silence following the arrest of since-sacked and suspended Trinamul secretary-general and minister Partha Chatterjee by the Enforcement Directorate in July, Mamata came out all guns blazing against the BJP, accusing it of getting central agencies to hound and corner its political opponents, squeeze space for national Opposition and erode democracy in India. 
Last Monday, during a discussion in the Assembly, she somewhat exonerated Prime Minister Narendra Modi from the charges of misuse of the agencies, but tore into his party for allegedly blurring the lines between the Centre and its ruling party, apparently holding Union home minister Amit Shah and the BJP's state leadership responsible for the hyperactivity of central agencies in Bengal.
On Sunday, she wondered if everyone other than those in the BJP were bad."Trinamul and Jago Bangla send everyone into a tizzy. We are all bad. They are the only good ones. At one point, I used to feel ashamed while going to Delhi because a political party engages in only defaming Bengal.... Be it a person or any political party, I get angry when anyone maligns or disrespects Bengal," she said.
"The people of Bengal are not stoking controversies. Outsiders have prepared this mentality using money, certain digital platforms and social media networks," she added.
"I  notice that even if I present my own opinions, peo But (Modi's) chai pe charcha is okay? I can't talk about people becoming self-employed?"Her September 15 advice to jobless youths — to start with Rs 1,000 as initial investment to sell tea and snacks this Durga Puja —  evoked derision from the state's Opposition and some social media users.