Devastation revisits Mousuni Island
3,000 lose houses in Sunderbans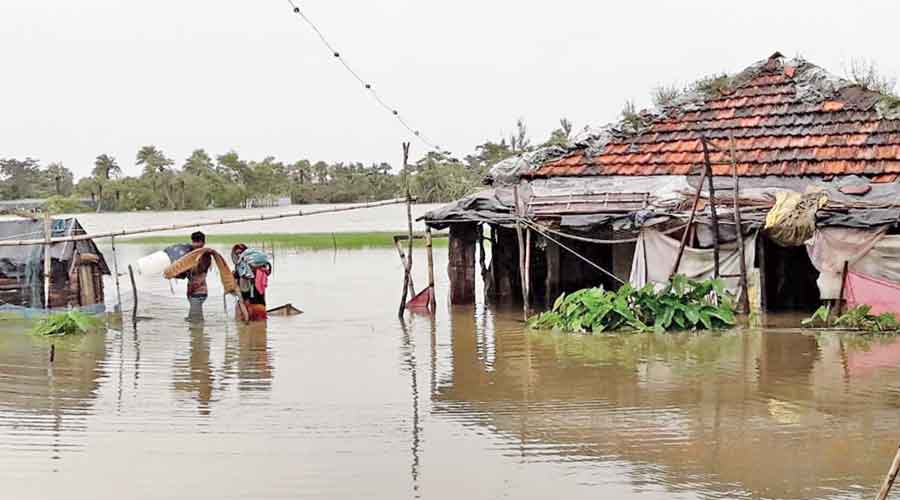 The flooded Mousuni Island on Thursday
Telegraph picture
---
Calcutta
|
Published 22.08.20, 02:28 AM
|
---
A large part of Mousuni Island in the Sunderbans was flooded by saline water on Wednesday and Thursday, leaving homeless hundreds of people who are yet to recover from the devastation caused by cyclone Amphan. 
Local panchayat functionaries said embankments surrounding the island — which is encircled by two rivers, Muriganga and Chinai, and Bay of Bengal — were breached in at least six points and water surging over the dykes in other areas caused the damage. 
Nearly 3,000 people were rendered homeless. The Mousuni island is located at the southern edge of Bengal.
"It all started from Wednesday with eastern wind coupled with high tide breaching the embankments in at least six points on the island… Close to one fourth of the island have been fully flooded, leading to around 3000 people being severely affected and many mud houses getting flattened," said Suvendu Maity, a member of Mousuni gram panchayat, on Friday.
South 24-Parganas district magistrate P. Ulaganathan, however, said there was no breach of embankment in the island. "Water overflowed because of rise in the water levels of the rivers in turbulent weather. There was no breach in embankments as they were recently repaired after Amphan. We have evacuated 150 families and taken them to nearby flood shelters." 
He also said a team of engineers from the irrigation department had been sent to the island and they would undertake a survey to find out whether any of the embankments had been weakened because of the sudden rise of water level of the rivers.
Local residents alleged that the maximum damage had been caused near the signal point in Mousuni mouza, where a stretch of 1.5km doesn't have any embankment.
"For the past four years, we have been constantly demanding the embankment in that area. Former irrigation minister Rajib Banerjee took an initiative to build an embankment for a few kilometres, but nothing has happened since he was removed from the department", said a local resident.
The latest disaster adds to the wounds of people living on the island, located close to Sagar Island, as they were yet to recover from the devastations caused by cyclones Amphan in May and Bulbul in November last year. "I had lost my house during Bulbul in November and partially rebuilt it by taking a loan. But again, the roof blew away during Cyclone Amphan. Now this has happened. Can't the government ensure safe homes for us?" asked Muslima Bibi of Baliara Mouza on the island.
G. K. Das, director of IMD, Calcutta said wind speed of about 40km to 50km per hour coupled with high tide had led to the situation. 
According to the oceanographic department of Jadavpur university Mousuni, along with Ghoramara and Sagar, is one of the most climatically impacted islands in the Sunderbans. 
The island, spread over barely 28sqkm, has lost about 5.8sqkm in the past five decades. "The rate of relative sea level rise in the area is about 8 to12 millimetres per year, which is three to four times over global average," says Sugata Hazra from Jadavpur University.