24 hours on, BJP rally leftovers choke Maidan
The CMC, which usually sends personnel and vehicles to clean up the Maidan after a rally, did not send any this time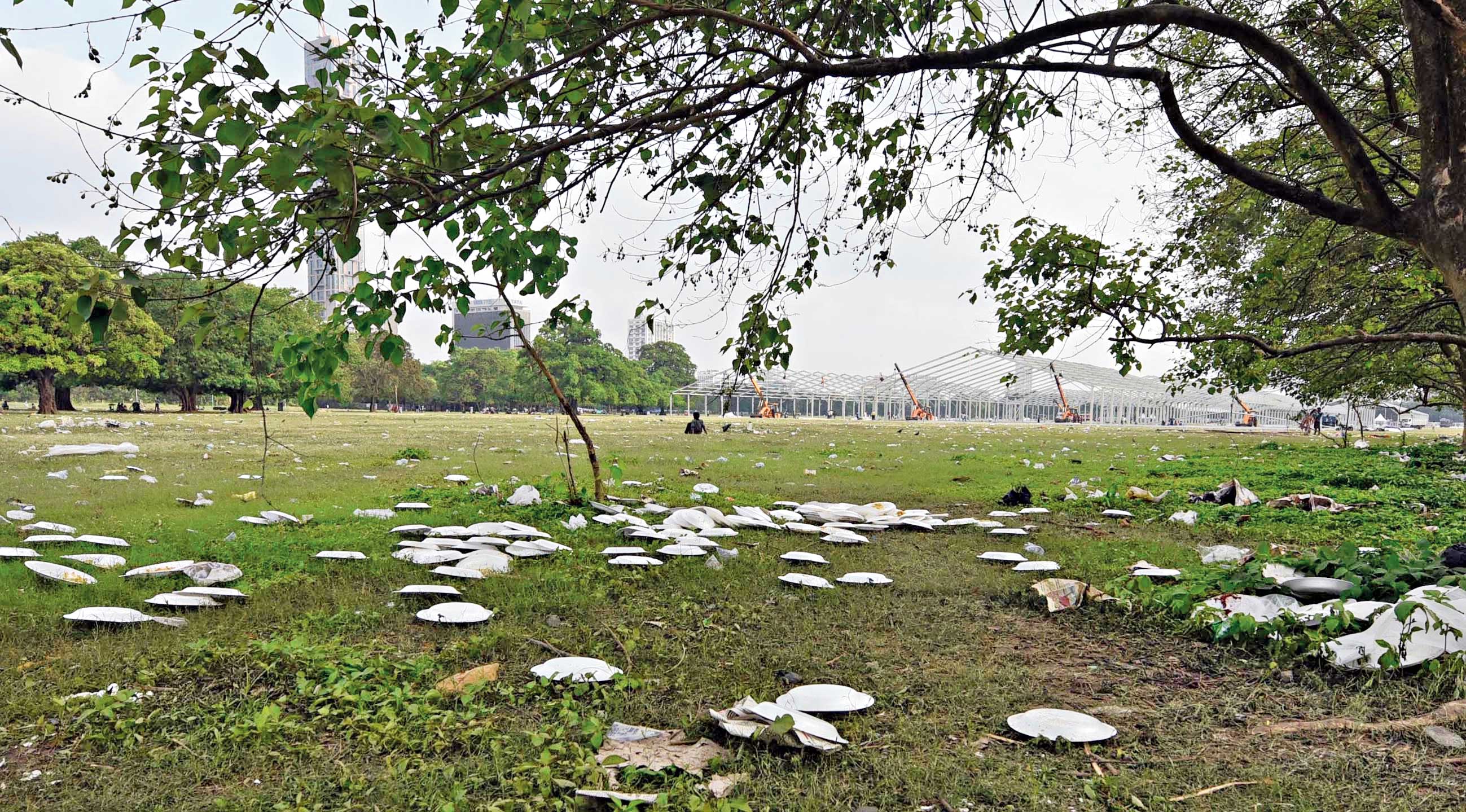 ---
|
Maidan
|
Published 04.04.19, 09:02 PM
---
Plastic packets, thermocol plates and cups lay scattered on the Brigade Parade Grounds on Thursday afternoon, around 24 hours after Prime Minister Narendra Modi addressed a BJP rally there.
BJP leaders said the party had sent volunteers to clean up the greens but a visit to the ground in the afternoon revealed that the drive failed to serve its purpose.
The Calcutta Municipal Corporation (CMC), which usually sends personnel and vehicles to clean up the Maidan after a rally, did not send any this time.
When Metro visited the ground, the hangars that had been set up for the rally were being dismantled. The ground was littered with garbage produced by the rally — plastic cups, crumpled pieces of paper, plastic bottles and plates with leftover food.
Many young couples were seen removing the litter to create a clean patch for them to sit.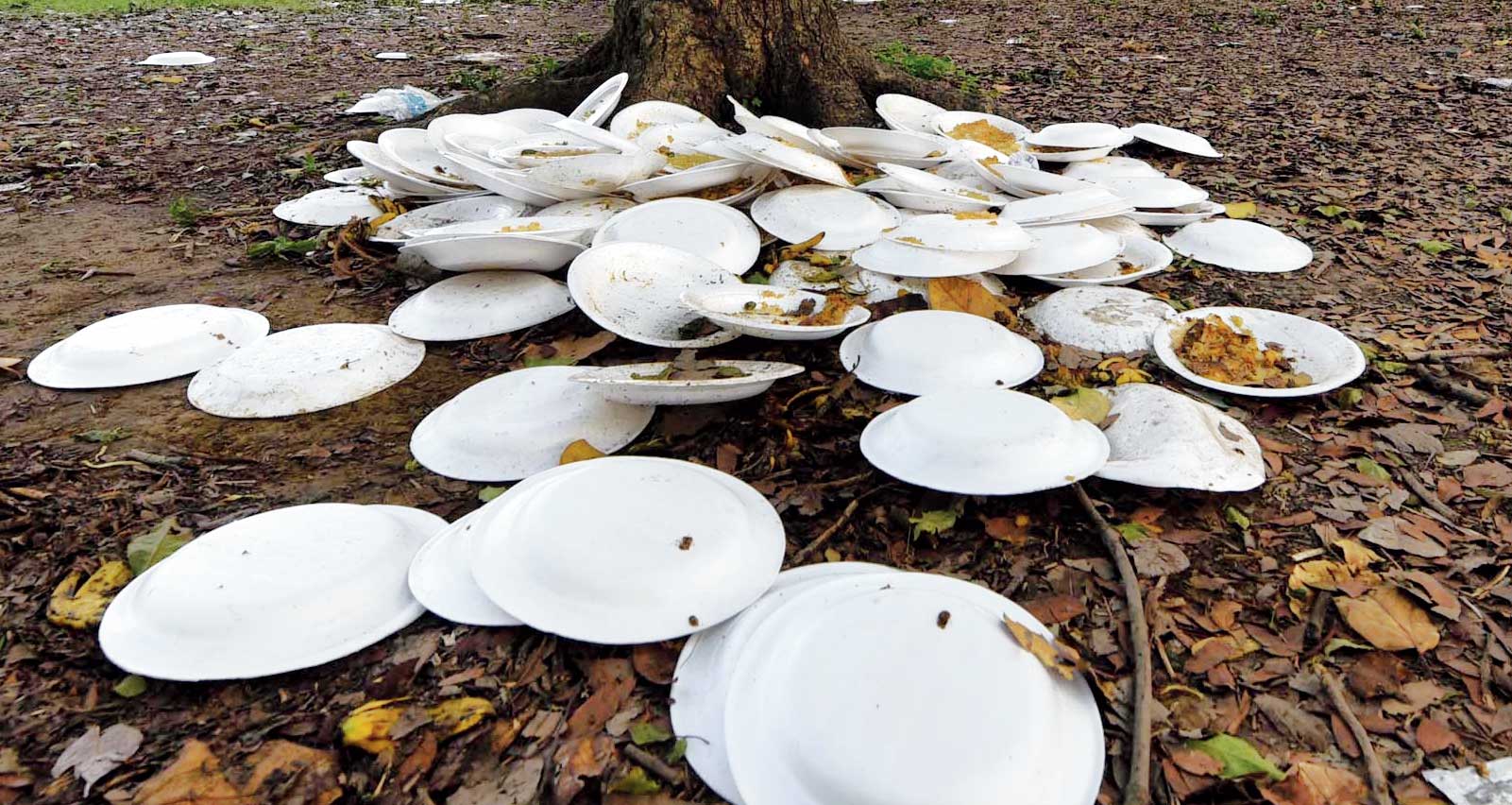 A group of rugby players had to return after a jog. Usually, they play a game or two every day. "How can you practise with so much of litter strewn all around? We jogged for a while and returned home," said Sailen Tudu, one of the players.
The scene on Thursday was in contrast to what happens after every July 21 rally of Trinamul or what happened after the January 20 rally that Mamata Banerjee had organised and was attended by leaders of a number of parties.
The CMC jumps into action immediately after every July 21 rally. It did so on January 20, too.
After last year's July 21 rally, the CMC had deployed more than 500 personnel, 30 battery-operated vans and 15 mobile compactors to clean up the ground and roads leading to it.
"We have not sent any person or vehicle to clean up the Maidan after the BJP rally," a CMC official said.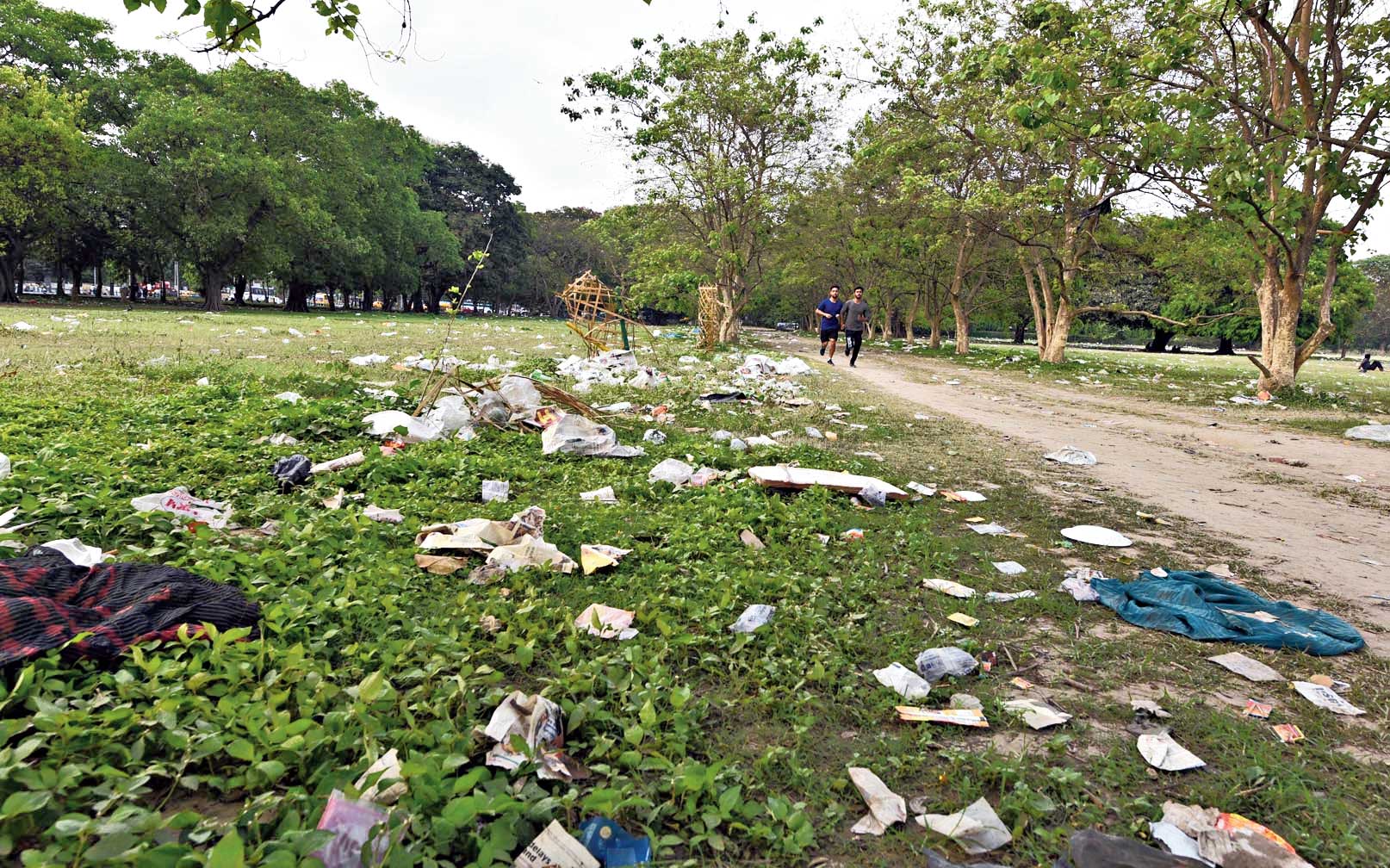 Mayor Firhad Hakim said the civic body would launch a clean-up drive on Friday. "The BJP had asked for water bowsers and temporary toilets for the rally, which we provided. But they have not sought any help in cleaning up the ground after the meeting," Hakim said.
The civic body does not charge any fee for cleaning the Brigade Parade Grounds after political rallies, the mayor said.
The army, the custodian of the Maidan, wrote to the CMC on Thursday, seeking to know by when the ground would be restored, a source in the eastern command of the force said.
For some time in the morning, a group of BJP leaders and workers descended on the Maidan to remove the litter.
Bengal BJP leaders said the clean-up drive continued for four hours. "Around 250 volunteers and a few senior state leaders cleaned the ground from 10am till 2pm," said Prasenjit Bhowmick, a BJP leader and the state convenor of Swachh Bharat Mission.
Of the nine hangars erected for the rally, the volunteers cleaned the ground under three. Asked about the garbage that remained on the greens when this newspaper visited the spot, Bhowmick said: "It is impossible to clean up such a big ground in one day. The dismantling of the hangars and the barricades caused hindrance. The wind, too, made our job difficult."