Modi happy with Brigade Parade Grounds turnout
BJP claims crowd count of 20 lakh at Prime Minister event, cops differ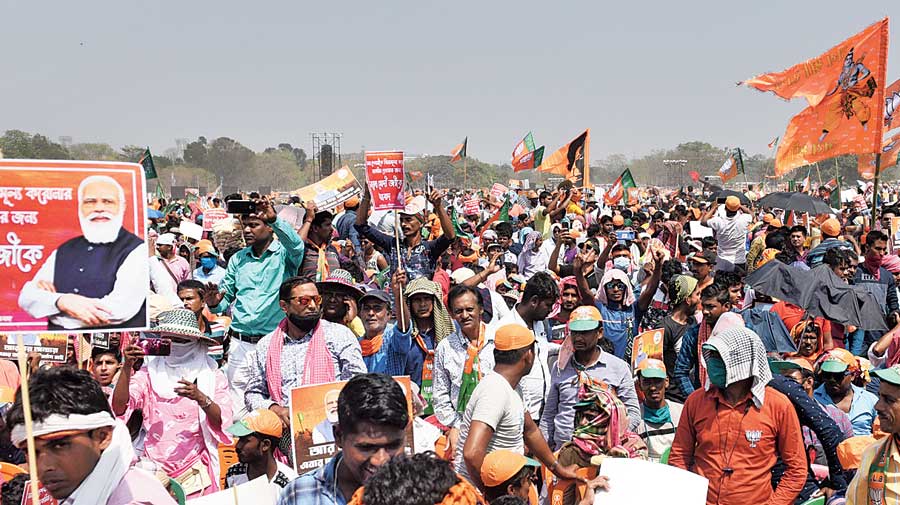 The crowd at Brigade Parade Grounds in Calcutta on Sunday afternoon.
Pradip Sanyal
---
Calcutta
|
Published 08.03.21, 12:45 AM
|
---
Prime Minister Narendra Modi on Sunday said on Brigade Parade Grounds here that he had seen such a big crowd for the first time in his long political career.
"In my political career I had the opportunity to address hundreds of political rallies. But it is the first time in my long career that I have got blessings from such a huge crowd. I found from my chopper that there was no space on the grounds and all roads in the town were filled by people trying to come here," Modi said at the start of his speech. Later, he said no one would doubt that the BJP will wrest the seat of power in Bengal after hearing the crowd's roar. 
Sunday's Brigade turnout was the biggest that the BJP has had in Bengal. Trinamul turncoat Sabyasachi Dutta claimed over 20 lakh had come when the party had targeted around 10 lakh. Calcutta police claimed turnout was around 4 lakh, roughly what it was on February 28 when the Congress-Left-ISF held its rally. 
"The 10 lakh-20 lakh claim means nothing...The area of the Brigade is 4,66,000 sq ft... A significant part of it is left for the stage and security zone. Assuming each person has 1 sqft of space, the count at any point of time can't be more than 3 lakh," said a police source. 
Some senior police officers said the ground became smaller as a large space was kept vacant as security zone for the Prime Minister.
"If you look from the dais, you will see a very large area called D-zone in front of the main dais left vacant for security," said a police source.
Amal Haldar, the state secretary of All India Kisan Sabha, said he personally attended the Brigade grounds on February 28 when the space was "actually filled up". "Today (Sunday) I saw that the dais was in front to make the ground smaller. There were so many vacant places in the ground if you see the ground from different angles," he said.
Several old timers said it is considered that there were two largest rallies in Brigade Parade ground and no rallies crossed the record so far. One in 1955, when Nikolai Bulganin and Nikita Khrushchev arrived in India in November for the first official visit of Soviet leaders after 1947.
The second was by Bangabandhu Sheikh Mujibur Rahaman who attended the Brigade ground rally in 1972.
Since the saffron party started preparation for Modi's Brigade rally, it became a challenge for them as they knew that the turnout would be compared with the February 28 show. 
As a result, the party gave an "unrealistic" target to each district in Bengal to bring 50,000 to 60,000 people with mandatory representation from all booths. "We were asked to take as many people as we can. It was a historic Brigade and it was enough to overwhelm our Prime Minister," said a senior BJP leader.