17 crore in 75 minutes Jackpot jubilation for scrap trader
Read more below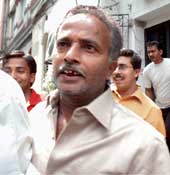 ---
---
Jai Prakash Jaiswal at the Playwin office on Monday to stake claim to his jackpot. Picture by Sanjoy Chattopadhyaya
How long does it take to make Rs 17,29,15,375? No more than 75 minutes.
Jai Prakash Jaiswal bought his Rs 10 Sikkim Online Super Lotto ticket at 8.45 pm last Thursday from Shree Krishna Communications, off College Street. By 10 pm, he had hit the biggest-ever jackpot in the country, over Rs 17 crore.
Around 11 am on Monday, the veil of secrecy was lifted after three days when Jaiswal, a resident of 22B/1B, Radha Madhab Dutta Garden Lane, in Beleghata, wearing a beige safari suit and red tilak on his forehead, stepped into the Playwin office, on Ho Chi Minh Sarani.
The 50-year-old scrap iron trader deposited his ticket (no. 030915262939) and fulfilled the formalities required to claim the prize money.
?I came to know about the jackpot on Friday morning. Initially, I could not believe it. I checked again. I was happy, but also very nervous. When I broke the news at home, everybody was overjoyed,? said Jaiswal, looking more dazed than delighted.
And it?s too early to decide what to do with the windfall. ?I am yet to fathom the fact that I have won so much money. We have not yet planned what to do with such a huge amount. But one thing is sure, a large sum will be invested in our business,? said Jaiswal.
Hailing from Azamgarh district in UP, Jaiswal has been a resident of Calcutta for the past 40 years. The father of two sons and one daughter has been a regular Playwin player.
And his lottery luck was quite poor. Nephew Somnath Jaiswal told Metro on Monday evening: ?My uncle had a flourishing business but he lost a lot of money to lottery. He would often borrow money from me.? All that changed at 10 pm on May 25.
On Saturday, Jaiswal had sent ?a relative? with the photocopy of the ticket to the Playwin office to learn how to claim the jackpot.
?We did not want to reveal the identity of the winner for security reasons. We wanted to be ready with every identity proof before going public,? said Ranjit Jaiswal, who had turned up at the Playwin office on Jai Prakash?s behalf.
On Monday, it was time for the winner to emerge from a Scorpio, accompanied by ?friends and relatives? at destination jackpot.
?A big responsibility is off our shoulders now. Till the time he came and deposited his ticket with us, even we were a little apprehensive. Our duty is to hand over the prize to the genuine winner,? said Aniruddha Basu, eastern region head of Playwin.
Jaiswal can hope to lay his hands on the demand draft that will change his life forever ?within 45 working days?.
Police, meanwhile, clarified that Calcutta?s latest crorepati has not sought protection, yet.