SDF offers its office for Covid treatment
Pawan Chamling also called for the setting up of a study team to monitor global trends of the novel coronavirus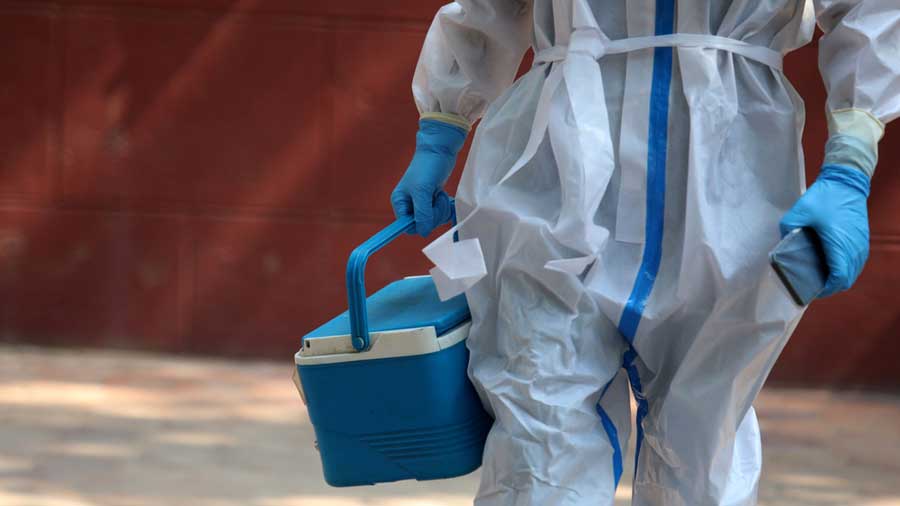 ---
|
Siliguri
|
Published 10.05.21, 12:45 AM
---
Former chief minister and Sikkim Democratic Front president Pawan Chamling on Sunday offered the party's office at Jorethang in South Sikkim to treat Covid-19 patients and called for the setting up of a study team to monitor global trends of the novel coronavirus.
The five-storied SDF building is located in the heart of Jorethang town and can accommodate about 200 beds if all floors are utilised. After East district, South district has recorded the highest number of Covid cases so far. According to the data available till Sunday, out of the total 9,673 positive cases in the state, East has the highest caseload at 7,349, followed by South at 1,530.
Chamling said the government was the biggest source of help and relief for the people and it should mobilise all its resources to save as many lives as possible, minimise damage and provide assistance.
"I on behalf of the SDF party and the people of Sikkim would like to offer the SDF party office at Jorethang for use by the government as Covid ward. If necessary, the government can use that building to treat Covid patients," he said in a statement.
While East Sikkim has at least five or six facilities to treat Covid patients, South Sikkim has only one at the Namchi District Hospital.
Chamling also called for a dedicated team to study the global trend of the novel coronavirus and the best available treatment methods.
"The government's primary and supreme duty is to save the lives of their citizens at any cost. I hope that the government will focus on working sincerely and seriously and not let us down," he added.
Chamling iterated his demand for the allocation of Rs 1000 crore as a Covid Management Fund and insurance coverage of Rs 1 crore each for every health worker. "I would like to once again ask the government to set aside this amount (Rs 1,000 crore) as a state covid disaster response fund. The government has to devise a mechanism to give relief money directly to the poor and to ration essential commodities," he said.
The SDF chief cautioned that there could be a possibility of shortage of healthcare workers soon. "The government must look at the possibility of preparing and engaging students from local nursing and medical colleges as part of the Covid work force. Also, unemployed nurses and doctors can be employed to meet the emergency need," he added.
The Sikkim government on Saturday received 60 oxygen concentrators and 500 vials of Remdesiver, which is a drug used to treat Covid patients sometimes. "Two oxygen concentrators each are being provided to every PHCs and one for every ward in the district hospitals. We had already received 250 concentrators and another 60 yesterday (Saturday)," said Pemba T. Bhutia, the director general-cum- secretary of the Sikkim health department, adding that a second oxygen plant was also being set up at the STNM Hospital.