Win or not, cold & humid clay at night not Rafa's cup of tea
In a match that began in May and ended in June, Nadal seemed supremely confident at the start, then had to overcome strong fightbacks from the world No. 1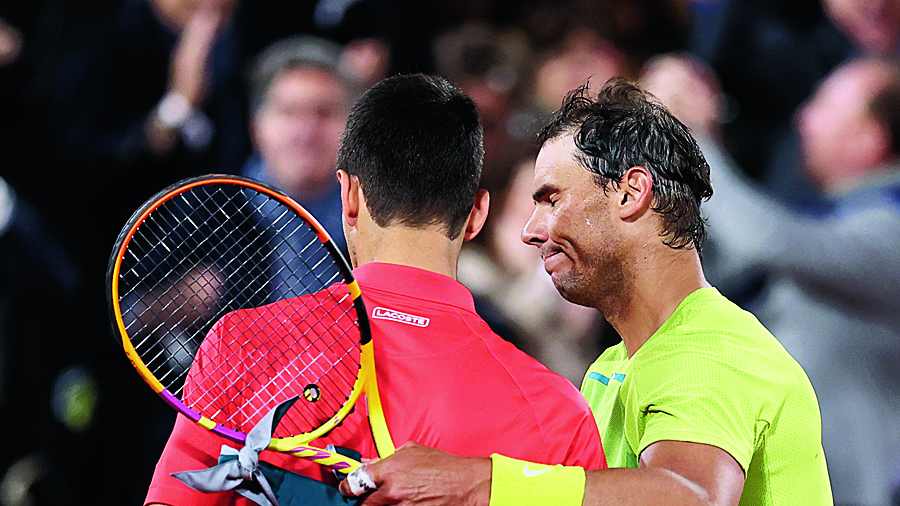 Novak Djokovic (left) and Rafael Nadal share a moment after the Spaniard's victory on Tuesday.
Getty Images
---
Calcutta
|
Published 02.06.22, 01:52 AM
|
---
'Big Boys Play At Night' screamed the slogan on Imran Khan's T-shirt, a marketing gimmick of the Kerry Packer's World Series Cricket in the late 1970s that instantly caught the imagination of fans. Controversies did abound, but the Packer series brought colour to cricket like never before and changed its complexion forever.
But it seems not all big boys want to play matches at night. Rafael Nadal, who won an epic four-hour-11-minute quarter final against Novak Djokovic 6-2, 4-6, 6-2, 7-6 (7-4) at his kingdom Roland Garros on Tuesday, is one such.
In a match that began in May and ended in June, Nadal seemed supremely confident at the start, then had to overcome strong fightbacks from the world No. 1 Serb and finally emerged victorius at 1.15am (4.45am IST, Wednesday) local time in Paris.
Yes, he does live to fight another day and inch closer to his 14th French Open and a record extending 22nd grand slam title.
But why is the former world No. 1 (now No.5) averse to playing at night specially on clay, a surface that he has ruled for decades now?
The answer lies in the cold, damp humid conditions that a night match in Paris may entail.
Nadal's dominance on clay depends a lot on his topspin-heavy groundstrokes that bounce very high on claycourts under hot and dry conditions. In other words, when the sun shines bright.
At night, however, humidity sets in and moistens the surface. The ball tends to get wet and heavy and does not bounce as high. It somehow reduces his efficacy from the baseline.
Even during Djokovic's four-set semi-final win over Nadal last year, the Spaniard won the first set. But as the sun set, Nadal - who was also struggling with a chronic foot problem - somehow lost control and Djokovic walked away with a 3-6, 6-3, 7-6, 6-2 victory.
Nadal had earlier made his reservations about playing in the night session clear. "I don't like them," he had said even before his quarter-final was scheduled. He did, however, feature in a second-round night session match against Corentin Moutet which he won with ease.
Roland Garros introduced night sessions (starting from 9pm local time, 12.30am IST) only last year on the refurbished Court Philippe Chatrier. Night sessions are a common feature at the Australian and US Opens, played on hard courts.
"I don't like night sessions on clay. I don't like to play on clay during the night, because the humidity is higher, the ball is slower, and there can be very heavy conditions especially when it's cold," Nadal had said.
"I think that makes a big difference between the way tennis is played on clay during the night and during the day."
Nadal played just one night match in 2021 when he defeated Richard Gasquet in straight sets.
Novak, on the other hand, had been more pragmatic. "The tournament director, along with TV, broadcasters, I think in the end of the day that's who decides... TV, whether they want your match, day or night.
"You just have to adjust to that. Obviously, depending on who you play, sometimes it's favourable to play night, sometimes day. There is no standard or no formula that works always," he had said before their quarter final clash.
India's former world No.1 doubles player with 12 grand slam titles under his belt, Mahesh Bhupathi, agrees that night sessions are here to stay.
"Night matches are difficult in general because it messes with your sleep pattern. Any elite athlete needs to train hard, sleep well, eat right. So when your sleeping pattern messes up it kind of changes your equilibrium for sure. On clay, recovery is even harder than other surfaces. So that's an extra challenge.
"However, Nadal will get more than two days before his semi-final so that should be enough time to recover 100 per cent.
"Having said that, tournaments have to be successful financially and night sessions mean more revenue. It's a tough call, but players have been doing it for years at the US Open. They have started at the Australian and now the French. It is a debate. But champions are still winning. At times the match ends past 3 am and you can't sleep before say 6 am after the cooling down and other protocols.
"But that's what makes tennis the most challenging sport physically. So be it."
Enrico Piperno, a national champion who have coached both Leander Paes and Bhupathi and also the Indian Davis Cup and Fed Cup teams said: "The conditions are marginally more difficult on clay as the ball gets heavier. But the change happens only when there is a huge drop in temperature.
"Personally, I feel night sessions are good for the game since it gets more spectators and so there is more involvement with tennis fans."